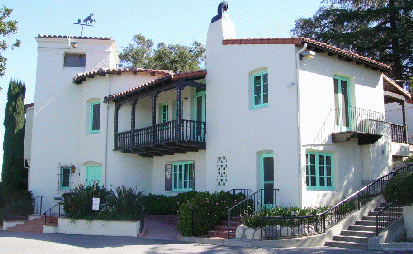 "Newhall--Both past and present greet the visitor to William S. Hart Park"
By The Editor
William S. Hart was one of the first of a long list of Hollywood's legendary western stars. He entered Hollywood's silent cinema industry after a long career as a stage actor that included Shakespearen roles. In a career that extended over two decades he made an incredible 67 films, all about the old west.
He also left a legacy that still provides recreation and enjoyment for the people of Southern California. It is called William S. Hart Park & Museum located in Newhall. The Park includes many activities including picnics, the Animal Barnyard, Hart's original Ranch House, built in 1910 and the Museum which is the residence he built high upon a hill that dominates the area.
We took the Museum tour recently and just wondered why it took us so long to get there. Getting to the Museum involves a quarter mile uphill walk from the park on a trail that is actually a nature walk with a huge collection of plants and trees. Once at the Hart home at 10:30 a.m., the front door opened and we were welcomed by our tour guide Lee Osterloh.
William Hart amassed a wonderful collection of western art, paintings by Frederic Remington and Charles Russell as well as sculptures by Charles Christadoro. Hart and Charles Russell were personl friends. Then there are numerous photographs of cinema stars as well as other famous Americans. There is also a collection of artifacts from many Indian tribes.
On one wall of the dinng room a number of plaques mounted with shoes of his horse, Fritz who achieved a popularity with fans rivaling that of its owner. Also Fritz has his own Memorial located at one end of the Animal Barnyard which also includes live Bison.
The Museum is on two levels and is a step back in time to the 1920s in furniture and fixtures. Our docent was generous in allowing us ample time to admire the paintings and was most knowledgeable in telling of Hart's private life at the home which he shared with his sister, Mary Ellen. The tour is free but the times and hours change between winter and summer so it is best to check in advance by calling 611254-4584 or on the web at www.hartmuseum.org.

Allow plenty of time for this visit to Hart Park since there is much to see besides the Museum. The Ranch House at the bottom of the hill is open for self guided tours and offers a look at the furnishings of that era as well film props and accouterments of ranch life. There is also the Tack Room where the saddles and other equipment were kept. On a video screen there are continual showings of Hart's many films. The Park has picnic tables and a serene atmosphere so we brought a bag lunch and ate it there
The Hart Museum is operated by the Natural History Museum of Los Angeles County. From the Museum there are also three hiking trails which set off in separate directions called the Bison Trail, Campground Trail and Fire Road Trail. We plan to explore at least one of these trails in the near future.
The Park and Museum cover 260 acres in Newhall and there is easy access from both Highway 5 and 14.
Back to Table of Contents..
Last Update:3/15/13
&copy 2013 Joe Hilbers All Rights Reserved.
Graphic Design by Impact Graphics