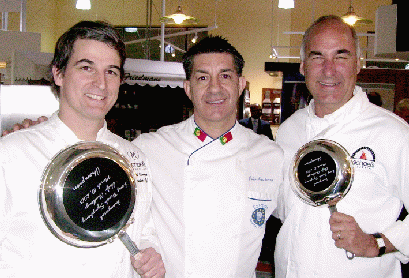 Long Beach--Most tasty was the Long Beach Symphony Chefs' Challenge
.. By Joe Hilbers, Editor
The fact that chefs have joined the list of American celebrities was proven once again at the recent Long Beach Symphony Chefs' Challenge. The evening, presented as an benefit for the Symphony Orchestra, offered besides the chef's competition, wine, entertainment and appetizers. Also to be onlookers as four of Long Beach's most prominent chefs prepared a special appetizer and entree for the team of judges that would name a winner.
All those in attendance, numbering over one hundred and fifty, also had the opportunity to vote on what they considered their favorite appetizer and entree. The chefs and their restaurants were Pete Lehmar and Sous Chef Michelle Molina, of Gladstone's Long Beach, David Coleman and Sous chef Gary DeLong, of Michael's Restorante , Todd Henderson and Sous Chef Leslie Lashinsky of the Queen Mary and J. D. Robertson and Sous Chef John Glaza of Tantalum.
The judges were Enrique Arturo Diemecke, Music Director of the Long Beach Symphony; Graciella Cordero, Pastry Chef and Food Writer; and This Writer of Vittles. The judges graded each appetizer and entree on a point system for taste, creativity and presentation. For this Writer judging was difficult since all the Chefs presented creations with unique and unusual flavors and a real flair in presentation.
The winner was Chef David Coleman and Sous Chef Gary DeLong of Michael's who received engraved Silver Skillets for their creations. Presenting the award was Executive Chef Julio Nascimento who acted as an adviser for the event.
The competition was held at the Friedmans Appliance Center with includes display kitchens and appliances that were certainly envied by this Writer and I am sure almost all who attended. These display kitchens proved the perfect work place for the competing chefs.
A volunteer group dedicated to the Long Beach Symphony Orchestra titled Ovation were responsible for the arranging of the chef's competition as a first annual event Working with the group in organization was Executive Chef Julio Nascimento, a former Iron Chef competitor. One of the Ovation Principals working the event, which proved such a great success, was Bobbi Cusato. Music was provided by the Snapdaddys.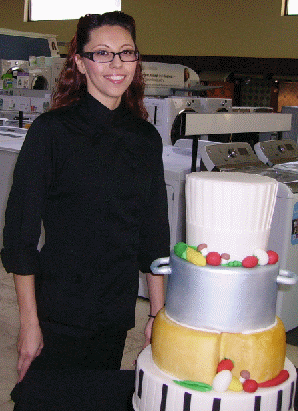 Besides acting as a judge Graciella Cordero baked a huge cake, so large that almost everyone present got to try it. We did and it was delicious.
Acting as master of ceremonies was Art Levine, host and executive producer of the Straight Talk TV Show
Back to Table of Contents..

Last Update:3/23/13
&copy 2013 Joe Hilbers All Rights Reserved.
Graphic Design by Impact Graphics