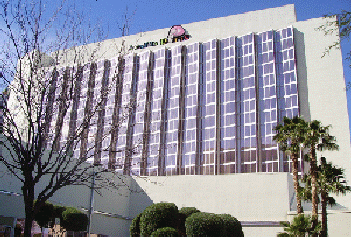 Laughlin--Indoors and outdoors it is a great desert playground
.. By Joe Hilbers
On our recent visit we liked Laughlin since it offers so much in a compact area. There are nine casino resorts, eight of them lined up along the Colorado River. In total they offer the visitor all that one deems desirable in lodging, dining, gaming and entertainment. For the visitor it is all neat, tidy and manageable and offers easy movement from one casino to another. Laughlin has a slogan that says "It's like you own the place" which describes it very well. And then of course there is the Colorado River which gives Laughlin recreation opportunities that are completely its own.
I contemplated this and more while luxuriously ensconced in a deluxe 10th floor room at the Aquarius Casino Resort with a view to watch activity on the River. There is always activity on the River day and night. For us this trip to Laughlin was all new. It had been about three decades since we last visited the area and so much had changed that it was like seeing it all for the first time. Since the Don Laughlin family purchased a ten room hotel and cafe in 1966 it has mushroomed into a collection of nine casino resorts and ten thousand hotel rooms.
At the Aquarius one must think big, its twin 18 story towers, a casino that seems to go on and on and a variety of eating places to suit every palate. But here one can escape the hurly and burly almost entirely by stepping outside to the river walk. Here all is serene with the silent flow of the water, never ending clear skies and with patios and green gardens adding to the scene. The river path also is the perfect way to move from one Casino to another.
The Colorado River and upstream Mohave Lake make Laughlin a great place for aquatic pursuits. Then there is the surrounding desert with a whole new pattern of hiking and biking trails that were developed and opened last year. There are desert excursions to many natural and historic wonders. We quickly realized one can't do it all in one trip or even a half dozen. However we did do our best to experience as much as possible on our weekend visit. Winter and Spring are great times to visit the desert. Temperatures are mild and the norm is cloudless days and the desert flowers and cactus are in bloom.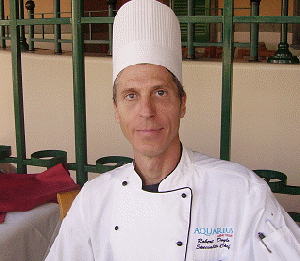 At the Aquarius it did not take us long to find The Vineyard Ristorante, the Hotel's fine dining room . Our dinner opened with classic Italian appetizers like Calamari, Scampi, jumbo shrimp, mushroom stuffed with king crab and Bruschetta. We, or course, tasted all the above. Our entree was Osso Buco which is billed on this menu as Chef's Choice. We can only say it was memorable. Others at our table selected a Seafood Pescatore, clams, mussels, shrimp and scallops served over linguine; Orange Roughy, pan seared served over pasta; a Queen sized Rib eye steak as well as a veal piccata.
The wine list is excellent and we liked the concept of suggesting a matching wine with every entree on the menu. Ravenswood Lodi Zinfandel was the suggested wine for our Osso Buco. For the Seafood Pescatore Kreusch Piesporter Gold Kabinett from Germany.
We were so impressed with the Vineyard that we met with Chef Robert Doyle and learned he has a remarkable background. He was born in Spain where his father was stationed with the United States Air Force. When drawn to culinary pursuits he approached it as an artist and likes to compare a serous chef as an artist devoted to the unending challenge of providing original culinary experiences. He has been with Aquarius six years and has made The Vineyard Laughlin's only fine dining Italian restaurant in the city. Previously he was chef at La Strada located in the El Dorado in Las Vegas.
One day we moved across the River back to Bullhead City to explore Laughlin Ranch, a unique desert themed development that includes homes, an 18 hole championship golf course, as well as a huge club house complex with lounge, restaurant and elegant Spa. Here we placed ourself to the care of Cosmetologist Heather Brunk for a shampoo and haircut. She has been with the Ranch Spa since it opened seven years ago.. This experience was such that going to barber shops ordinaire will no longer be on option for this spoiled Writer.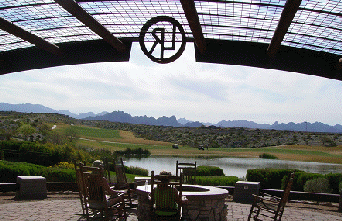 The Laughlin Amphitheater is one place where special events and concerts take place. We were there for ''Reba On The River' concert and it was a sold out event. We took a water taxi from the Aquarius dock and was soon at the Amphitheater along with a throng of like minded lovers of country music. This crowd proved once again to never under estimate country music as an art form in the USA. We spent much time watching the happy crowd, many well equipped with buckets of drinks and huge bags of pop corn, truly well provided for an evening with Reba.
From our many years as a business writer we are still always interested in demographics so we asked about where visitors to Laughlin come from. Think snow birds from October to April representing all the northern regions of the U.S., many arriving in their RVs for extended stays. Some Casinos have special parking areas for them and there are many RV parks. There is a good deal of gray hair in this group.
In summer the visitors are much younger mostly drawn to the attraction of the Colorado River and Lake Mohave. While visitors come from all parts of the U.S. and many foreign countries as well Southern California is still the primary market. Laughlin has many special events and festivals throughout the year such as a new film festival. Last year it offered one hundred and twenty films from around the world including features and documentary film. There is the Stadium 9 Cinema Complex in the Preferred Outlets and also a six screen movie theater at Laughlin's Riverside Resort.
Coming up in April is the Laughlin River Run which attracts some 40,000 motorcycle riders. It is the largest such event in the west and includes many special shows and exhibits. Also each year there is a Bluegrass Festival.
The Colorado River is all things for Laughlin providing water for essentials, recreation and yes, transportation. The numerous water taxis offer an easy, delightful way to move from Casino to Casino so one can leave the personal car parked. Or to whisk one from the Arizona side of the river to Laughlin. Every Casino has its own dock for this service.
One of our trips on the river was aboard Celebration which offers visitors scenic river cruises. With two decks, one open, the other closed with wide windows the Ship provides a serene way to relax, enjoy the river shores, and desert views beyond. A tour guide aboard offers a running commentary on the role the River has played in the history of the region. We enjoyed the cruise and received a good deal of information as well. The Celebration also has a bar for drinks and light snacks.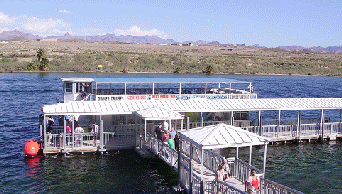 In future issues of Vittles there will be more stories to relate. There are our dining experiences at the Colorado Belle and Gold Nugget Casinos as well the myriad of outdoor adventures that are available in the nearby Arizona outback. For more information on what Laughlin has to offer there is the Southern Nevada Regional Office of the Visitors Bureau. Call 1 800 452-8445, on the web at visitlaughlin.com.
Back to Table of Contents..

Last Update:3/23/13
&copy 2013 Joe Hilbers All Rights Reserved.
Graphic Design by Impact Graphics