<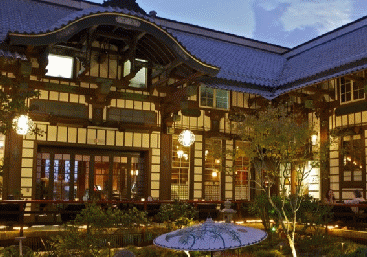 Hollywood--Yamashiro continues its legacy for exciting dining adventures"
By The Editor
A visit to Yamashiro is an exciting adventure and dining experience. In its time of metamorphosis through the years Yamashiro saw the birth of Hollywood's early film industry, then the glamourous days of it's Golden Age. There were difficult times during the war with Japan and then Thomas E. Glover purchased the entire property and acreage and began to build, what was then a private estate into the unusual restaurant and lush gardens that are there today.
The original dream of the Bernheimer brothers, who had purchased it in 1911, was to build an elegant mansion to house their extensive Asian treasures and imported art. Skilled workmen were brought in from Japan to build it as an exact replica of a palace in Kyoto, Japan. In 1914 the teakwood and cedar mansion was in place. The name Yamashiro translates to 'Mountain Palace'.
The elegant restaurant areas include the cocktail lounge, glassed-in dining with views that rival any in Los Angeles, outside cocktail and dining areas. Next year Yamashiro will celebrate a 100th anniversary. Yamashiro dining made another leap forward when it brought aboard Chef Brock Kleweno seven years ago. A graduate of the Pasadena Culinary Arts School Chef Brock recently demonstrated his creative talents to a group of restaurant writers including yours truly. Presented were appetizers and entrees that were all unique such as Kurobuta Pork Carnitas or the Shayu Glazed Black Cod, a favorite on the menu, a Lobster Risotto and a Pistachio salmon.
Then arrived a truly unique entree and a first for every one of our group. Entitled "Wagyu on Himalayan Salt Plate", the block of salt, mined in the Himalayan mountains, is hard and heated to 450 or 500 degrees and served to the diner with uncooked slices of beef filet. The diner then cooks the slices of American Wagyu beef to his or her own taste. It was truly amazing to see how quickly the meat cooked without flame or smoke. The salt plate is a dense block of translucent pink salt, hand cut from Himalayan deposits. We were told they can only be used a very limited number of servings since they do break down from the extreme heat.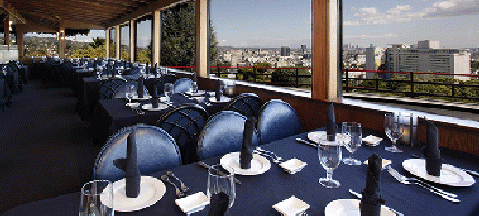 The bar offers a full range of intriguing cocktails plus a fine wine list. Superb Sake choices are there to accompany the variety of small and large hot plates available in the cocktail lounge.
The dining room menu reflects Chef Brock Kleweno's expertise in preparing an original California Asian cuisine. Everything we tried was delicious and the presentation was a work of art. Entrees like Yuzu-Avocado Prawns & Scallops or the Asian BBQ baby back ribs with a five spice cornbread and mashed yams are sure to bring the diner back for more. There is a full list of desserts like a dessert Sushi or trio of sorbets.
Yamashiro is located at 1999 N. Sycamore Avenue in Hollywood. It is open seven days a week, open at 5 p.m. for cocktails and dinner. There is valet parking. Banquets, weddings and special occasion events are welcome. Reservations 323 466-5125. Every Thursday from April to September there is a Certified Farmers Market on the property from 5 to 9 p.m. For more information check the web at YamashiroHollywood.com.
Last Update: 3/23/13
&copy 2013 Joe Hilbers All Rights Reserved.
Graphic Design by Impact Graphics