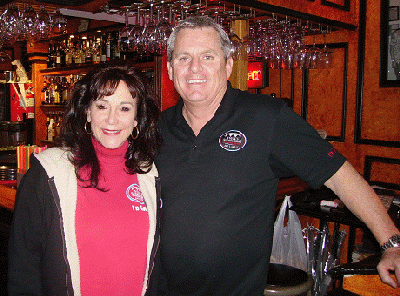 "Avalon--Steve's Steakhouse pleases visitors to Catalina Island"
By The Editor.
Steve's Steakhouse Bar & Grill is one of those restaurants that you wish you had discovered a lot sooner. It took six trips to Avalon for us to meet Steve Bray and experience his cuisine. The restaurant has all the right requirements for a pleasing dining experience, location, ambiance, an interesting menu, a most competent service staff and most important of all a superior cuisine. The restaurant is located on Crescent Drive, Avalon's main street which parallels the beach front. Located on the second floor it offers diners a great view of the Harbor as well as the passersby below.
Proprietor Steve Bray is a lifelong resident of Catalina Island and he has collected a wonderful collection of photographs that show the Island through many decades including one of four playful boys, he and his three brothers, as well as some playmates. And a second showing the same group several decades later.
We first learned of Steve Bray before we ever visited his restaurant since he was honored at the Southern California Restaurant Writers 2011 awards banquet as Humanitarian of the Year. This award is presented each year to restaurateurs who give back to their communities with charitable enterprises and social programs. Steve Bray has been active for many years with youth programs in Catalina. His restaurant receives a four star award from the Writers each year as well.
Steve Bray acquired the restaurant in 2001 and has been pleasing diners ever since. He has made several renovations and the restaurant recently added an intimate dining room for private parties complete with fireplace and large picture windows There is seating for one hundred and seventy people with some tables placed directly next to the picture windows. Hostess is Lili Dana.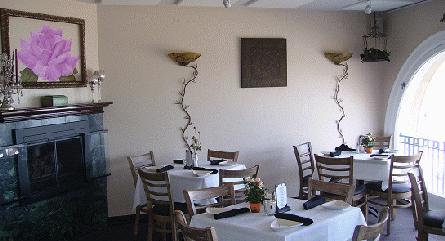 Our lunch opened with fried coconut shrimp selected from a tempting list of appetizers that include oysters on the half shell, sashimi, blackened Ahi and steamed artichoke. We also has to try his acclaimed Boston clam chowder. Then a Teriyaki beef and mushroom dish and Calamari dipped in egg, breaded and sauteed in butter which Steve calls the 'poor man's abalone.' The dinner menu shows a whole collection of steaks as well as baby back ribs and a chicken Bearnaise plus many locally caught fish and seafood entrees. There is a children's menu and five combinations of fish and chips.
Steve's has a full service bar and lounge and the wine list has been carefully designed to offers vintages from many California appellations as well as proprietary blends and a selection of Italian wines. The beer list includes both domestic and imports.
The restaurant recently added an intimate dining room for private parties complete with fireplace and large picture windows. Steve's Steakhouse is located at 417 Crescent Avenue in Avalon and open for lunch and dinner seven days a week. For more information call 310 510-0333.
Back to Table of Contents

Last Update:2/25/13
&copy 2013 Joe Hilbers All Rights Reserved.
Graphic Design by Impact Graphics