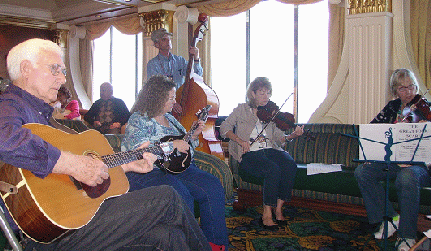 Bluegrass was picking and jamming on the high seas aboard Carnival Inspiration
.. By Joe Hilbers
Once again it was music, music, music on the high seas as the Carnival Inspiration resounded with the Jam and Pick of Bluegrass. It was just two years ago on a four day cruise to Catalina and Ensenada that this Writer, quite by chance, first became acquainted with a most interesting group of people and their art form. As I boarded the ship I noticed that some were carrying musical instruments. Later I learned that they all shared interest and talent in Bluegrass. I also noticed that if you were casting for a movie on Hometown, USA these people would be perfect fort the part.
Now two years later they were aboard Carnival Inspiration and so was this Writer. This time it was not by chance. Then I had met the man responsible for this coming together of musicians from as far away as Missouri, Kansas, Oklahoma and the Dakotas. His name was Jerry Turner and this whole congregation of musicians has been his original idea and goal. He calls it Cruise2Jam. Jerry is a world traveler who has been enjoying Bluegrass music for almost four decades. He knew that Bluegrass festivals and such were in plentiful supply in the Midwest and South but not in California.
So five years ago he set out to change that by organizing the first Bluegrass Cruise2Jam from Long Beach on Carnival. Now it was the fifth annual event and on hand to greet me and make me a part of the group was Jerry Turner. Five years ago it was a small group of about forty people but this year they were 110 strong ready for picking and jamming and the holding of seminars on various types of this music which is truly a part of America's culture and heritage.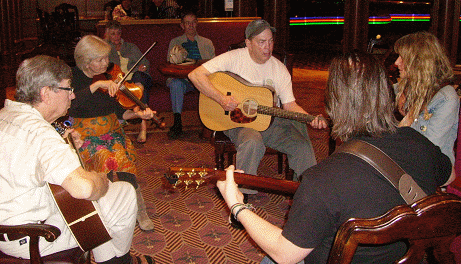 Their circle gatherings take place on various parts of the ship deserted by regular passengers and scheduled events. How they get together for these jam sessions, often strangers to each other, and immediately form a group producing great music is continually a wonder to me, but I gathered with them whenever possible. One of the first things I noticed on my first visit was how easy it was to meet them and learn about their music.
Linda Guerrero seemed typical because of the complete way she blended with the group as she played the violin. She showed a wonderful intensity with the rhythm and beat of each Member. I soon found an opportunity to talk to her and learned she is a native of the Central Valley, currently living in Fresno after retiring from a teaching career of 27 years. She had her first violin at age five. In high school she studied vocal and then the Mandolin but by college it was and still is the violin. She has been interested in the folk music of many countries especially Scandinavian which is part of her heritage.
One afternoon a session was held entitled "When pop music and folk music collided. This was put together by Tim Woods of Spring Valley. He grew up in Helena , Montana and spent much of his adult years there before retiring to California. He was interested in early radio and especially how in the 1950s and 1960s a whole group of talented musicians began merging folk music into their repertoire. These included the Kingston Trio, New Christie Minstrels, Peter, Paul & Mary and individuals like John Denver, Bob Dylan and Pete Seeger. So this memorable afternoon songs like Tom Dooley, Lizzie Borden, Leaving on a Jet Plane from John Denver, and Harry Belafonte's Jamaica Farewell were ringing out. For this Writer they all brought back a good many memories. Ted is still interested in the radio of those years and we both could recall times when late in the evening, in the outback, only one station would still be on the airways and what they played was the 'only game in town'.
Jerry Turner has spent much time in recent years trying to help wounded veterans back from the Middle East. He calls it Friends2Veterans and it has been three years in the making. One day before the Carnival Inspiration sailed he organized a "Picking and Jamming for Veterans" aboard the Queen Mary. Lisa Haley and the Zydekats headlined the program, donating their time and talent for the event. It honored Nick Drew Mendes who served two tours in Afghanistan. On his second tour he was the victim of a road side bomb. It left him completely paralyzed but after many months in the Long Beach VA hospital he has regained some feeling in parts of his body. Jerry Turner and his Friends2Veterans group brought Nick and his family to the Queen Mary event and then financed his cruise on the Carnival Inspiration as well I was invited to this Queen Mary event but unfortunately a previous commitment kept me away.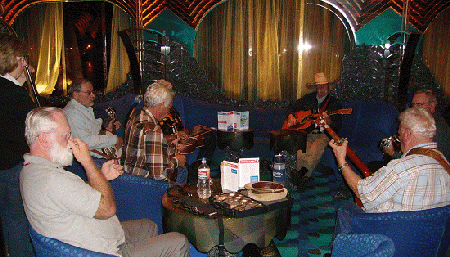 John Deckard has been into Bluegrass since 1975. Originally from Missouri he now lives in San Diego and has groups entitled "Full Deck" and "Swept Wing Chicken Thieves". John is a master with the mouth organ and suggested if I wanted to join a Bluegrass group I should take it up as well. So he presented me with one, showed me how it works and we will see what happens.
During the sessions on the Inspiration Bluegrass groups would form, individual musicians would come and go but the music continued unabated.
Two years ago in my story on the Bluegrass group I mentioned Curtis Wright, a third generation African American minister with four wildly spread churches located in the Mojave Desert. Besides being a musician he is also a scholar on Bluegrass and one afternoon he gave a talk on how slaves brought music with them and how the toils of slavery made them take to music in some form. He demonstrated how rhythms from the toil of picking cotton and field labor became the foundation for songs telling of their sadness, sorrow, hope and dream of freedom and how this translated into gospel music. He pointed out that the banjo is an African instrument and the earliest one showed up in America in the 1500s. Planters forbid their slaves from having drums so Curtis demonstrated how slaves used their own bodies as a substitute.. The whole presentation was a great learning experience.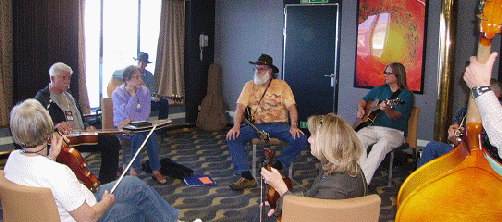 Back to Table of Contents..

Last Update:2/23/13
&copy 2013 Joe Hilbers All Rights Reserved.
Graphic Design by Impact Graphics