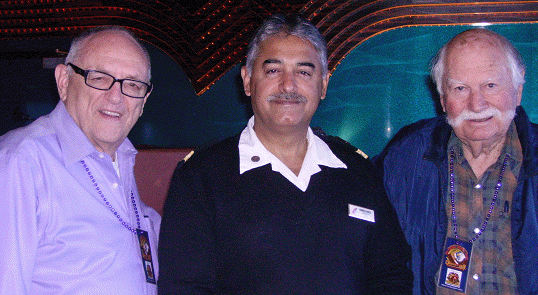 ---
"We found much to like with Mardi Gras dining aboard Carnival Inspiration' By The Editor
On Carnival Inspiration's four day trip last month this Writer was truly on assignment with three stories to gather in Avalon, two in Ensenada and two aboard the ship. One would think that this Writer should no longer have to work that hard.
Last Fall on a seven day cruise to Mexico aboard Carnival Splendor I noticed the changes and improvements that had taken place with the menus in the dining rooms. On this latest trip aboard Carnival Inspiration I wanted to know more on how this new culinary look was evolving on Carnival. So I sought out someone who could provide answers.
And I found the perfect person in Ramesh Ahuja, Maitre d' Hotel of Inspiration's Mardi Gras dining room. Mr. Ahlua has 20 years experience since graduating from a culinary arts college in India. It includes service with an airline, a hotel in the Grand Cayman Islands and seven years with Carnival. One of the first questions I asked him was about the new emphasis on cuisine I noticed on Carnival ships. He said that this was indeed true and menu changes now occur every six months. New culinary concepts are tested on one ship and if successful are then included on all 24 ships in the Carnival fleet.
The Carnival Inspiration has 2696 guests and a crew of 960. He made one observation which I found most interesting. He said that since the Inspiration has been using Long Beach as its home port the guests include a fantastic mix of ethnic groups, much more than he has experienced at other home ports. Living in Southern California I take this extraordinary ethnic mix for granted since my own neighbors look like the League of Nations. This ethnic mix is certainly there with the crew as well. Forty eight nationalities are represented on the Inspiration.
He told us, Jim Woodin, president of the Southern California Restaurant Writers, also participated in this interview which lasted almost an hour, that Carnival's concept of short cruises has been highly successful since they attract more of the local population, regardless of where the Ship's home port is located. Shorter cruises mean that more people can get away for three of four days and they are more affordable as well. Thanks to the availability of culinary arts courses in India some 20 of Carnival executive chefs are from that country. Mr. Ahlua said he believes that the preparation of Indian cuisine, which requires extensive training, is an excellent starting place for the mastery of other cuisines.
We told him how impressed we were with the new appetizers and entrees that are now on the menu. I told him how much I enjoyed the "Did You Ever Try" item which changes daily and includes frog legs, escargots, cured salmon and sushi among other exotic foods.. He told me this was added to all Carnival ships in the last 18 months. Jim Woodin told him how impressed he was with how the dining room staff remembered the names of guests and the requirements of certain of their guests and Ramesh Ahuja said that much training took place to teach the staff that this was very important.
Carnival dining is also making another major change in the dining rooms. Guests in the past were asked whether they desired early dining at 6 p.m. or late dining at 8 p.m. Now guests can request dining anytime from 5:30 p.m. to 9:30 p.m. so they are not limited to the same schedule throughout the cruise. Besides new items on the menu there is more emphasis on presentation and brunch will also be introduced on the ships shortly.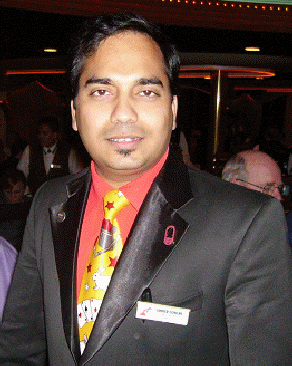 Dining at the Mardi Gras room included a Magician who went to tables and performed classic acts, some to the delight of children. His name is Semeer Dnyaneshwar and he is a third generation Magician from India. He performed some card tricks and dazzled this Writer with a mind reading session that I still trying to understand. We found him delightful company and before the cruise ended were friends. In Los Angeles he had performed at the Magic Castle. He told us just two weeks before his wife had given birth a daughter in India and soon he would be flying home to hold her in his arms for the first time. Also we are now friends on Facebook.
We noted that on the Carnival Splendor there was a Steak House Restaurant for more intimate dining and Mr. Ahlua said that Carnival was adding small restaurants for couples desiring a more intimate atmosphere. Also Carnival ships are now offering a wine package which comes with a 25 per cent discount over regular prices. There are ten different wines to chose from and the packages can be a three pack or six pack with a mix of varietals. Half bottles are saved for use another evening.
Jim Woodin asked him about people ordering more than one entree and often as when lobster or prime rib is served three or four servings. Mr. Ahuja said this was expected and was just another way to give guests what they want. I asked what the percentage of people using the dining room or Lido buffet. for dinner. He said generally the percentage is 75 per cent using the dining room and 25 per cent Lido.
Jim Woodin and I put our heads together and decided to evaluate Inspiration's Mardi Gras dining room just as we do Southern California restaurants on a continuing basis. The Restaurant Writers present five, four, three and two star awards each year at an Awards Banquet. We agreed that Mr. Ahlua's Mardi Gras dining room could be rated five stars in the American Cuisine category with the one hundred point evaluation standard used for our usual awards.

Back to Table of Contents..
Last Update:2/21/13
&copy 2013 Joe Hilbers All Rights Reserved.
Graphic Design by Impact Graphics