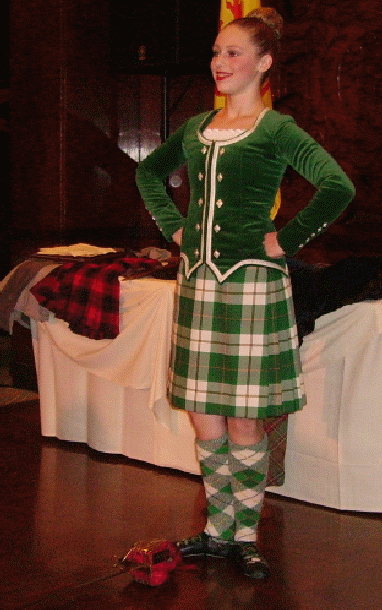 "Long Beach-- The Queen Mary's ScotsFest has much to offer
Our indoctrination of the 20th annual ScotsFest held annually on the Queen Mary in Long Beach proved to be a true learning experience. The Queen Mary's Scottish past started when John Brown & Company of Clydebank, Scotland was selected to build her in 1930. In 1936 upon her first voyage she was the mightiest ship afloat. And her service in World War 2 was a great value in transporting three quarters of a million soldiers to their destination.
The ScotsFest, now in its 20th year, brings together Clans, Celtic and Highland societies from many places, this year fourteen in all. Starting with a grand parade the two days of events included highland Dancing, whisky and beer tastings, pipe band competition, drumming, and many athletics. Steven Gillan of Clan MacColin Glenndeng told us about the Scots clothing of earlier times and that the first kilt appeared in 1594 and that the first kilts were simply a long sheet of woolen cloth folded into pleats. Tartan patterns date back to the 18th century.
Kaylee Finnegan, lovely in her traditional attire, performed the sword dance for us accompanied by a piper. This dance dates back to the 11th century. On display in traditional early Scot attire was Chief Sidnam, clad as a warrior, and his wife, Melissa and small daughter, in the clothes women of that time wore.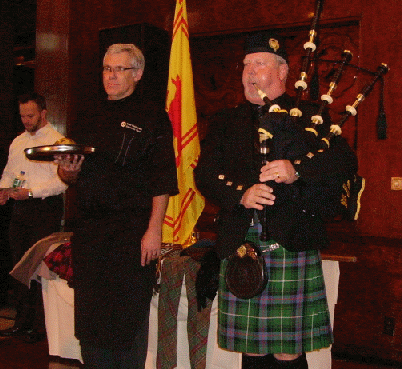 The Rev., David Garman, head of the Scottish American Athletic Association, described how most of the traditional games started as training for warriors such as throwing large stones or heaving flaming objects over walls to the foe. The Highland games are now in their 15th year at the ScotsFest.
Our Scotch whisky tasting included Black Grouse, recently introduced in the U.S. by the makers of Famous Grouse, Scotland's leading seller in its domestic market. Highland Park Scotch has been produced in that countries northernmost island since 1758. Treeless the Island is famous for its harsh climate and Highland Park which produces aged whiskies. We tasted by the 12 and 15 year old bottlings. In competitions Highland park is a consistent gold medal winner. The Macallan single malt whiskies were also included in the tasting. Macallan has a fine Oak series that range from 10 to 30 years of aging.
Todd Henderson, Executive Chef of the Queen Mary, prepared a traditional Scottish lunch for those assembled including smoked salmon, short bread biscuits, baked strained rutabagas, turnips and Haggis. This traditional dish was presented to the assembled accompanied by a bag pipper. It is made with some most interesting parts of the sheep, Scottish oats, herbs and spices. It was very tasty but it is best to eat it first and ask what it is made of later which was the advice of both Chef Todd and this Writer.
We did not wear a kilt but did don the tartan bow tie that we had brought back from an earlier visit to Edinburgh. For more information about ScotsFest check the web www.queenmary.com
Back to Table of Contents..
Last Update:2/15/13
&copy 2013 Joe Hilbers All Rights Reserved.
Graphic Design by Impact Graphics