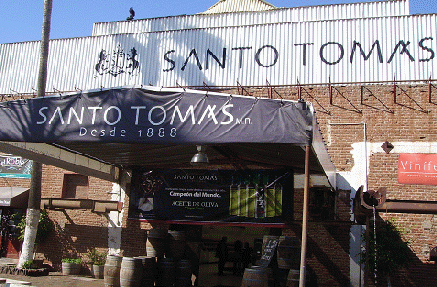 "Ensenada, Mexico--This time it was a visit to Baja's oldest winery, Santo Tomas"
by The Editor
It was in 1791 that vineyards were planted and wine made by the Padres at Mission Santo Tomas de Aquino about 30 miles south of Ensenada. In 1888 Bodegas de Santo Tomas became the first commercial winery in Baja California and it was located adjacent to the site of the original mission. As one travels south from Ensenada one goes over a ridge and then descends into a picturesque valley and this is where vineyards are to this very day. Santo Tomas has had much growth since we first visited it so many years ago.
In 1932 Bodegas de Santo Tomas was purchased by a man named General Abelardo Rodriquez who also established a large presence in Ensenada with winery and bottling facilities. We had visited the original site in Santo Tomas many years ago but had never been to the Ensenada facility. So on our most recent cruise aboard Carnival Inspiration we noted that one of the shore excursions included a tour and tasting at the Santo Tomas winery.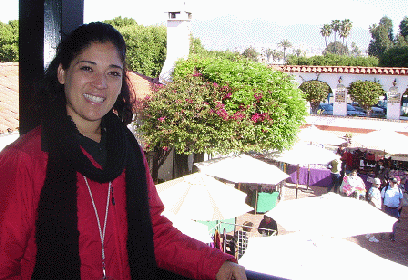 >P>Our guide was Selene Morales who is a native of Ensenada and has been a guide for 13 years. She had all kinds of information about the area for us.
Called the City and Shopping tour we stopped at Bodegas de Santo Tomas. It is no longer an operative winery but includes storage and bottling facilities and also what was once the winery and now a museum showing the winery equipment and huge barrels of a much earlier era.
Our group next went to the handsome Tasting Room to where we sipped four wines ST 2011 Chardonnay, ST 2010 Rosa, ST 2011 Blanco, 2010 Cabernet Savignon and a dessert wine Solera Tinto. We also tasted some of the locally produced olive oils.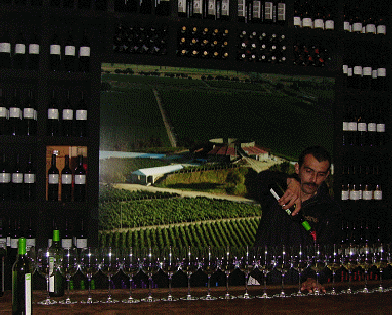 Most of Baja's wineries are now located at the Valle De Guadalupe and our story about this area can be found on Vittles' website.
We also explored The Riviera which has a most interesting history in Ensenada. It was built in 1930 as a hotel and casino and soon was attracting many famous people, especially from the U.S. which was still experiencing Prohibition. Many arrived by ship from San Diego and a list of some of these famous people like Jack Dempsey, Marion Davies and Dolores del Rio can still be seen on one wall of the elegant structure.
With its timeless design it is now a center of social, civic and cultural activities in Ensenada.
From the winery the bus tour took us to downtown Ensenada for shopping or whatever. Our whatever was to visit Cantina Hussong's for a Dos Equis beer and a long chat with the friendly bartenders. Hussong's fame has spread all over Southern California and actually much further since no member of the Armed Forces stationed anywhere close has not been there . It has been at the same location in Ensenada for over 100 years opening in 1892 and is widely credited with producing the first ever Margarita in 1941. The building and bar have changed little over the decades and is still decorated with photos reciting its long history
After taking some photos of bartenders and with handshakes all around we got back on the bus and returned to Carnival Inspiration.
Back to Table of Contents..
Last Update:2/25/13
&copy 2013 Joe Hilbers All Rights Reserved.
Graphic Design by Impact Graphics