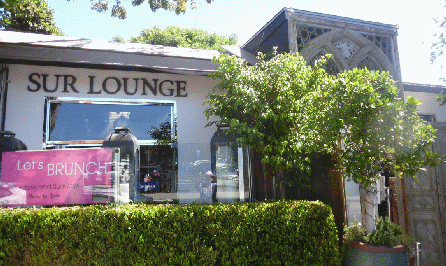 West Hollywood--SUR continues its success with a weekend Brunch menu"
By Ronnie Greenberg
For the ultimate in dining pleasure and the feeling that you've traveled abroad without leaving the comfort of West Hollywood, SUR Restaurant brings a taste of the exotic to the trendy corner of Melrose and Robertson.
An industry favorite of celebrities for over a decade, SUR offers friendly attentive service and sumptuous eclectic cuisine for a truly unique dining experience. For a romantic and alluring touch you'll find low lighting, candles, crisp white linen, and fresh cut flowers. For your culinary experience there's a choice of either a comfy indoor dining room, a patio and a chic private room.
Now in its 22nd year SUR has always been a trend setter in a neighborhood notorious for its upscale lifestyle. Nine years ago it expanded with its outdoor and intimate bar lounge and now with an exciting Brunch menu.
The SUR Lounge with its intimate tree-lined garden and incredible structural design is a blend of coarse industrial pieces and idyllic whimsical charm.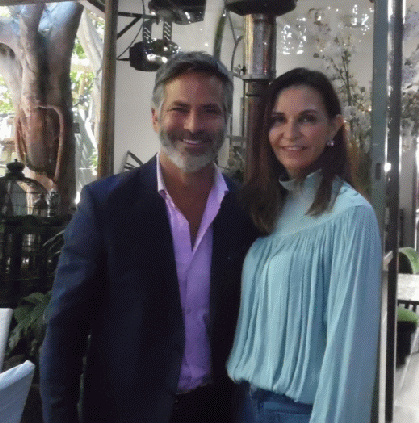 The decor of both the restaurant and lounge pulls together old railway sleepers, graphic modern glass tiles, chandeliers enclosed in cages; French pillows, a mixed media of art and fabrics, treasures in nooks and crannies, and long antique leather Chesterfields.
Along with Founders and co-owners Guillermo and Nathalie Zapata, talented Executive Chef Joe Martinez oversees the culinary team for its inventive mix of eclectic and classic cuisine.
Guillermo Zapata's story is one more of those wonderful American success stories where a young man arrives in the United States with little else but his intelligence and ambition. So it was when Guillermo when he arrived from Argentina.
He discovered he liked the restaurant business and so entered it starting at a low level and them always moving forward. When the opportunity came to acquire a property at 612 North Robertson Blvd, he purchased it and then convinced Chef Joe Martinez to join him, and SUR Restaurant came to be.
Another wonderful thing came to be when he met a young woman named Nathalie who was enjoying her own success in national marketing. Soon they were married and together they combined their talents to make SUR a favorite with celebrities.
We found much to like at SUR with its unique ambiance, bar and lounge styled to an earlier era and especially its luxurious open courtyard and intimate bar tucked in one corner. This bar to us offered a kind of retreat that could well become habit forming. We were much impressed with the efficiency of the service staff.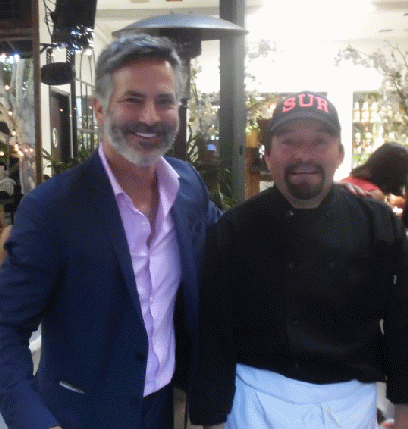 A treat for your taste buds the Dinner Menu features: Appetizers: Shrimp and Crab Cakes, served with chipolte mayonnaise; Portabello Mushroom Skewers with Tameri soy sauce; Smoked Salmon Tapas-capers,creme fraiche and chives; Fried Calamari-chipolte mayonnaise and hot tomato sauce; Fried Goat Cheese Balls with a cucumber salad.
Specialty Salads: Grapefruit Arugula Salad; Caesar Roma Salad; Golden Beet Salad and Apple & Baby Spinach. Pasta & Risotta: Linguine Alle Carbonara; Angel Hair Fettuccini; .and Lobster and Crab Ravioli. Entrees: Grilled Skirt Steak; Seared Ahi Tuna; Chicken Enchilada; Wild Blackened Scallops; Roasted Duck Breast; Roasted Rack of Lamb; Charbroiled Rib Eye Stead; Roasted Filet Mignon; and Grilled Swordfish.
Desserts are all mouthwatering : Blackberry Cobbler; New York Cheesecake; Crepes; Lemonchamp (lemon sorbet and champagne).
There is a full menu of cocktails and wines.
Step away from your everyday life, expand your palate and head over to SUR for their mouthwatering new Brunch menu considered legendary and for all good reasons. The swank restaurant, also serves as the basis for the popular BRAVO TV show Vanderpump Rules, starring Guillermo Zapata.
SUR serving a variety of sweet and savory brunch offerings, presents their new menu featuring more than 10 new entrees as well as classic favorites and signature cocktails with a fresh, new twist.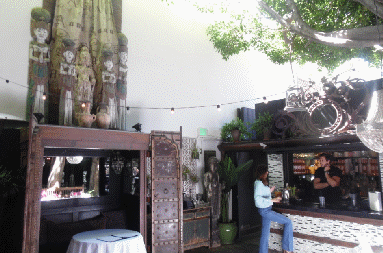 The new brunch menu will include but not limited to: Frittata Omelet, Vegetable Omelet, Linguine Primavera, Blue Cheeseburger, Vegan Burger, Pan Roasted Salmon, Italian Chicken Milanese, Homestyle Crispy French Toasts.
Brunch cocktail option will include but not limited to: Homemade White Sangria, Bellini, Bloody Mary, Parisian Pear Martini, Stawberrini, Raspberry Mojito, Brazilian Caipirinha, Fresh Basil Gimlet. Brunch is served Saturdays and Sundays from 11 a.m. to 3 p.m. Reservations recommended.
SUR Restaurant and Lounge is located at 612 N. Robertson in West Hollywood 90069. Phone (310)289-2824 www.surrestaurant.com
Back to Table of Contents..
Last Update:10/9/18
&copy 2018 Joe Hilbers All Rights Reserved.
Graphic Design by Impact Graphics