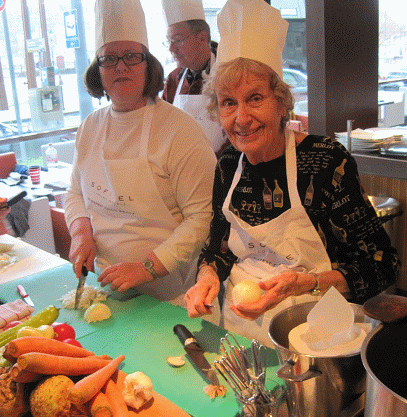 "Budapest, Hungary--On our Danube Crfuise we saved the best for last"
By Jeanne Bartlett
In the spring 2013 edition of Vittles, Vintages, and Voyages I wrote of my cruise down the Danube River and noted that Budapest deserved its own story.
Budapest is the capital of Hungary with a population of more than 1.6 million. This special city has been described by some as the "Paris of the East" for its beauty and sophistication. Our ship arrived in the early afternoon and we were presented with a choice of a city tour or the culinary delight tour – in which participants learned to make goulash from the executive chef of the Hotel Sofitel.
Not even a close choice, my daughter and I opted for the gastronomic adventure! Not only were we looking for a steaming bowl of soup on a crisp fall day, we were going to share the experience with new friends Alan and Kathy Wild from California.
In my previous story I mentioned how much I liked the seating arrangements for meals on the MS AmaLyra. Aboard ship passengers were not assigned seating with the same individuals throughout the voyage, but could share meals with a variety of people. A slogan of the AMA Waterways (the cruise line) is, "The best ships are the friendships you make on your voyage," and that was true for Diana and me.
Visiting Chefs
We were whisked to the majestic Sofitel by bus and introduced to Chef Karl. We first washed our hands and donned our aprons and chef's hats. This was a hands-on activity, as we each took a work pad, grabbed a vegetable and cutting tool, and followed the directions. We peeled long carrots, cut up tomatoes, and peeled potatoes and cubed them. I was doing all right, but Diana was the star as she made short work of the cloves of garlic and showed off her kitchen training she learned the hard way when putting herself through college. When the staff brought out a basket of parsnips I was not sure that was a good idea, but I was wrong as they turned out to be delicious.
The ingredients were thrown in the pot and started cooking as we went along, depending on cooking time. The next-to-last ingredient was the meat, which we cut into small pieces. It really was our vegetables in the goulash, but chef used previously cooked meat to finish our pots as it needed to simmer for four hours.
Chef Karl proclaims that the finishing touch of the dish is sweet Hungarian paprika. The Chef took us on a tour of the hotel kitchen while our soup brewed. When we returned an exquisite table was set for us. There were beautiful white linen tablecloths and napkins, baskets of warm French bread, pallets of butter, and our steaming goulash. The hospitality did not end there. We were each gifted with a Hotel Sofitel label apron, our hat, and a colorful bag of sweet Hungarian paprika!
Time for Touring
As it happened there was time left to go on a city tour after all. In our "soup group" people were anxious to do some shopping and dropped out of the tour, so Diana and I ended up getting a private tour of the city – just the bus driver, the tour guide and us.
It was getting dark by now and we were able to see the lights of Heroes Square in front of the city park on Budapest's Andrassy Boulevard. There is the Millennium Monument, the Museum of Fine Arts, and the Art Gallery. Next we saw the Castle district on the top of Buda Hill. There we paid a visit to the Fisherman's Bastion and enjoyed a spectacular view of the city. Back aboard ship we dined on a Hungarian feast paired with wines of the area.
That evening we shared a perfect ending to our trip called the Illumination Cruise. We were seated with our friends at the front of the ship, a breathtaking view of the water, schnaps in hand, and the strains of the familiar Strauss Waltz playing in the background while our captain took us on a Danube cruise through the heart of the city where each building and bridge sparkled with a million lights. It was a sight I will never forget.
Recipe for Goulash Soup
Ingredients.66 lb shank of beef, 1 lb peeled potatoes, 4 or 5 tsp. cooking fat or vegetable oil, 1 large onion, finely chopped, 1 or 2 tomatoes, 1 whole sweet paprika, ½ tsp. powdered sweet paprika, salt to taste, 1/2 tsp caraway seeds, 3 or 4 black peppercorns, 1 med. carrot, cut into quarters, 1 med. Parsnip or celery root, cut into quarters, 1 bay leaf, 1clove garlic, crushed.
P:rocedure Cube the meat (only for traditional goulash) and potatoes into ¾"pieces. Stew the onion in oil over low heat until golden yellow, add the chopped sweet paprika and tomato. Remove the pot from the heat. Add the paprika, meat, salt and one qt., 3 oz of water. Add the caraway seeds and peppercorns in a tea ball or small bag for easy removal before serving. Return to low heat and simmer. After 20 minutes add the carrots, garlic, leaf, parsnips, and/or celery root. When the meat is nearly tender (around another 30 minutes), add the potatoes. When every ingredient is tender, you're ready! You can serve Hungarian goulash soup immediately.
Back to Table of Contents..
Last Update:6/10/13
&copy 2013 Joe Hilbers All Rights Reserved.
Graphic Design by Impact Graphics