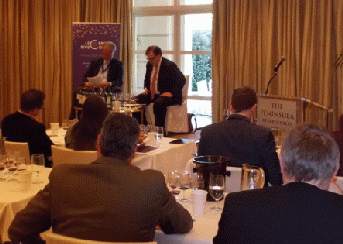 Bordeaux vintners show their finest as they "Le Cercle" Beverly Hills
By Joe Hilbers
The reputation for quality of Bordeaux wines can be measured in centuries rather than years. Famed English authors like Anthony Trollope and Arthur Colon Doyle wove French Clarets into their stories. The word Claret is rarely used today but in former times it signified the classic vintages of Bordeaux.
What still applies is that many of the world's red wines continue to be judged by the vintage standards of Bordeaux appellations like Pomerol, Saint-Emilion, Fronsac and others located on the Right Bank of the Gironde Estuary.
It was this Writer's good fortune to once again experience these classic wines when Learn About Wine conducted a seminar, luncheon and tasting at the Peninsula Hotel in Beverly Hills.
Participating with their wines were 32 wineries, all members of the Le Cercle Rive Droite de Grands vins de Bordeaux. Founded in 2002 it includes 143 of mostly family wineries and vineyards on the Right Bank of the Gironde Estuary, long renown for the quality of its merlot vineyards.
The seminar was conducted by Dr. Alain Raynaud, Le Cercle President; and Robin Kelley O'Conner, New York Wine Specialist and Writer. The seminar, while tasting wines, touched on Right Bank subregions, diverse soil types and the maritime climate as well as member wineries producing 'haute couture' varietals.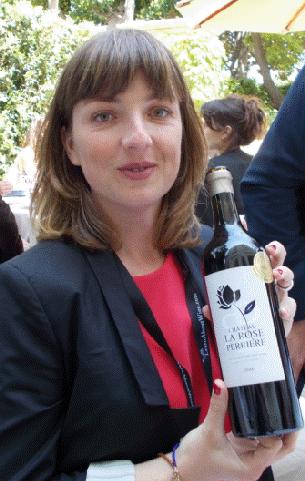 Then it was time for lunch on the hotel's Verandah Terrace. Sitting at my table was charming Camille Poupon, communications and marketing manager for Chateau La Perriere, also Journalist Barbara Hansen, Pierrick Bouquet, president of Able, Social Media Marketing and Wine Writer Robin O"Conner.
Soon the bottles of wine began to arrive at our table and I took a photo of Camille holding the 2008 Chateau La Rose Perriere. And they continued to arrive: Chateau La Villa Cure Fronsac 2008 and 2006 Chateau Grand Corbin Manuel to name a few.. Lunch opened with a Mixed green salad topped by shaved vegetables and pinenuts, then chicken breast with Mascarpone polenrta tomatoes, sweet corn and chicken jus. Assorted cheeses and crackers were presented to aid the tasting of more vintages.
Following luncheon the serious tasting took place with all 32 wineries present. The Right Bank is famous for its merlot and all the wines we tasted were blends with that varietal as the major component with other varietals in smaller amounts including Cabernet Franc, Malbec and Cabernet Sauvignon. Memorable for us was the 2000 Chateau Moulin Haut-Laroque from Fronsac. Produced by the Jean-Nel Herve Fanmily the wine was 65 per cent Merlot, 20 per cent Cabernet franc, 10 per cent Cabernet Sauvignon and 5 per cent malbec.
Back to Table of Contents..
Last Update:4/25/13
&copy 2013 Joe Hilbers All Rights Reserved.
Graphic Design by Impact Graphics