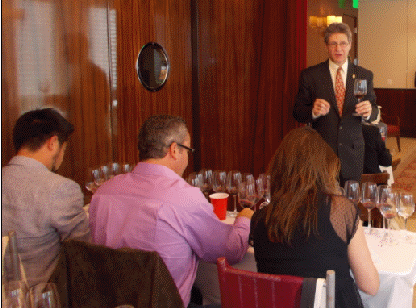 "Beverly Hills--What could be more Italian than Chianti'" By The Editor
.
In the U.S. Chianti has been synonymous with Italian wine for one hundred years. Yes, 2013 is the centennial for the introduction of Chianti to this country.
All of this and more we learned when we attended a recent seminar and tasting of a huge array of wines originating from a cluster of provinces in northern Italy that have the exclusive right to be called Chianti. Sponsored by the Consorzio Vino Chianti it represents over 3600 producers of the unique wine.
Heading the delegation from Italy was Baragli Ritano, president of Cantina Sociale Colli Fiorentini while J. Scott Carney, master sommelier from the International Culinary Center, acted as moderator of the seminar.
To be called Chianti the wine must include seventy per cent Sangiovese. Additional varietals are limited to thirty per cent and what we learned at this seminar was that ten per cent may be a white varietal mostly chardonnay. The wines of Chianti are all DOCG and range from vintages being marketed at a young age to others allowed to age for enhanced flavors and bouquet.
At the seminar held at Mr. C Beverly Hills we tasted nine wines, some one hundred per cent Sangiovese while others included other local varietals such as Canaiolo and Colorino but also Cabernet Sauvignon and Merlot. Of the nine wines we tasted we gave highest mark to four that were all 2010 vintages, two were one hundred per cent Sangiovese and the other two included ten per cent Canaiolo. Welearned that that the history of Chianti extends back to 1716 when the name was first used to describe the wines of the region. The Consorzio Vino Chianti was established in 1927 and DOCG granted in 1967.
Those attending the seminar were in a competition for a trip for two to the Chianti region of Italy. This competition included identifying three wines in a blind tasting as well as a written test.
This Writer did dismally in the written test but thought I did quite well in identifying the three wines. My poor showing on the written test goes back a long way to the time my teachers used to write on my report card, "this student does not pay attention in class".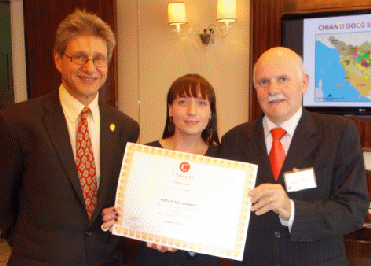 The winner was Danielle Francois, who operates Vintage Enoteca located at 7554 West Sunset Blvd. in Los Angeles. We had to meet with Danielle to congratulate her, take her picture and learn about her wine bar operation. We promised to look in at Vintage Enoteca at first opportunity.
The winner as well as the losers were then treated to a wonderful lunch that included a beef slider, Italian Proscuitto with buffalo mozzarella (my favorite), greens and sliced mushroom pizza. And of course with any, or all, of the nine glasses of wine still in front of us.
The tasting included 48 vintners from all the six provinces that can grow the grapes and make the wines of Chianti. It was held at the top floor of Mr. C offering spectacular views of much of Los Angeles. Both recent vintages as well as older bottlings of reserve wines were available for the many who attended.
Back to Table of Contents..
Last Update:4/30/13
&copy 2013 Joe Hilbers All Rights Reserved.
Graphic Design by Impact Graphics