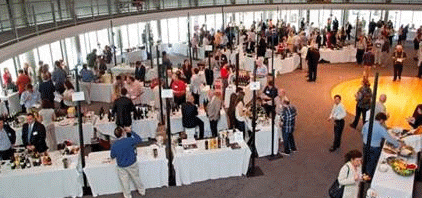 "Los Angeles--Grand indeed were the seminars and tasting of Italian wines at Vino California"

by The Editor
One would be hard put to find a location in Italy that does not grow grapes and make wine. So the Vino California Grand Tasting that took place recently at the Skir ball Center was marked on this Writer's calendar as must go. The event offered wines from the far north Trentino Alto Adige to Sicily in the south where some of my family's roots lie.
A seminar entitled "Call to Calabria: Discovering the wines from the 'toe' of Italy's Peninsula" was also attended with much interest.
One of the sponsor's of the event was The Tasting Panel Magazine and its Editor in Chef Anthony Dias Blue was there acting as moderator along with Piero Selvaggio, proprietor of the Valentine Restaurant group, and Jonathan Mitchell, general manager of Santa Monica's Locanda del Lago Restaurant.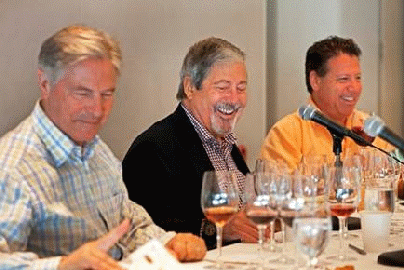 We tasted seven vintages of Calabria and learned much about the local grape types as well as style of the wines. Our favorite was Casa Vinicola Crisera SRL, 2008 Nerome di Calabria IGT. Also to our taste was 2010 Statti Mantonico IGT This is a local varietal grown in vineyards along the Tyrrhenian coast. This was an excellent food wine. The 2010 Cantine Viola Moscato Passito IGT Calabria was excellent and certainly not your average moscato. All seven of the wines we tasted were most moderately priced.
Calabria enters history when the Greeks established colonies there bringing with them a unique culture that included vegetables and grape vines from both Anatolia and Greece. Its cuisine is often unique and and reflecrts its past exposure to so many cultures. The use of spices is readily apparent in the preparation of many of its native dishes.
After the seminar it was on to the tasting. With 46 tables representing wines from every part of Italy it was necessary to concentrate on what was of special to this Writer at the time. In all there were one hundend wines from 18 regions. I limited my tasting to Sicilia and some of the wines produced there from native varietals. Catarratto, Insolia, Grecanico and Nero d'avola are all to be found in vineyards clustered around Palermo.
We visited booths featuring Calabrian wines since we wanted to try a classic Gaglioppo which is known as the Nebbiolo of the South. We were also intrigued with a native white varietal called Greco Bianco. Wines produced in Calabria using native varietals are called Ciro Classico.
For us it was indeed a day of learning and exploration.
Back to Table of Contents..
Last Update:5/20/13
&copy 2013 Joe Hilbers All Rights Reserved.
Graphic Design by Impact Graphics