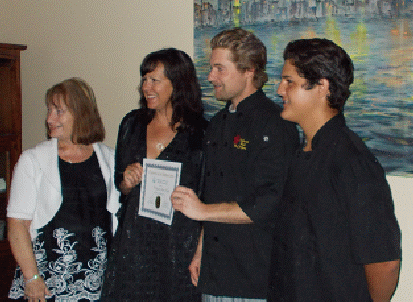 Oxnard--At Channel Islands Harbor Hollywood Beach Wine Company offers exciting food and wine
.. By The Editor
It would be hard to find a more pleasant place to admire the Channel Island Marina than the Hollywood Beach Wine Company. This restaurant was opened by Lois Ivanoff one year ago to immediate success with a combination of a cuisine that marries old world traditions with contemporary flavors. With a Farmers Market located practically next door local produce and products are featured almost exclusively. This policy carries over to the wine list as well. While listing wines from around the world many vintages from the fourteen Ventura county wineries can be found here.
Proprietor Lois Ivanoff told us that she chose the name partly as a challenge and to create curiosity. Chef Daniel Amerian and Sous Chef Cory Helm offer a menu that displays a good selection of contemporary favorites. We started with an olive spread on slices of cheese covered french bread, then stuffed mushrooms and BBQ pork ribs followed by a bowl of French onion soup. We thought the onion soup one of the best we had tasted in some time. Our entree was large shrimp atop a bed of penna pasta with a mac-cheese sauce. Others at our table had the petit filet, the huge gourmet burger or chili pork cutlet. Portions are large at this restaurant and the menu does show great variety.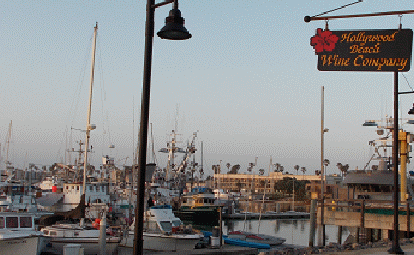 Our wines included a 2012 Alexander Valley Vineyard Rose of Sangiovese, a local four Brix Scosso 2010 blend of Sangiovese, cabernet sauvignon and merlot, also local Magnavino Cellars Red, a blend of five verietals, syrah, cabernet sauvignon, merlot, sangiovese and cabernet franc.
Hollywood Beach Wine Company is located at 3500 S. Harbor Blvd., Oxnard. Telephone 805 4677. It is open for lunch and dinner daily with a Sunday Brunch, closed Monday.
. Back to Table of Contents..

Last Update:

&copy 2013 Joe Hilbers All Rights Reserved.
Graphic Design by Impact Graphics