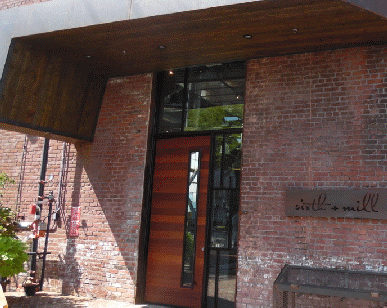 "Los Angeles--Sixth + Mill Pizzeria joins Art District culinary scene"
by The Editor
Los Angeles Art District continues to expand its entertainment and culinary experiences. Some of this expansion must be credited to Matteo Ferdinandi, CEO of the Factory Place Hospitality Group, which just opened its newest restaurant, Sixth and Mill Pizzeria and Bar located in a former shoe warehouse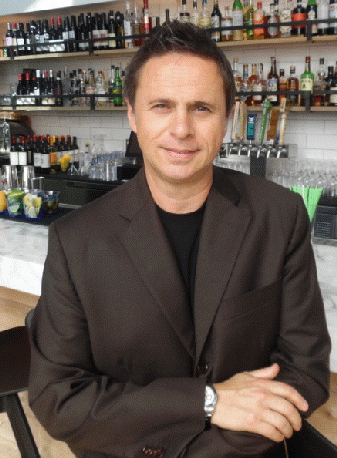 Like its other two restaurants Sixth and Mill is dedicated to presenting classic Italian foods, all styled by Partner and Executive Chef Angelo Auriana. The restaurant had only been open three weeks when we visited for our luncheon. The restaurant was full and all went smoothly both in the kitchen and with the well trained service staff.
It is called a pizzeria but besides the extensive pizze selection there is a full menu of other Italian specialties starting with small plates of caponata, polpette meatballs and our choice, bruschetta; porcini with provolone and reggiano.
The list of Fritters included brussels sprouts, cauliflower and our choice, panzerotti with mozzarella, tomatoes and oregano.
Our choice of pizze was the apulia with mozzarella, onion, escarole, anchovy, olives and burrata. In all the choice of pizze includes five red and four white.
This whole menu is straight out of Italy and we had bites of two pasta, sorrentina gnocchi with tomato, burrata and reggiano and the pasta al forno with meat-tomato ragu and mortadella caciocavallo. Two Piatti-plates menu items were salsiccia wildboar sausage with rapini, chili and jam or mitili mussels with white wine, garlic and potatoes.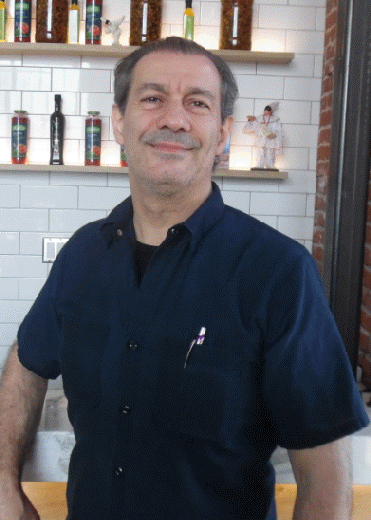 The dolci dessert menu offered gelato, torta chocolate flourless cake and what we ordered u baba, vanilla cream with orange zest.
There is also a full service bar and lounge with a menu available for each type of spirits listing the brands for each. This list included vodka, gin, tequila, mescal, bourbon, rye, American whiskey, rum and scotch. Generally from five to eight brands listed for each.
The wine list is large and completely Italian with fourteen listed by the glass. California is represented only on the list of draft beers. There is also a large list of Italian after dinner cocktails.
Sixth and Mill Pizzeria is an interesting addition to the other two Factory Hospitality restaurants with Officinie Brera just steps away from the Pizzeria in location as well as the acclaimed high end Factory Kitchen. We met with both Matteo and Chef Angelo at the Sixth and Mill. Earlier on a visit to Officine Brera we had the opportunity to meet and chat with Francine Diamond Ferdinandi, Matteo's wife who often acts as sommelier at that restaurant.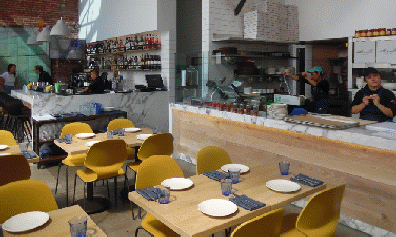 Sixth and Mill Pizzeria and Bar is located at 1335 East Sixth Street, Los Angeles, Ca. 90021, Telephone 213 629-3000. Factory Kitchen is located at 1300 Factory Place, Los Angeles, Telephone 213 996-6000. Officine Brera at 1331 East 6th Street. Los Angeles, telephone 213 553-8006.
Valet parking is available beside the restaurants on Sixth Street.
Back to Table of Contents..
Last Update:10/3/18
&copy 2018 Joe Hilbers All Rights Reserved.
Graphic Design by Impact Graphics