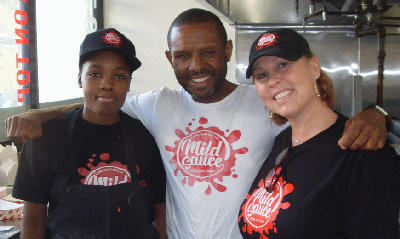 Los Angeles--Mild Sauce Restaurant moves you back to traditional Chicago fare
.. By The Editor
Through the years we have noted how folk from Chicago that move to Southern California remain intensively loyal to their home town remaining fans of the Cubs baseball team and Bears football team. So it was no surprise to learn that this loyalty follows to food as well. < P>Our visit to Mild Sauce Restaurant proved this. Here is a new restaurant that features Chicago style chicken and fish with a famous sauce. The condiment was always called Mild Sauce and now it is available to both former Midwesterners and the local population.
This all came about when Kenneth Caldwell, a Chicago native, decided to move to California and bring with him classic Chicago recipes for fresh fried chicken, fish and a truly authentic Mild Sauce.
So the Mild Sauce Restaurant was created located on the busy La Cienega and Olympic Blvds intersection and so add yet another style of food to La Cienega Blvd, long famed as 'restaurant row". At Mild Sauce the menu includes Jumbo Fried Shrimp, Catfish, and Chicken Strips, all battered, fried, the batter from a secret recipe as well as the sauces and seasonings. Included with these entrees are sides like Coleslaw, also from a secret Chicago recipe, and French fries.
Here all food is fresh daily and cooked strictly on order to arrive hot and ready to please former Chicago natives and many California converts.
Being a native Californian it was all new to this Writer. But the very first taste of Ken's magic sauce convinced me that these ex Chicago people were on to something. Our tasty order arrived with the battered shrimp and catfish and a large stack of french fries plus a huge container of, (you guessed it) Chicago Mild Sauce. My dining partner opted for the chicken which was so large a portion that she had some to take home as well. We traded portions so to try all of Ken's favorites and agreed that both the fish and chicken batters were exceptional in texture and flavor and the ingredients moist, fresh and tender.. At first we questioned the mild sauce as to whether it was spicy but there was no spice, just flavor.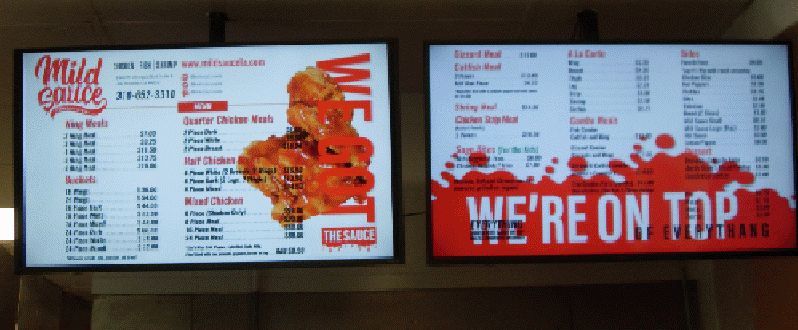 The design and ambiance of Mild Sauce Restaurant is casual, upbeat and the decoration on the walls strictly from Chicago with all the team banners present and best of all a huge photograph of that City. The restaurant also adds to the Chicago scene with house music and fun board games to play at every table, as found in many Midwest restaurants.
.With Mild Sauce Restaurant Kenneth Caldwell and partner Apryl Carrea have found a ready customer base for the Chicago style chicken or fish. So much so that Mild Sauce now has an upcoming late night program with internet delivery only.
Mild Sauce hours are Monday-closed,Tuesday-11am-10pm,Wednesday 11am-10pm,Thursday 11am-3:30am,Friday 11am-3:30am,Saturday 11am-3:30am, Sunday 12pm-7pm. The restaurant is located at 8500 W. Olympic Blvd. Los Angeles, 90035, Telephone 310 652-3310, on the web www. mildsaucela.com. There is free off street parking.
. Back to Table of Contents..

Last Update:

&copy 2018 Joe Hilbers All Rights Reserved.
Graphic Design by Impact Graphics