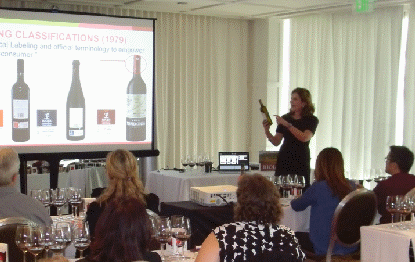 "Beverly Hills--Spain's Great Match was all about the country's food and wine "
.. By The Editor
It has been some time since we can recall an event that delivered as much information on a nation as Spain's Great Match that took place recently at the SLS Hotel in Beverly Hills.
Some one hundred and fifty Spanish wines from almost every region of the country were poured and with that the opportunity to taste and enjoy tapas and other pairings that came directly from the Bazaar's Kitchen, the award winning restaurant located at the SLS Hotel. In addition there was the opportunity to attend three seminars, each covering special sections and grape varieties of Spain's wine country.
One seminar singled out the Albarino grape, one of Spain's eight indigenous grape varietals, and how in recent years it has taken on new popularity both with winemakers and consumers both in Spain and Internationally.
After several decades of wine writing one of the things that this reporter knows is that there is always something new to be learned about vineyards and wine making. This was evident, once again, when we attended the seminar conducted by Ana Fabiasno and explored the Rioja wines and how they have gained respect with both Royal and Gran Reservas. The third seminar was entitled "Wine-ing Down the Duero River", a look at Castilla y Leon".
The three seminars explored wines from five regions of Spain including D.O.Carinena, D.O. Navarra, D.O. Rias Baixas, D.O. Ca.Rioja and Wines from Castilla y Leon.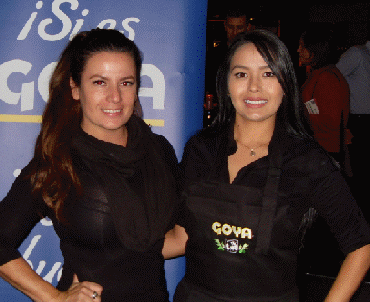 Foods from Spain were also included and we spent some time with the representatives of Goya Foods, since we have been using their olive and olive oil products for many years. The Tasting which extended into late afternoon featured denominations of origin (D.O.) and country wines from 22 regions of Spain. Another of the food exhibitors was Palacios which featured five different Chorizo as well as Grandma Cake and Brownie Cheesecake (Granderroble).
On our trip to Spain, which took place some years ago, we were especially interested in exploring the Spanish Sherries of Jerez -so when we found the Bodegas Hidalgo La Gitana booth we noted their three sherries and so had to try each one. They were Napoleon Amontillado, D.O. Jerez-Xeres, Farfaon Oloroso D.O. Jerez-Xeres and Alameda Cream D.O. Jerez-Xeres, all under the Bodegas Hidalgo label.
The tasting of these wines brought back fond memories of the time spent in Jerez.
The SLS Hotel was the perfect choice for a day that was devoted to all things Spanish. The room for the seminars was large but even so the seminars were so well attended that it was standing room only at the one we sat in.
In all four food participants took part in Spain's Great Match along with fourteen wineries and importers.
For more information on Spanish wines check the web at www.winesfromspainusa.com.
. Back to Table of Contents..

Last Update:

&copy 2018 Joe Hilbers All Rights Reserved.
Graphic Design by Impact Graphics