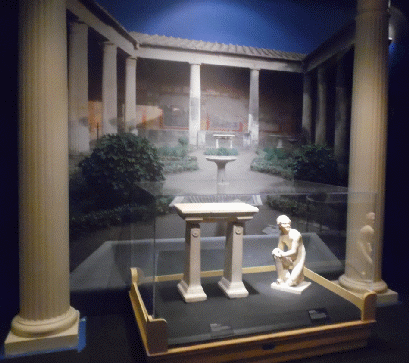 Simi Valley--The Pompeii Exhibition at Reagan Library offers a look back two thousand years"
By The Editor
The Ronald Reagan Presidential Library and Museum is one of Southern California's premiere attractions and is worth a visit regardless of personal political affiliations. We had been to the Library in past years but our recent visit showed additions and vast improvements that have been made.
Location alone is always a special treat as it has been built on top of a mountain with commanding views in every direction including the Pacific Ocean. On this visit we made it a full day's outing with time out for lunch at Reagan's Country Cafe which also includes a Ronald Reagan Pub.
During our visit there is a special exhibit on Pompeii and how the eruption of nearby Mount Vesuvius destroyed a bustling port and trading city on August 23, 79 A.D. The disaster that destroyed the city and took many lives but also, thanks to the tons of ash that covered the region, preserved much leaving evidence of its people's daily lives, their tools and diet and even some of their bodies. All of this is shown in this exhibition which will extend at the Library through April 21, 2019. Pompeii went centuries, undisturbed, until 250 years ago when it was rediscovered and immediately recognized as a perfect look back in time.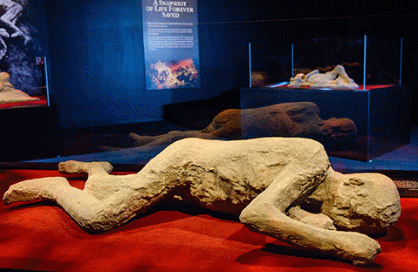 The Exhibition includes some 200 artifacts including kitchen utensils, furniture, jewelry, statues as well as frescoes, mosaics and full body casts of human forms that died from the heat and gases released by the eruption. The use of a 4-D Eruption Theater will allow visitors to experience life in the City before disaster as well as the aftermath which has been frozen in time.
Many of the authentic artifacts are on loan from the Naples National Archaeological Museum. This Writer personally visited Pompeii on a visit to Italy in an earlier decade and our experience at the Library served to remind us of the fascination we experienced on that unforgettable Italian tour.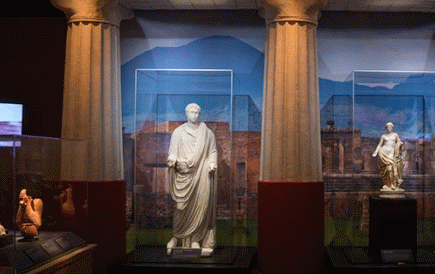 Twenty four galleries tell the story of Ronald Reagan's life before the Presidency and much of the personal relationship of he and his wife, Nancy. With her death she now is buried next to her husband at the Library. We always enjoy looking at the perfect replica of the Oval Office at the White House and the place of business for so many presidents.
The landscaping and gardens that surround the Library are worth the time for a stroll and the views they offer. The landscaping includes a replica of the White House Rose Garden. Also to be seen a part of the Berlin Wall brought to the U.S.
The Library is well staffed and the docents we met were most courteous and helpful and with so much to see and do we needed them for advice and guidance. P>The Reagan Library follows the tradition of established Presidential libraries first started by Franklin D. Roosevelt and has continued with every president since then. California has a second Presidential Library for Richard Nixon located in Loma Linda In all there are now twelve Presidential libraries in various states.
The Ronald Reagan Presidential Library and Museum is located at 40 Presidential Drive, Simi Valley, Ca. Phone 1 805 577-4000. It is open daily from 10 a.m. to 5 p.m. web www.reaganlibrary.gov. There is an admission fee for visits to the galleries.
The Reagan Country Cafe is open from 9:30 a.m. to 4:30 p.m. daily.
Last Update: 10/7/18
&copy 2018 Joe Hilbers All Rights Reserved.
Graphic Design by Impact Graphics