"The delights of scenic Highway One are endless"
By
The Highway 1 Discovery Route through California's Central Coast should include a warning sign that reads "moving through this picturesque region on Highway One can be habit forming". Certainly that is true for us since we return again and again. We were only home from a delightful stay in Moro Bay for a few weeks when once again we were on the way to Highway 1.
This time to explore the Discovery Route that stretches from Ragged Point at the north to Edna Valley in the south. Leading attraction is Hearst Castle which attracts millions of visitors from all US states, one hundred and forty five foreign countries and every continent but Antarctica.
The easiest way to describe Hearst Castle is to say that it is truly one of a kind, unique and not likely to ever be duplicated. The enthusiasm of people, some from as far away as Taiwan, was contagious and our tour was performed most professionally by our guide, Cathy.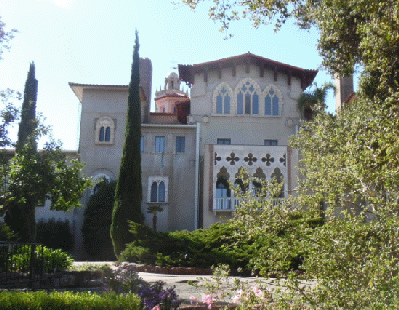 What has been created here is on such a scale that it is hard to grasp. The collection of antiquities, art works, carvings, statues, and tapestries is awe inspiring. We started our visit at the Theater. Here we viewed a spectacular film that traces the history of the family. Entitled "Hearst Castle--Building the Dream" it traces the history of the family from George Hearst's discovery of silver mines, and the early years of son, William. Years that so shaped his vision to bring to America many of the Old World treasures he first saw as a young boy with his mother on a trip to Europe. This film is viewed on a five story tall theater screen.
Our visit was in the off season which is most advisable. The vast majority of the one million visitors each year arrive between May and September. Our day at the Castle was unforgettable. The Fall weather was perfect with clear air offering views of the surrounding mountains in one direction and a shimmering calm sea in the other.
Five different tours are available at Hearst Castle which is part of California State Parks. We took Tour One which is generally recommended for first time visitors. Other tours explore upper floors of Casa Grande, the main house; the other guest houses at the Ranch and an evening tour which recaptures the heyday life of the 1920s and 1930s.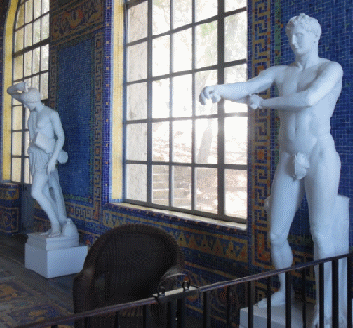 The Hearst Castle is open daily except for three major holidays. For more information call 805 927-2020 or log on at www.hearstcastle.org. Just north six miles on Highway One is the Piedras Blancas Light Station. Construction began in April 1874 and the Fresnel lens started flashing on February 15, 1875. Originally the tower was one hundred feet tall but after damage from an earthquake in 1948 some of the upper part including the Fresnel lens had to be removed.
The Bureau of Land Management took over management of the Light Station in 2001 and since then has been restoring the historic tower and surrounding buildings as well as replacing native plants and vegetation.
Our tour of Piedras Blancas was arranged in advance and we were met and greeted by Ryan Cooper, manager for BLM at the Station. We entered the tower and learned that being a lighthouse keeper in the time before electricity was truly challenging with tending the oil for the lamp and the clockwork needed to turn the light. Just moving up and down first a winding staircase and then a ladder to the lens guaranteed top physical condition for the keepers.
Tours of the tower and support buildings are offered year round on Tuesdays, Thursdays and Saturdays and include a half mile interpretive trail offering views of the rocky shore and surf as well as local wildlife. There is a fee for the tour. For information e e-mail piedrasblancastours@gmail.com or call 805 927-7361. The Station is part of the California Coast National Monument.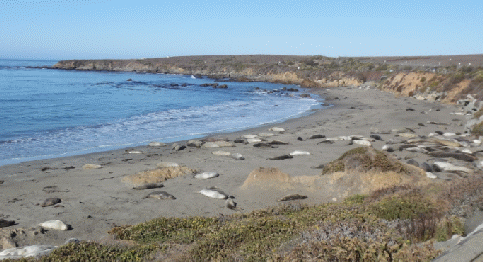 Another very popular visitor attraction is the Piedras Blancas Elephant Seals Rookery. This is located on Highway 1 four miles north of Hearst Castle. It was in 1976 that a few elephant seals first appeared at Piedras Blancas. In earlier eras they had almost been hunted to extinction but by 1990 the numbers continued to increase By 1994 over one thousand seals were at Campers Cove. Now the number has increased to 25,000 with the most from January to May during breeding and the birth and feeding of the pups.
As viewing at the Rookery has increased a group of volunteers was formed named the Piedras Blancas Friends of the Elephant Seal. It has been through their dedication and efforts that have made the Rookery such a delightful experience for viewers from around the world.
Donned in their blue jackets they are always available to help visitors and explain the life cycle of this remarkable animal. On arrival we met with Abby and Rusty, two docents with years of experience at the Rookery. Both proved fountains of knowledge as they explained how the alpha males that arrive in December do battle for dominance, while the pregnant females are on the beach by January to give birth to pups. Pups weigh about 70 pounds but in a matter of one month can quadruple in size. Interesting only the pups are eating at this time while both adult males and females lose large amounts of their weight.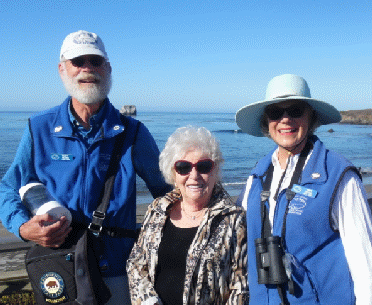 There are signs pointing to the Rookery, parking and walkways for the visitor to safely view these large animals with males sometimes weighing as much as eight ton.
For more information call 805 924-1628. On the web at www.elephantseal.org where one can visit with an e-sealcam.
For more information on Highway 1 Discovery Route log on www.highway1discoveryroute.com
Back to Table of Contents..
Last Update:10/30/18
&copy 2018 Joe Hilbers All Rights Reserved.
Graphic Design by Impact Graphics