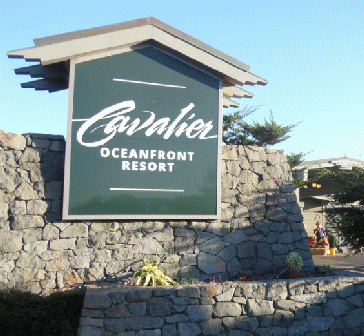 "Sam Simeon and Cambria--It just can't get better that visits here on Highway One Discovery Route"

by Joe Hilbers
To say we were pleased with our stay at Cavalier Oceanfront Resort in San Simeon is an understatement. Our room was steps away from the ocean and included a comfortable patio with two chairs. This used up a good deal of our time watching waves, strollers, sunsets and other folk enjoying all of the above.
Thanks to our perfect Fall weather there was no need to use the fireplace. At Cavalier WiFi comes with the room and was available throughout our stay. I always seem to have need of my car close at hand. Here it was right outside my door. There is also a Pool but a much, much bigger body of water just yards away.
The Cavalier Coastal Kitchen was perfect for the convenience it offered as well as its ambiance, contemporary menu and friendly efficient staff. It was there for breakfast, lunch and dinner.
Cavalier was the perfect location for exploring the San Simeon area of Highway 1, just three miles from Hearst Castle, seven miles to the Elephant seal rookery and two miles further to Piedras Blancas Lighthouse. From Cavalier it is less than a ten minute drive to Cambria. The hotel is also the perfect hub for visiting wineries of the Pacific Coast Wine Trail.
Cavalier Oceanfront Resort is located at 9415 Hearst Drive, San Simeon, Ca 93452, web www.cavalierresort.com. Telephone 805 927-4688.
Moving through downtown Cambria is a look at an earlier time in America. Most of the shops and businesses are small and intimate featuring a single commodity or service. The city is divided in its downtown areas with a East Village and a West Village.
The East Village places Cambria's historic past on display. There is a historical Walking Tour through East Village that links the city's historic past with the present. Many of the homes date as far back as 1875. Both downtown areas offer many small shops and the East hosts four winery tasting rooms as well.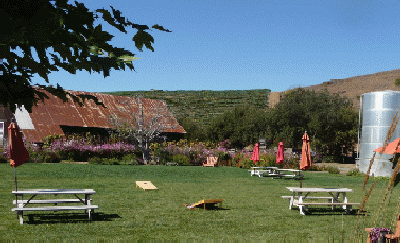 We visited Stolo Family Vineyards on the outskirts of Cambria. It is the only one in Cambria that includes 22 acres of vineyards, the winery, tasting room and picnic patio. All this only a few minutes drive from downtown Cambria.
Here we met Diego Aguirre who is general manager. On an earlier visit we met Winemaker Nicole Bertotti Pope who took us on a tour of the modern winery and explained the adjacent vineyard is only three miles from the Pacific Ocean located in the Santa Rosa Valley.
Nicole learned her winemaking skills at Cal Poly. With its nearby ocean location Stolo offers true Burgundian style wines. Adjacent to the tasting room and vineyard there is a patio for relaxing picnics and a whole series of summer concerts while tasting some very good wines. The vineyards are on land that has been in the Stolo family for generations.
Stolo Family Vineyards is located at 3776 Santa Rosa Creek Road in Cambria. The tasting room is open daily from 11:30 a.m. to 5 p.m.. Telephone 805 924-3131. Web www.stolofamilywinery.com.
Our culinary adventures in Cambria included a delightful breakfast at Linn's Restuarant & Gift Shop Guide and dinner at Robin's which shows a handcrafted global cuisine. We opened with the crispy Vietnamese Spring Rolls and for our entree the dinner special Fettucine Prawn Alfredo that included tiger prawns in a most tempting sauce. It was such a large portion that my dining partner and I shared it. Our wine was a Stolo Zinfandel. Over a 38 year period Robin's has established a solid reputation for presenting an unusual menu with choices from many different cuisines. All of this in a delightful building that was once a home with inside and patio dining surrounded by lush gardens.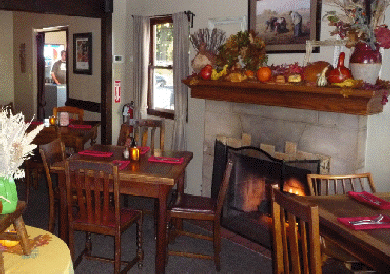 Robin's is located at 4095 Burton Drive, Cambria, Ca 93428, Telephone 805 927-5007, web www.robinsrestaurant.com.
Linn's early beginnings was a farmstore located east of Cambria. In town Linn's Restaurant is open for breakfast, lunch and dinner daily from 8 a.m. to 9 p.m. Our breakfast was French Toast fresh from the bakery which is part of the restaurant.
Linn's of Cambria is located at 2277 Main Street, Cambria, Ca. with free off street parking. Telephone 805 927-0371, web www.linnsfruitbin.com.
New to us was our short visit to Cayucos. Rather unfairly, we thought, Highway One bypasses Cayucos so a turnoff is necessary to reach it. Here is an town with an ocean setting with the look of a much earlier era. During the summer thanks to its location it offers much for a beach side vacation but when we were there a car passing on Main Street was an event. However we had been told that Brown Butted Cookie Company was big in tasties and the information was certainly true.
Their sugar cookies are indeed delicious and the friendliness of the staff was wonderful. We pass on the address, 98 N. Ocean Ave. but it is not hard to find your way in Cayucos. We liked what we saw and using that famous line, We'll be back.
For more information on Highway 1 Discovery Route log on www.highway1discoveryroute.com
Back to Table of Contents..
Last Update:10/28/18
&copy 2018 Joe Hilbers All Rights Reserved.
Graphic Design by Impact Graphics