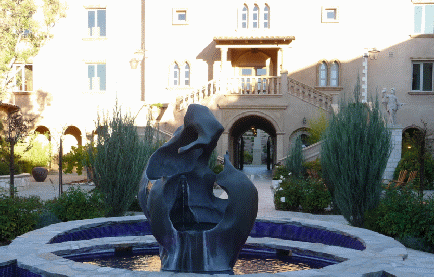 "Paso Robles-- Alegretto Vineyard Resort was the perfect choice for a visit to the region"

by Joe Hilbers
Our goal was to find out why Paso Robles has become such a popular visitor destination, not only for Californians, but for others from states near and far. Another reason was to personally exprience the Allegretto Vineyard Resort.
After visiting Hearst Castle the concept of experiencing luxury while surrounded by art treasures in a building that makes one think of the Mediterranean was most appealing. The result was our memorable stay at Allegretto Vineyard Resort.. Here surrounded by vineyards is a resort that offers a five star life-style in a rural setting.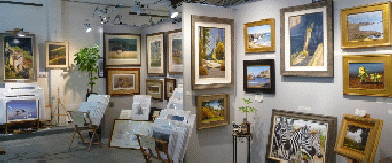 It is only three years ago that Douglas Ayres put together his best ideas on hotel hospitality into being by opening Allegretto as part of the family's hotel chain.. In that short period of time Allegretto has achieved a reputation as being the perfect hub for exploring the showplace wineries that dot the landscape surrounding Paso Robles.
But Paso Robles has much to offer besides its 260 wineries. There are exciting restaurants, museums and of course the stunning countryside.
We started in downtown Paso Robles with its picturesque Park where the Paso Robles Historical Society Museum is located in what was once the Carnegie Library. This was the perfect place to learn about the history of the city which extends back to the earliest days of a European settled California. It is open five days a week,. Phone 805 238-4996, web www.pasorobleshistoricalsociety.org.
Also downtown is Studios At The Park which is the center for local artists. Here their works are on display and some have studios there as well. Just previous to our visit the Open Studios Art Tour was conducted for the 20th year which combines all the arts of cities throughout San Luis Obispo County. Studios at the Park is located at 1130 Pine Street, Telephone 805 238-9800, web www.studiosonthe park.org.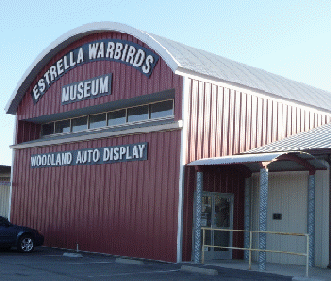 Most impressive for us was the visit to the Estrella Warbirds Museum which also includes the Woodland Auto Display. The Museum was founded in 1992 on land that was an Army Air Force Training field during World War ll. Its aim from the beginning was the restoration and preservation of military aircraft,, vehicles and memorabilia.
As a World War ll veteran the visit to Estrella was most interesting as some of the exhibits brought back personal experiences. Among the 37 aircraft on display is a 1943 Douglas C47, often called the Gooney Bird. On one of these planes I was flown from Germany to France, the start of my return journey to the States and also my very first ride on an airplane.
Also on display one of the same kind of two and one-half ton trucks that moved my division from France to the Ardennes in the winter of 1944. The museum has, since its beginnings, been staffed by docents who have dedicated much of the lives to acquiring and maintaining the aircraft and other items on display. The Auto Display will bring joy to anyone interested in both racing and autos of earlier eras. There for this Writer to see was a perfectly cared for 1939 Ford Convertible which was the first car I ever owned.
Estrella Warbirds Museum is located at 4351 Dry Creek Road in Paso Robles, Ca. 93446. The Museum is open Thursday through Sunday from 10 a.m. to 4 p.m. For more information call 805 238-9317, on the web www.ewarbirds.org.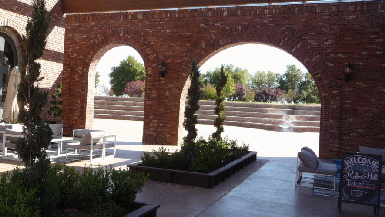 Our visits to wineries started with Robert Hall which was located off Highway 46 just a few minutes from Allegretto Resort. Robert Hall can be considered one of the pioneer wineries in the region being started with plantings in 1955. After the death of the founder new owners took over in 1985. The Duse vineyard has 130 acres and includes some 80 year old vines. Winemaker is Don Grady who has been with Hall since 2001.
Robert Hall holds special events most of the year with a free run Fridays concert series and a Harvest Festival weekend. Both the buildings, barrel room and tasting facilities are impressive. Robert Hall is located at 3443 Mill Road, Paso Robles, Ca 93446. For hours call 805 239-1616, web www.roberthallwinery.com.
Another of the pioneer wineries we visited was Parrish. This family history in the Atascadero-Paso Robles extends back four generations. It was in 1925 that Earl Henderson planted grapes in the Paso Robles area, successfully until Prohibition arrived.
But then David Parrish, his grandson, became a grape grower with new ideas and methods on varietals and ways of planting. Moving on the Parrish Winery was established and now produces award winning Bordeaux varietals like Cabernet Sauvignon.
When we visited Parrish they had just completed a new handsome building that includes a Tasting Room and facilities for special events.
Parrish is located at 3590 Adelaida Road in Paso Robles, Ca. 93446, Telephone 805 296-3027, web www.parrishfamilyvineyard.com.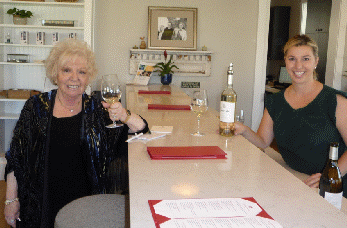 Back to Table of Contents..
Last Update:10/27/18
&copy 2018 Joe Hilbers All Rights Reserved.
Graphic Design by Impact Graphics