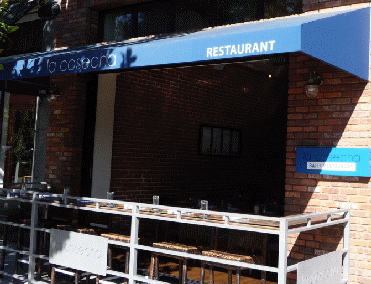 Paso Robles--The cuisines well matched the fine wines
.. By The Editor
Our culinary experiences in Paso Robles often were adventures as well. On our moving through the city and countryside we discovered that the fine wines are accompanied with some interesting cuisines.
We enjoyed two most interesting dining experiences in downtown Paso Robles. The first at La Cosecha Bar & Restaurant. The menu here shows influence of both Cuban and Latin cuisines. We were there for lunch and started with the ceviche of the day and Pastelitos Catracho which were Honduran styled empanadas of beef and potato. We shared everything with our dining partners as well as the stone fired pizza Margherita which followed. The restaurant is large with a showplace bar and includes some streetside dining as well.
La Cosecha Bar & Restaurant is located at 835 12th Street across from the Park in downtown Paso Robles. Telephone 805 226-0300.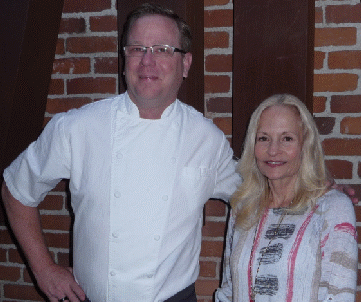 We were back downtown for a most interesting evening at Thomas Hill Organic Kitchen where we were greeted by Owner Debbie Thomas. The restaurant enjoys an unusual decor and ambiance thanks to a courtyard with one wall covered with green foliage and which can be open or roofed depending on the weather.
There is also an indoor dining room. We sat in the courtyard on a perfect evening while we studied the very interesting menu. Chef Kurt, who we met, offers choices like Thai Chili Salmon, Moroccan roasted half chicken, Bucatini & Sea Urchin or seared duck breast which was our choice. Starters were interesting as well with clams& chorizo, Dungeness crab cakes or short rib tacos. We chose and enjoyed the warm beet & goat cheese salad which included roasted pomegranate seeds and toasted pistachios. Chef Kurt shows sides like potato leek cake or roasted maitake mushrooms or creamy polenta.
This was indeed fine dining which we enjoyed with McPrice 2015 Zinfandel from Paso Robles. The wine list, like the menu, is extensive with many of the local wineries represented.
Thomas Hill Organic Kitchen is located at 1313 Park Street, Paso Robles, Ca., Telephone 805 226-5888, web www.thomashillorganics.com.
Few places offer the tranquillity and serenity of a golf course with its manicured greenways. artistic setting and the sheer luxury of spaciousness.
As an inept golfer for some 30 years this Writer has learned that this peaceful feeling can best be experienced in the club house dining room rather than on the course. Playing golf does not always bring out the best in people, what seemed a delightful day can be quickly erased in a few moments, leaving disappointment and disgust while pondering "how could I take four putts on a hole."
I thought of this as I looked over the breakfast menu at the Hunter Ranch Golf Club Restaurant. From the picture windows of the dining room the course stretched out offering luxurious contentment for the ex golfer who has abandoned the game for the clubhouse.
Located just off Highway 46 East Hunter Ranch has been presenting enjoyment for both golfers and diners sine 1994. Our breakfast included traditional dishes like bacon and eggs and my French Toast. Service was excellent with a friendly waitress and soon we were off for another business day exploring Paso Robles.
Hunter Ranch Golf Club is located at 4041 Highway 46 East in Paso Robles, Ca 93446, Telephone 805-237-7444, web www.hunterranchgolf.com.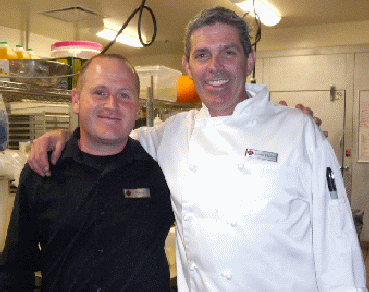 Like everything at Allegretto Vineyard Resort dining at Cello Ristorante & Bar was a memorable experience. Service was impeccable with our waiter Patrick Joynt guiding us through a menu that Executive Chef Justin Picard presents as thoroughly Mediterranean. My dining partner and I shared a Heirloom Tomato Caprise salad which arrived with Italian Mozzarella di Bufala and grilled bread. Our entrees were for my dining partner the Australian Lamb Rack with roasted sweet potatoes and a Pomegranate Demi-glace while I chose the nine ounce Angus beef filet mignon which came with roasted garlic smashed Yukon gold potato and Horseradish Mascarpone.
We had the opportunity to chat with Chef Justin and learned of his interesting background in the culinary arts. Allegretto has its own winery and that evening our wine was Allegretto 2014 Zinfandel from the Paso Robles appellation that showed its 18 months French aging.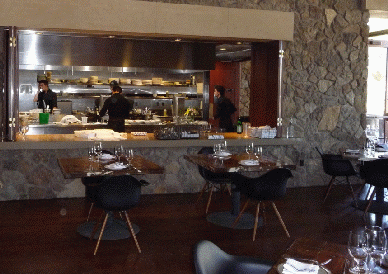 Two of our visits to wineries included luncheon. At Niner Wine Estates we first enjoyed a tour of the winery with Katie Bruce while the harvest and crush was still making it a very busy scene. In the vineyards some grapes where still being picked and in the winery we watched as Malbec grapes were being crushed and then placed in steel tanks. Estate varietals include Sauvignon Blanc, Pinot noir, Malbec, Merlot, Grenache, Sangiovese and Petite Sirah.
At Niner both the Tasting Room is large and comfortable while the dining facilities include an exhibition kitchen and both inside and patio seating. Our lunch included the pea soup, then pan seared scallops for my dining partner and the grilled flat iron steak for me.
The Dining Room is open for lunch Thursday thru Sunday from 12 p.m. to 3 p.m. with a Brunch offered on Sunday as well
Niner Wine Estates is located at 2400 Highway 46 West, Paso Robles, Ca 93446, Telephone 239-2233, web www.ninerwine.com.
At Vina Robles Vineyards & Winery we met with Catherine Jaeger, marketing manager, who led us through their spacious and scenic Hospitality Center. Adjacent is the Vina Robles Amphitheater where concerts are held from Spring to Fall. Located just off Highway 46 East the winery is surrounded by its many vineyards, all with individual names. Under the charge of Winemaker Kevin Willenborg a new winery, with much new state of the art equipment, was completed this Spring.
Part of Hospitality Center is devoted to the Club Lounge, available to Signature members and here we enjoyed lunch with Catherine. Here too Signature members have invites to special parties and events.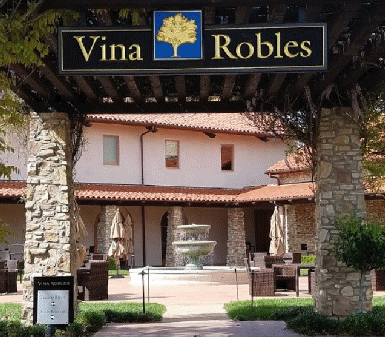 Vina Robles is located at 3700 Mill Road, Paso Robles, Ca. 93446, Telephone 805 227-4812, web www.vinarobles.com.
. Back to Table of Contents..

Last Update:<10/26/18
&copy 2018 Joe Hilbers All Rights Reserved.
Graphic Design by Impact Graphics