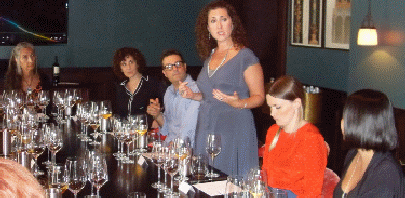 "New 'Italian wine--Taste the Passion' campaign launched in Los Angeles"
By The Editor
The new showplace NoMad Hotel in downtown Los Angeles was the place chosen for the Italian Trade Commission to present its new "Italian wine--Taste the Passion" campaign. With local media present a six course luncheon was presented accompanied with 13 selected wines from all parts of Italy.
The objective of the new campaign is to elevate the image and positioning of Italian wine in the U.S. market and increase both monetary value and market share according to Maurizio Forte of the Italian Trade Agency in New York. The campaign will show particular emphasis in New York, California, Florida, Illinois and Texas markets.
The menu opened with Fava Bean hummus with a 2016 Tenuta di Valgiano Bianco from Tuscany with a Kanpachi ceviche as the next course. With the Garganelli pasta three different vintages of the same wine were served. The wine was Ronchi di Cialla, Collil Orientali del Friulu and the vintages were 1996,1998 and 2000. The quality of the white wines proved how well this particular white varietal holds both its flavors and texture through the years.
With the Nomad Roast chicken we moved to wines from Sicily with a 2015 Arianna Occhipinti Frappato and 2010 Classico Fontane. The next course, beef tenderloin, the wines were red with a Barolo from Piemonte and a Rosso Case Basse from Toscana.
Present to explain the wines were Amy Ezrin of the Italian Trade commission and Ryan Bailey, wine director for the NoMad Hotel.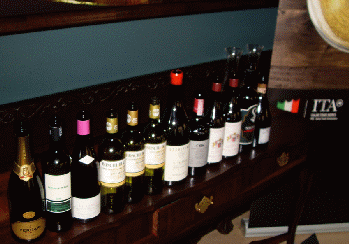 Our last course was Parmigiano and Roiola Bosina cheeses with a 2010 Lambrusco di Modena brut Rose from Romagna.
The Italian Wine--Taste the Passion campaign points to the country's culture and life-style in commercial, trade and educational channels with a multimillion dollar investment and will extend for three years. The campaign will emphasize what Italy has to offer in its wines--quality, variety and biodiversity along with singularity, authenticity, versatility and family traditions.
All of this was well demonstrated for the fortunate 20 members of the media present at the Hotel NoMad luncheon
Last Update: 10/31/18
&copy 2018 Joe Hilbers All Rights Reserved.
Graphic Design by Impact Graphics