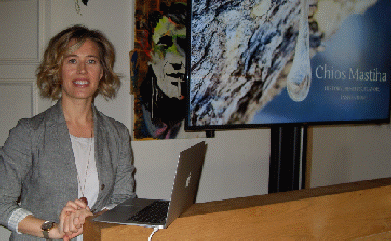 Brentwood--"What the Greek Island of Chios offers was a revealaton for this food writer" By The Editor
.
The joy of being a food writer is that each week brings a totally new experience.
Do you know about Mastiha which has been produced on the Greek island of Chios for over two thousand years? Well we did not until we attended a luncheon in Westwood one day last week. It was written about by some famous Greeks of antiquity writers including Diosourides, Hippocrates and Herodotus who described it as the first chewing gum.
The Westwood event, held at the Fellow LA restaurant was sponsored by the Chios Gum Mastic Growers Association which has been growing and harvesting the unique product for centuries on Chios. Today it is being exported to 47 countries and is used in food and beverages, pharmaceutical products, cosmetics and perfume.
On the island of Chios, the only place the tree is found, there are forty eight hundred growers located in 24 medieval villages producing, which after a long process, becomes a teardrop shape crystal
All this was shown the media present at the luncheon with a slide show conducted by Sarah Delevan, a food sourcing consultant. Representing the Chios Growers .Association was Miltiadis Sarantinidis, Commercial Director.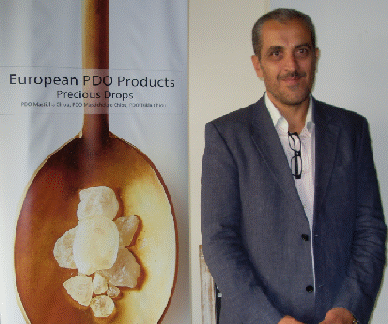 The Mastiha trees can live to be one hundred years old and only reach full size in fifty years. The trees can start producing the crystal drop after five years.
This starts with the grower making a small incision on the surface of the tree. The mastic resin exudes from the incisions in liquid form and in teardrop shape. These drips remain on the soil until they become solid enough to be collected.
Our luncheon at Fellow opened with a vodka cocktail that included Mastiha and the three courses that followed also contained the unique product. The list of products that contain Mastiha appear endless.
While the benefits of Mastiha were recognized for so many centuries it is only more recently that the beneficial properties of Chios Mastiha have been scientifically proven.
Back to Table of Contents..
Last Update:10/30/18
&copy 2018 Joe Hilbers All Rights Reserved.
Graphic Design by Impact Graphics