Beverly Hills--"Wines From Don Quixote's Spain, that man of La Mancha still excites"
By The Editor's Vineyard
Who could not be fascinated with a title like "Wines from Don Quixote's Spain"? The wines are actually from Castilla-La Mancha, a region that bills itself the largest vineyard in the world comprising some one and one quarter million acres growing forty six grape varieties.
This region is steeped in history with began long before Cervantes penned the story of that noble knight Don Quixote.
So it was with great interest that we attended the Beverly Hills Castilla-La Mancha US Tour and sat in on a most informative seminar conducted by Karen MacNeil. Karen is a bright spot in wine world journalism, both informative and lively.
The region is actually made up of nine separate appellations of origin and the average age of a vineyard forty years old. Many are still of native varietals but world wide favorites are planted as well.
We had the opportunity to taste nine wines and what made this seminar different was the fact that either the owner or winemaker from each of the wineries actually joined Karen to describe not only the vintage but their winery and skills.
The two white wines we tasted showed the vast outlook the region includes in its products. We gave high marks to the 2012 Almarfina Verdejo, a native varietal of the region. The second was an unusual blend of three well known grapes, Viognier, Chardonnay and Riesling. The Brand name is1564 and the producer Bodegas Oleuviana and this unusual blend is offered each year.
A red we liked was a native varietal called Graciano, 2010 Finca Los Alijares from the winery of that name. We were told that this grape is a challenge to the winemaker but what we tasted certainly was well received by us. The difference from most red wines was very apparent but proved most satisfying.
Tempranillo is a true native of the region and the one we tasted was one hundred per cent of the varietal, 2012 Ojos del Guadiana from El Progreso, a century old winery.
Karen warned us that we would find Syrah from Castilla La-Mancha much different from what we have experienced from California and Australian wines of this varietal. And this was readily apparent. We gave high marks to El Linze 2008 which included 85 per cent Syrah and 15 per cent Tino Valasco, another native. The wine was different and much admired by this Writer.
For us new varietals are always exciting so we looked forward to a one hundred per cent Garnacha Tintorera from Bodega Los Aljibes. We thought it well balanced and flavorful.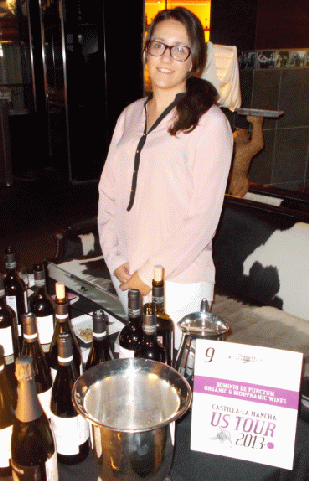 Another new varietal for us was Babal, which is often used in La Mancha blends, but in the wine we tasted one hundred per cent of that grape. We simply wrote on our notes, yummy and additive. The winery is Altolandon which is located at 3,600 feet elevation. This elevation offers cool nights for many of the vineyards in the Castilla La Mancha region.
Bodegas P:iqueras is another winery enjoying a 2,000 foot elevation and we were impressed with its 2009 Castillo de Almansa Reserva which is a blend of Monastrell, Granacha Tintorera and Tempranillo. We gave high points for this wine.
Don Quixote's wines were presented at the SLS Hotel in Beverly Hills with a standing room only attendance at Karen MacNeil's seminar. Then a grand tasting of many, many wines took place.
Back to Table of Contents..
Last Update:6/26/13
&copy 2013 Joe Hilbers All Rights Reserved.
Graphic Design by Impact Graphics