Temecula--In old Town on Main Street the past and present meet..
.. By Joe Hilbers
The Butterfield Stage no longer comes this way but Old Town Temecula still offers the ambiance of an earlier era and retains much of its early western heritage. The City has wisely kept the front of some of its buildings in their original condition dating back to the late 19th century. Inside the buildings are all 21st century.
We enjoyed to once again stroll down boardwalks instead of concrete sidewalks and move about leisurely exploring what Main Street has to offer. For Old Town is one of those rare places in Southern California where you can park your car and then reach anywhere you might want to visit with a short walk. In just about nine blocks one can find interesting shops, wine tastings rooms, antique and specialty stores, museums and a host of restaurants offering a long list of American and ethnic cuisines.
On this latest visit we did just that starting with the Temecula Valley Olive Oil Company. In an earlier visit to Temecula we had visited their ranch and production center but in Old Town they have a store and tasting bar where visitors can learn about the differences and characteristics of olive oil as well as the many spices that can be added for unique flavors. Certainly this family owned company has expanded the qualities and uses of the olive fruit moving past just cooking oil to soap and beauty products.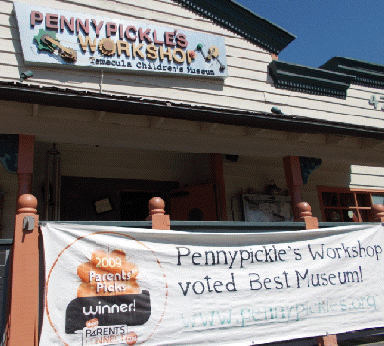 When we visited Professor Phineas T. Pennypickle's Workshop, the Temecula Children's Museum, it is questionable who was the most excited the children or this Writer. The woman who created the concept of this museum, Michelle Elrod, has done a masterful job of providing odd products of the past into fun items and learning experiences for children. This is a hands on place for children and they are encouraged to touch and operate such things as old typewriters. This museum is a marvel to its collection of household and ordinary commonplace items that are museum pieces for young children, think 78 12 inch records.
The Children's Museum is operated by the City of Temecula and is well staffed and supervised. It is located at 42081 Main Street, call 951 308-6370 for information.
We continued our meandering on Main Street with a stop at The Lavender Shop, then the Olde Town Sweet Shop, here for a tasty ice cream cone. With this Writers' 'sweet tooth' it was a hard place to leave. But we recovered nicely on our visit to Old Town Rootbeer Company. Like Snoopy quaffing root beers in a French Bistro between duels with the Red Baron we also enjoy this beverage which is practically an art form at this establishment at 28500 Old Front Street.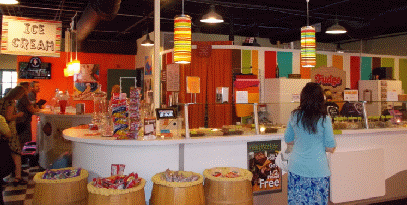 At a Media Day Reception held at the City's handsome Civic Hall we had the opportunity to talk and become acquainted with the many attractions Temecula and the Valley offer visitors and the things to do and see continually expand. One new attraction are the Polo Matches held on Friday and Saturday evenings during the summer. We chatted with Geraldine Strunsky, president and founder of the Temecula Valley Polo Club, which was started in 2012. The weekend matches have become very popular with restaurants and wineries now providing refreshments as the matches take place entitled 'Polo in the Vines". For more information see www.temeculavalleypolo.com.
If you own a horse and want to ride it in Temecula Valley there is 'Gaits In the Grapes' an outfitter and guide service operated by Scott and Juanita Koth. Call 951 515-9964.
We had the opportunity to renew acquaintance with Melody Brunsting who has long been identified with the popular Wine and Balloon Festival, now a tradition in Temecula as it celebrated its 30th anniversary this year.
The number and variety of concerts and theater in Temecula is huge with everything from classic concerts to Shakespeare performances. Called Shakespeare in the Vines, it is a division of Havens for the arts with Sheila Havens Rylem, as artistic director and founder.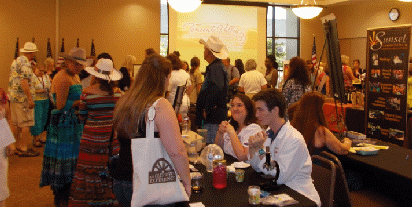 It's called Temecula's Stage and it all takes place at the Old Town Community Theater. The whole program for 2013 and 2014 is available in a calendar of events and on the web at www.TemeculaTheater.org. For other live entertainment events go to Temeculaevents.org. Also many of the wineries stage their own entertainment events including the Thornton Winery Jazz Concert series each summer and Wilson Creek Winery with a variety of events.
To our way of thinking one of the real pluses of the California wine industry is that vineyards and wineries are almost all family owned. This is especially true in Temecula wine country where along the twin roads that connect rows of vineyards and wineries they proudly proclaim the name of their owner. And some of these families are continuing in Temecula what earlier generations were doing in Europe.
This is certainly true for the Doffo Family headed by Marcelo Duffo who lists several forbearers generations who made wine in Italy. And here Father and Son, Damien are committed to making wines in an old World style. If you are interested in motorcycles then don't miss of visit to this winery since Marcelo Doffo has amassed a huge collection of bikes many dating from the 1960s to 1980s.
Duffo Winery is located on the Rancho California Road at 366083 Summitville Street with the tasting room open daily from 10 a.m. to 5 p.m. Telephone 866 469-84566. Web doffowines.com.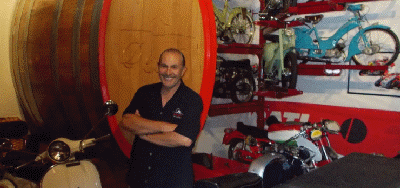 Ely Callaway was one of the first to establish a winery in the Temecula Valley. Vines were planted in the late 1960s and Callaway Winery opened its doors in 1974. We recall meeting Ely Callaway as well as his most knowledgeable Viticulturist John Moramarco. We received a chardonnay cuttings from John which we planted in our garden and it still produces grapes each year which our resident possum loves to harvest.
Callaway Vineyard & Winery was sold by Callaway and has gone full circle from one owner to corporate ownership and now is back as the Lin family winery
Winemaker is Craig Larson and we were impressed with the wines we tasted on our most recent visit. Callaway has always enjoyed a reputation for quality chardonnays and this continues with the 2010 Winemaker's Reserve Chardonnay we tasted. This wine spent one year in oak barrels giving it an exceptional aroma of fruit with oak influence. Fruit also dominates on the palate and the finish is lasting. Callaway 2011 Rose of Sangiovese has earned a whole list of awards in competitions. Soft qualities of this varietal make it ideal for producing a rose. Produced in all stainless steel the wine offers lush fruit flavors that last and last.
We thought the 2010 Special Selection Cabernet Sauvignon a most superior vintage and graded it accordingly.
Late harvest wines are a tradition at Callaway. We recall one that was called Sweet Nancy. What we tasted was Callaway's 2011 Late Harvest Chardonnay Winemaker's Reserve. We thought it perfect for after dinner rich with apple flavors and lush on the palate. It too has earned some awards in competitions.
Our tasting was held in Callaway's grand new center for tastings and entertainment with views of vineyards in every direction. It is located at 32720 Rancho California Road. Temecula. Telephone 951 676-4001, web callawaywinery.com. .
Back to Table of Contents..
Last Update:8/20/13
&copy 2013 Joe Hilbers All Rights Reserved.
Graphic Design by Impact Graphics