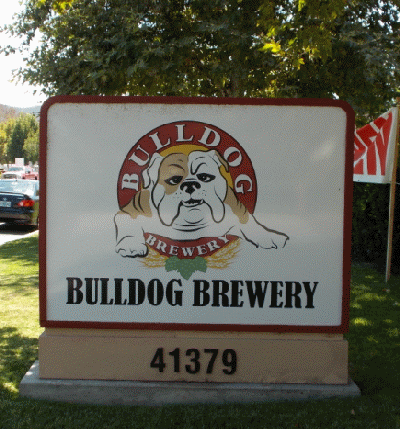 "Murrieta--Bulldog Brewery shows classic hand crafted beers in bistro setting"
By The Editor.
For a change of pace from the tasting of Temecula Valley wines one day we moved to adjacent Murrieta with our sights set on the Bulldog Brewery.
Here proprietors Tom and Sandy Caso have created a popular haven for on premise crafted beers. To these ales, stouts, porters and lagers add a contemporary ambiance, foods to match, live entertainment and you have an exciting attraction for locals and visitors alike.
We had the opportunity to try all of the above with Tasting Room manager Megan Pralle pouring us glasses of Bulldog's most popular brews. We opened with Wiener dog Wheat, then ShihTzu Saison, a malt with crisp fruity flavors, followed by Lockjaw IPA, customer favorite here, with hops present in aroma and flavor and finally P:ig's Porter, dark and steaming malty flavors.
Our tasting was a leisurely event with the brews being mixed with tasties from the kitchen, flatbread pizzas, Panini's, Sliders and Wet Dogs.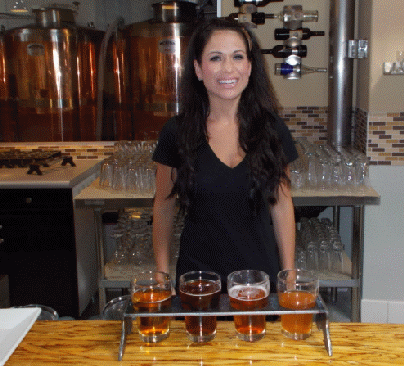 Some of the crafted brews change with the season and Sandy Caso often matches menu items to the beers.
Being in wine country local wineries are well represented including Robert Ronzoni Vineyards, Lormier Winery and Monti De Oro. In fact Wednesdays are one half price Wine Day from 3 p.m. to 9 p.m.. Friday and Saturday evenings there is live entertainment from 7 p.m. to 11 p.m. Closed Monday and Tuesday.
Bulldog Brewery is located at 41379 Date Street in Murrieta. Telephone 951 461--6200. Web www.bulldog-brewery.com
Back to Table of Contents

Last Update:8/20/13
&copy 2013 Joe Hilbers All Rights Reserved.
Graphic Design by Impact Graphics