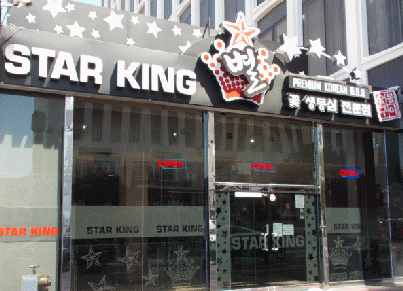 "Los Angeles Koreatown--A unique Beef and classic Korean cuisine mark the Star King BBQ"

by The Editor
Exploring the foods and cuisines of other cultures and nations is always an interesting experience and often can even be exciting. It would be hard to find a city more appropriate for this exploration than Los Angeles. Here one finds restaurants and food markets that often are devoted almost exclusively to service the foods of one culture or country.
Neighborhoods, enclaves, sections of Los Angeles can be found in almost every part of the City. Just on Western Avenue one, in a short distance, drives through Little Armenia, an enclaves labeled Guatemala, and Koreatown. But this fantastic diversity is not limited to the central part of Los Angeles. This Writer lives in the far reaches of the San Fernando Valley but in just a single block can be found a restaurant featuring the cuisine of the Philippines, another the food of Peru, a Korean BBQ and a Mexican food outlet.
In a ten minute drive from my house one can try Greek, Italian, Persian, Thai, Chinese, Japanese, Indian and even some restaurants with downhome American food.
All of this was brought to mind once again when the International Food, Wine & Travel Writers conducted an exploration of Koreatown. Central to this event was a seminar on Korean cuisine at the Star King BBQ.
The Star King Korean BBQ is a very large restaurant, rather deceiving in that its extent is not revealed from entrance on Wilshire Blvd. The front section is for casual dining but this is followed by two dining rooms equipped with the traditional BBQ cooker built into each table. And beyond this is a delightful patio for private functions.
The menu is classic Korean but what makes Star King truly unique is it featuring certified Piedmontese Beef. This unusual breed of cattle is originally from the Piedmont region of Italy and is thought to be of that region for 25,000 years. It was not until the 1970s that a few ranchers imported the first Piedmontese cattle into the U.S. The number of this breed is still small in the U.S. What makes the breed unique is that overall mass of the animal is double muscled producing less fat but rich in protein and nutrients.
The restaurant features Piedmontese beef as a special order entree and with great success.
Our group's luncheon at Star King was a true learning experience. Small taste plates called Ban Chan were placed for us to sample. . Another feature here is the 'Old School Lunch ' which arrives at table in a metal box complete with top. When first viewed at table the ingredients are carefully arranged but then all is mixed into one heaping dish of rice with many mixed flavors. We also tasted Do Tolri Muk Mujchim.
The beef menu is huge with twelve items including almost every cut of meat from steak to tongue. In the two main dining rooms these are prepared at your table on your own private grill. The advantage here is having the ability to cook the meat exactly to the point wished by each individual. Our entree was Piedmontese Brisket Point grilled at the table. Also Piedmontese Tomahawk Ribeye sliced thin on the grill.
Beverages were not neglected at our sumptuous lunch. Served with the school box was Myung Jak Bok Bun Ja, a raspberry wine produced in Korea. This wine showed a hint of dryness with its sweetness and was 13 per cent alcohol. Next was a vodka styled liquor called Soju, Jinro Chamsal Soju which is distilled from grain and has all the characteristics of vodka but is at 19 per cent alcohol. Served in a bowl was a rice wine, Kooksoondang Makkeoli, milky in color and mild at six per cent alcohol. All three were designed to be enjoyed with food. The menu is large both for lunch and dinner with classic Korean dishes but some unusual to western culture like chilled pork belly or beef intestine. Some Korean sauces are truly hot and spicy so some care must be taken for anyone trying this cuisine for the first time.
Considering the talent of the kitchen, polite care of the serving staff and the ambiance we thought the prices at Star King were quite modest. Lunches range from $7 to $14 and for premium beef steaks up to $28. The Piedmontese beef is by special order and priced accordingly. Star King Premium Korean BBQ is located at 3807 Wilshire Blvd, Los Angeles. For hours and reservations call 213 384-5464.
: Back to Table of Contents..

Last Update:10/5/13
&copy 2013 Joe Hilbers All Rights Reserved.
Graphic Design by Impact Graphics