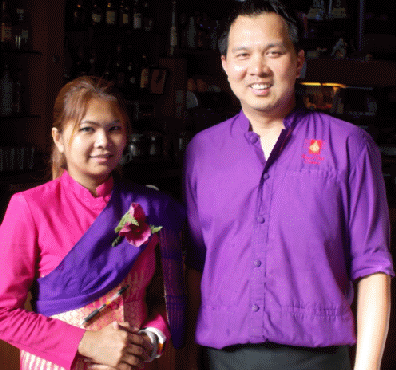 San Diego--We discovered exciting Thai and Chinese Dim Sum for our dining pleasure
.. By The Editor
We were already familiar with the excellence of Sam Tila's superb Thai cuisine from visits to his award winning Royal Thai Restaurant in Newport Beach. So it was a must that we dine at his Royal Thai Restaurant located in the revitalized East Village area of downtown San Diego. This restaurant has been a fixture of authentic Thai cuisine for eighteen years.
Greeting us was G. M. James Bunthalert and petite Bussayanee Tonngam. The restaurant is large with full service bar, lounge and a spacious dining room as well as a highly popular street side outdoor patio. The menu is large with all items being carefully described including some especially marked for '"hot and spicy".
We started with Calamari tempura which came with the chef's own dipping sauce. The list of appetizers is large including such favorites as BBQ ribs, Thai spring rolls, naked shrimp; and a seafood mix called Yun Ta Lay. For our entree we consulted the Specialties and selected Volcanic chicken. This arrived still cooking on an open burner and was expertly carved by our waiter at table. It came served on a bed of greens with a most tasty plum sauce and a bowl of steaming white rice. Our dessert was fresh made Coconut ice cream with grated peanuts.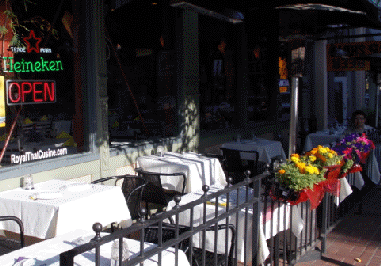 There is a huge selection of entrees, some marked with that 'hot and spicy' signature. Other interesting specialties included Chou Chee duck with a curry sauce or the Crying Tiger, medallions of spicy beef. The seafood menu covers many ocean species and is most tempting. It takes many visits to this restaurant to experience the large selection of Thai styled entrees. We love noodles and there is a large selection here. We will just have to wait until our next visit.
There are also three several course dinners on the menu including Prince of Thailand, Queen's Royal Banquet and King of Thailand. These are designed from two people to large groups.
The lunch menu takes a full page of the menu and is served Monday to Friday from 11 a.m. to 3 p.m. On Thursday, Friday and Saturday hours are 11 a.m. to 3 a.m. Sunday, Monday, Tuesday and Wednesday from 11 a.m. to 10 p.m. Open seven days a week. Proprietor and Master Chef Sam Tila conducts cooking classes at the restaurant several times a year. Call 619 230-8424 for details or reservations. Royal Thai is located in the heart of the East Village entertainment district at 467 Fifth Avenue, San Diego.
Chinese Dim Sum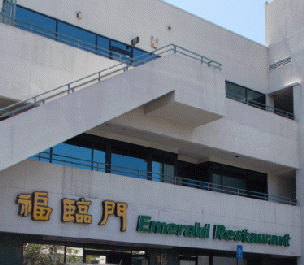 We have decided to come forward and admit our addiction to Chinese Dim Sum. O.K., we are an aficionado for Dim Sum and and it gets worse. We apostolate for Dim Sum to acqaintences and friends. If any conversation turns to food this Writer immediately asks, "Do you like Dim Sum? If the answer is no we immediately see a possible convert.
So I was right in character when dining with colleague Southern California Restaurant Writer David Rottenberg I asked if he knew of any good Chinese Dim Sum restaurants in San Diego. The answer was yes and they were all clustered on Kearny Mesa around Balboa and Convoy Streets. Their names were in his data base back at the office. Undeterred I did my own research and found that Emerald Restaurant indeed featured Dim Sum starting at 11 a.m. each day. Naturally the following day at 11:15 a.m. I pulled up to the parking area in front of the restaurant.
Already cars were entering the lot and when I set foot inside I knew here was another great find. The dining room was huge and already a fourth full with bustling activity. Happy diners and carts stacked high with Dim Sum in steaming small pots attended by smiling women greeted me. All my favorites like Shrimp Har Gow or Shrimp Shia Mai, steamed BBQ pork Bao, pork Siu Mai and Scallop Gow were there ready and waiting.
This Writer was a happy man. I would have liked to learn more about Emerald and its owner and staff but it was so busy that I will have to wait until another visit to do this or better put an excuse to return. Since I was leaving San Diego in a few hours I ordered steamed Chicken Bao and pork Shiu Mai for take out, these for another bit of satisfying Dim Sum at home.
Emerald Chinese Seafood Restaurant is located at Pacific Gateway Plaza, 3709 Convoy Street, San Diego 92111, Telephone 858 565-6888, web wwwemeraldrestaurant.com.
Back to Table of Contents..
Last Update:7/1/13
&copy 2013 Joe Hilbers All Rights Reserved.
Graphic Design by Impact Graphics