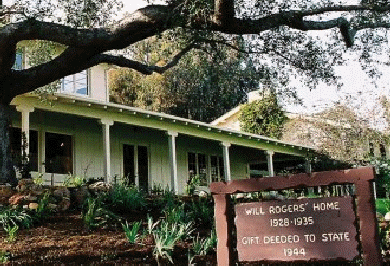 <>"Pacific Palisades--Will Rogers Historic State Park offers much to please"
by The Editor
"Good judgement comes from experience, and a lot of that comes from bad judgement" Will Rogers
In the first part of the 20th century if there was one man that truly represented the United States it was Will Rogers. As an authentic cowboy he moved on to be an actor, radio commentator, newspaper columnist, world traveler, and a pioneer in aviation.
As a humorist and philosopher his quotes and remarks are as fresh and pertinent today as when he made them three quarters of a century ago. All of which made him one of the most beloved and admired men in America. And the whole nation mourned at his untimely death in 1935 in an Alaskan plane crash.
But thanks to the Will Rogers State Historic Park his memory and life-style can still be enjoyed. In 1922 Rogers purchased 200 acres of hillside property in what is now Pacific Palisades with the idea of making it a ranch for his horses. First and foremost for his whole life Will Rogers was a cowboy who loved horses. In 1930 he moved his family from Beverly Hills to the Ranch which continued to be expanded from a six room cabin to a home with 31 rooms, 11 baths and seven fireplaces.
In 1944 Betty Rogers, Will's widow, deeded the ranch to the State of California as a memorial to her husband.
We visited this Park for the first time on a Spring day and once again wondered why it has taken us so long to get there. We started at the Visitor Center which is located in the Roger Guest House and Garage. Here there are historic exhibits of important periods of his life as well as a mini theater that shows his films. He had roles in fifty silent films and twenty one "talkies" A tour guide is required to tour the residence and we were fortunate to have Bruce Brough as our docent. He was both knowledgeable and most friendly and has been a volunteer at the Park for five years.
Besides Will and Betty the family included four children, with one son dying at an early age of diphtheria. The house also saw many famous guests including Walt Disney, Clark Gable and the Charles Lilndbergh family. Decorations in the house all have a western theme with paintings, saddles and ranch style furnishings. We visited his office where Will Rogers wrote a daily column which appeared in some 300 newspapers. He wrote over 4,000 of these columns.

Following our tour of the house we wandered over the property, looked at the polo field, and the large extent of Stables. We then settled at one of the picnic tables to enjoy our brown bag lunch.
The Park offers a full schedule of events during the year including hiking, horse back riding, and a August film event where Rogers movies are presented. For a schedule of these events go to www.willrogersranchfoundation.org. The park is easily accessible from either Pacific Coast Highway or 405 Freeway at 1501 Will Rogers State Park Road, Pacific Palisades.
Long ago, when men cursed and beat the ground with sticks, it was called witchcraft. Today it's called golf. Will Rogers
Back to Table of Contents..
Last Update:6/25/13
&copy 2013 Joe Hilbers All Rights Reserved.
Graphic Design by Impact Graphics