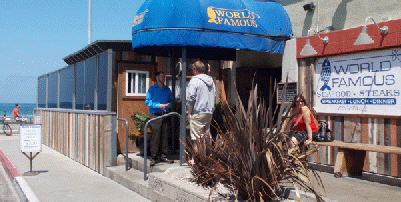 "Pacific Beach--World Famous has been pleasing beach diners for decades"
by The Editor
If you are seeking the beach scene in San Diego then head for Pacific Beach. Here you will find long stretches of sand reaching down to cream topped waves rolling in from China.
It had been a long time since our last visit to this area. We rediscovered it on a perfect summer day with its busy, bustling Boardwalk, a few surfers working on small but perfectly shaped waves and a full quota of pretty girls lounging on the sand. We took a long stroll along the Boardwalk dodging bikers and skate boarders while enjoying a true California beach scene.
Actually we were there to meet fellow Southern California Restaurant Writer David Rottenberg for lunch at the World Famous. David had told us of this remarkable restaurant and how it would make a great review and he was certainly right on. We were greeted at the door by Hostesses Whitney Cartwrigtht and Robyn Rubalcaba.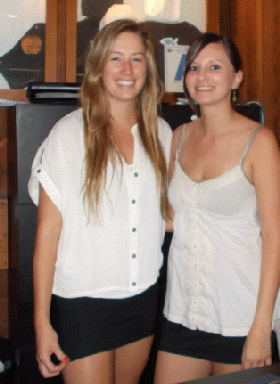 .
World Famous, a fixture on the beach for some forty three years, is always busy. It offers a full bar and lounge and both indoor and patio dining, all with great views of the beach and ocean. Diners are only a few steps away from the Boardwalk, beach and surf.
This restaurant prints new menus each day for breakfast, lunch and dinner including name of Host and Chef. Our lunch choices were many and most appetizing. At our table we ordered a grilled Carne Asada Caesar Salad, Crabcake Sliders and Beer batter Cod fish and chips. Our most efficient waitress, Katherine Bourne, treated us as we were her very own Grandfather. Other tempting items included Crispy Panko Crusted Calamari or Sierra Mar grilled sea bass. The wine list is extensive and choices world wide with vintages from Europe, South Africa, Australia, New Zealand and California all listed by varietal.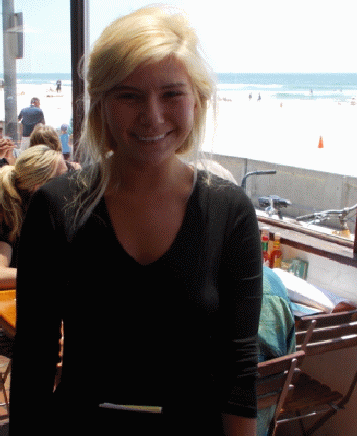 Owner is Deiter May who has continually made renovations and improvements to the restaurant during its 43 year history. Executive Chef is Chris Bates who updates his menu and specialties on a regular basis. Look for items like Puerto Nuevo Lobster Taco plate or the pasta Shrimp Capellini or the Honey Chipotle BBQ Pork with spicy cubana sauce.
Considering its choice location, ambiance and quality from the kitchen we thought the prices were most moderate. Valet parking is inexpensive and most welcome at World Famous since beach side parking is always hard to find.
Since World Famous is located among a whole group of hotels on the Broadwalk it is open from early breakfast until midnight. It is located at 711 Pacific Beach Drive in San Diego. Telephone 858 272-3100, on the web wwwwolrldfamouspb.com.
Pacific Beach is dedicated to its role as a playground with rentals available for surf boards, bicycles, and jet skis. Hotels with ocean views are numerous and stretch along the Broadwalk.
As for indoor entertainment the choices appear endless with Pubs, Cantinas, Sports bars and a wide choice of cuisines from Italian to Japanese. And for traditional beach amusements Belmont Park.
Back to Table of Contents..
Last Update:7/3/13
&copy 2013 Joe Hilbers All Rights Reserved.
Graphic Design by Impact Graphics