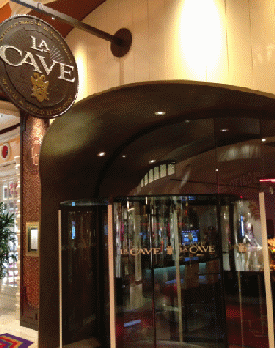 "Las Vegas--At La Cave we found our kind of buffet"
by Jeanne Bartlett
It was the last day of a brief vacation/concert getaway with my daughter and son in Las Vegas and time to find something special in a Sunday morning brunch. For the best, start with the Wynn Hotel. Initially, we were saddened to learn the Country Club Restaurant's Jazz Buffet (voted Best in Las Vegas six years in a row) was sold out, but right down the corridor we discovered La Cave, an oasis for sure. The atmosphere is electric with the splashes of red and gold, wrought iron and bent wood, creating a striking but comfortable seating area. Once seated you find that the glass has been pulled back and you are dining in a terrace redundant with colorful blooms.
The proprietor of the establishment is Michael Morton, a member of the well-known Morton family. The concept here is an enticing menu of small plates served "butler style" table side. Listed on the menu are 16 (yes 16!) items, covering a wide range of brunch specialties – some unexpected. First, the skilled staff sets you up with beverages, which include milk, juice or coffee on an a la carte basis, or for $20 a choice of bottomless sparkling wine, mimosas, Bloody Mary's, Caipirinhas or Mojitos. We chose sparkling wine and were treated to a delightful vintage from Spain.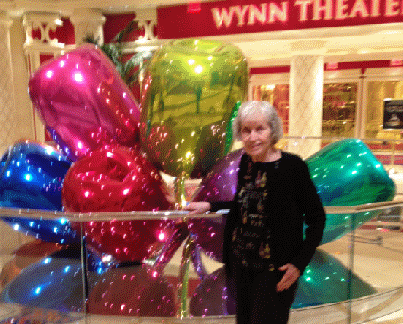 Next, the parade of goodies begins. We were told dishes would come out in a random order, but if there was a particular item we wanted all we had to do was ask. Our brunch started with a bouquet of perfectly cooked bacon in a coffee cup and a hot ramekin of outstanding scrambled eggs. As the staff came around the three of us could each choose to each sample the next dish offered or we could share. With that many goodies we soon found sharing or even skipping was a must.
Hardy fare, indeed, were the baked potato loaded with Tater Tots with brown gravy over the top, the veal short rib hash, and the flavorful Angus mini burgers. The special was Eggs Benedict with Chorizo, Canadian bacon or Filet. More virtuous choices included the heirloom tomato and Mozzarella salad, chilled tomato soup, fresh fruit salad, mushroom grits, or yogurt parfait with granola. I cannot forget to mention the Chef's selection of ham egg flatbread and New York style egg sandwiches (the latter an amazing blend of bacon, ham eggs and cheese on a wonderful Kaiser roll). For a finishing touch on the sweet side was a cornflake-crusted Brioche French toast or pancakes with berry compote.
The staff at La Cave is intensely proud of the brunch it produces, and it was apparent in talking to them there was a bit of a "little brother" feeling toward the more well-known Jazz Brunch at the Country Club. So often when traveling unexpected treasures pop up after one door shuts, and this certainly was the case as our experience at La Cave was excellent all around.
Sunday brunch at La Cave is $39 for adults, $19 for children. Adding unlimited sparkling wine, Bloody Mary's or Mojitos is $20. La Cave is inside the Wynn Hotel at 3131 South Las Vegas Blvd., Las Vegas. Direct line for reservations (recommended) is 702-770-7377. Hours are 10:30 a.m. until 2 p.m. Free parking is available in a garage on site.
Back to Table of Contents..
Last Update:7/18/13
&copy 2013 Joe Hilbers All Rights Reserved.
Graphic Design by Impact Graphics