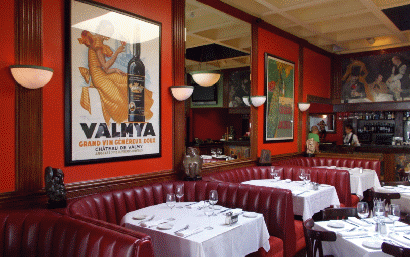 West Hollywood--Le Petit Bistro whisks one from L.A. to a Paris restaurant and French cuisine"
By The Editor
Southern Californians appreciation of French Cuisine can be credited in no small part to the efforts of the Lachkar Family. It was in 1967 that the five Lachkar brothers arrived in Los Angeles and in 1971 their first restaurant, La Potiniere, opened on Beverly Blvd. Some brothers became restaurateurs others chefs in the kitchen but all devoted to showing the classic, traditional French cuisine.
One of the restaurants was the renown Entouage, and later Cassis. Then in 1993 Georges Lachkar located the perfect location and building for a traditional French bistro styled exactly like those found in Paris. So Le Petit Bistro arrived on La Cienega Blvd. Earlier this year the restaurant celebrated its 20th anniversary and remains the only one remaining on that legendary ''restaurant row' serving European cuisine.
To honor the anniversary the restaurant received some elegant additions to both its front and interior. What remains the same is the Parisian ambiance, an efficient trained staff and the carefully prepared French cuisine. This is not to say that the menu does not see frequent changes for there is now a Tapas menu and constantly changing daily specials.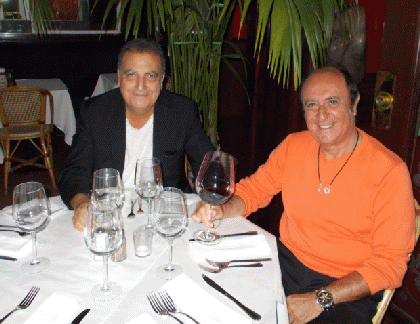 Here you will find Beef Bouguignon, Filet Mignon Flambe in a three pepper corn sauce, Frog Legs Provencale, Crispy Roasted Duck a la Orange, Foie de Veau with grilled onions and free range chicken 'palois' with Bearnaise over braised spinach. Several of these classics are served each day.
At this restaurant studying the menu takes a good deal of thought and time. The appetizer list is long and tempting with items like Beef Carpaccio, Black Mussels 'poulette', onion soup Gratinee with Gruyere cheese, blue crab cakes and Escargot de Bourgogne, served classic style in its special dish with garlic, butter and shallot sauce.
My dining partner and I studied this list long and hard with this Writer trying to decide between the Merguez a la Harissa spicy Moroccan lamb sausages or the onion soup. We chose the onion soup which was perfect and with enough Gruyere cheese for my moustache as well. My dining partner had to decide between the Shrimp Picante in Bistro's own sauce or the Escargot De Bourgogne and chose the Escargot. And of course we each had to taste the other's selection.
Besides the regular dinner entrees, each evening there is a full list of specialties as well. Several items on the regular menu caught our eye included the baked lamb shank in a red wine sauce serves with couscous, the imported sole 'a la provencale', the braised veal short ribs, osso bucco style over fettuccine or blackened Atlantic salmon. However that evening's specials won the day with both this Writer and my partner. I ordered the veal slices with a osso bucco styles sauce with a mixed vegetable pasta while my partner ordered the grilled white fish which came with a most flavorful couscous and fresh greens. Servings were most generous so much so that my partner took half home for a second repast.
At Le Petit Bistro special holidays prompt special events. One such recent holiday offered a brunch that included brie en croute, crab strudell and goat cheese crostini with red beets for appetizers and entrees like eggs benedict royal, wild mushroom and cheese omelette, cold poached salmon, roasted chicken with pommes frite, filet of sole a la Provencale and pork tenderloin Mathurini. There is also a banquet room for private parties.
The Bistro has a full service bar and an excellent wine list with, of course, a large number of French vintages.
At our table we were not finished still having a list of desserts to study. These included pot de chocolat, creme brulee, bread pudding, hazelnut gelato as well as a classic tart tatin, My partner chose the apple tart with ice cream while I selected one of my favorites, bread pudding.
Le Petit Bistro is located at 631 North La Cienega Blvd. Dinner is served from 5 to 11 p.m. Monday through Thursday, On Friday and Saturday till midnight and .on Sunday 10 p.m.. Reservations are recommended. Telephone 310 289-9797.
Back to Table of Contents..
Last Update:8/5/13
&copy 2013 Joe Hilbers All Rights Reserved.
Graphic Design by Impact Graphics