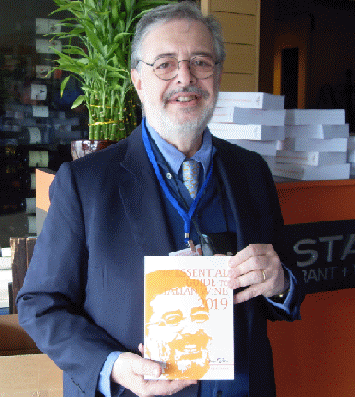 "Los Angeles--We took a 'bookish view" of Italian wines
by The Editor
The idea of meeting another author of a wine book was most interesting since my own book "The Pleasure of Wine" was completed, oh my, that was in an earlier century. Anyway I did want to meet Daniele Carnilli who accomplished his own book signing in Los Angeles at an event entitled the same as his book "The Essential Guide to Italian Wine." We chatted with Author Daniele and told him how impressed I was with the massive work that lists every winery in Italy. Every region in Italy is covered in the 646 pages of this book which also includes the author's own lists of the best single grape wines and the best wines for quality/price.
This all took place at The Wine House in west Los Angeles with 25 wineries and import firms showing vintages from all parts of Italy. For us it was another opportunity to continue our research into Sicilian wines as a further look into our Italian heritage. After all my mother was born in Sicily arriving in the USA at the age of three with her mother and two sisters.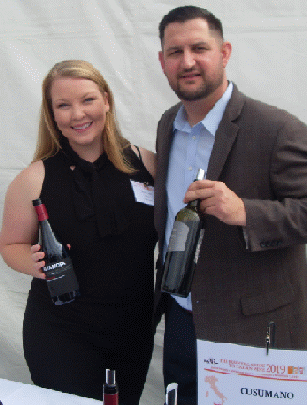 A visit to the Cusumano booth was a given. The winery is located at Noto in the far south of Sicily and is the work of Antonio Moretti who has enjoyed a most successful career in business and as an entrepreneur. The vineyards have been gathered from local farmers and now include some vines over thirty years of age planted on south facing hillsides. The grapes are local in origin and include Nero d'Avola for the red wines and Grillo for the white wines. Young in age we found both the Feudo Maccari Nero and Grillo exceptional in quality.
An outstanding wine is Cusumano Noa Sicilia DOC 2014 which is exported world wide.
Next visit was to Tasca D'Almerita which has vineyards located in three different parts of the Island. Besides wines with native varietals a new generation in the family is conducting experimentation with 51 varieties and five experimental vineyards, as part of a government backed program called VIVA devoted to a sustainable wine project.
Here we tasted Grillo Mozia Sicilia DOC 2017 and Il Tascantwe Sicilia DOC 2014.
When we were in Italy much of our time was spent in Umbria and we recall how impressed we were with the wines made with the Italian varietal Montefalco.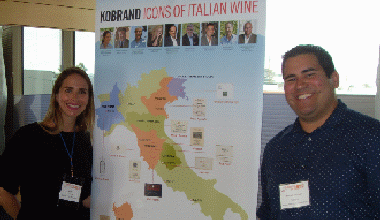 Here we tasted Colpetrone Montefalco Rosso DOC 2013 and Montefalco Sagrantino DOCG 2011 .
.It is a fact that the US is the top market for Italian exports of food and wine, if you doubt that think pizza.
The Essential Guide event was staged by Allison Levine's Please the Palate and was very well attended.
Back to Table of Contents..
Last Update:11/14/18
&copy 2018 Joe Hilbers All Rights Reserved.
Graphic Design by Impact Graphics