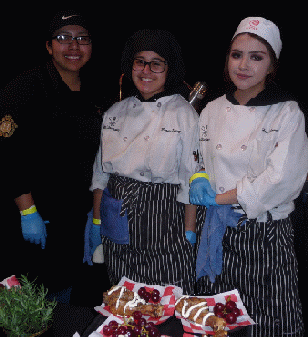 "Hollywood--Once again the Kosher Food and Wine Experience was a rewarding event "
.
The world famous Hollywood Palladium proved to be the perfect place for the 2019 Kosher Food and Wine Experience. The annual festival included both an afternoon event for trade and media and then an evening planned for fortunate ticket holders.
For us it was a great opportunity to learn more about some of Israel's wineries and vineyards. Domaine du Castel is an example of how a modern winery has developed on lands that first grew grapes in biblical times. It is located in the Judean Mountains with an elevation of 2500 feet and was founded in 1992. A large number of varietals do well here including reds like Cabernet Sauvignon, Merlot Syrah, Petit Verdot and Malbec. The white varietals include Sauvignon Blanc, Chardonnay, Viognier and Gewurztraminer.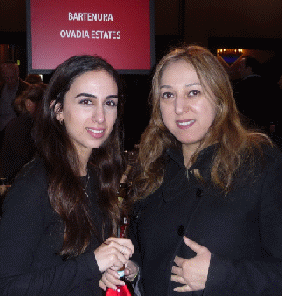 Carmel Winery is one of the oldest in Israel, founded originally by Baron Edmond de Rothschild. Now Carmel has 3,500 acres of vineyards and operates four wineries. Some of Israel's best known vineyard regions are Upper Galilee, Carmel Mountains and Judean Hills.
Yatir Winery is located in the South, near the Dead Sea, on reclaimed land that was once part of the Negev desert, but now reforested as the Yair forest. Yatir makes Viognier, Rose and Yatir Mt Amsha, a blend of Cabernet Sauvignon, Shiraz , Petit Verdor and Merlot.
Tabor Winery is located in Galilee but its vineyards spread over Mt. Tabor and the Golan Heights. All the classic varietals are grown in Israel with reds like Cabernet Sauvignon, Merlot and Shiraz and whites like Sauvignon Blanc, Chardonnay, Gewurztraminer, Roussanne and Barbera Rose
Also we noted a wine made as a blend of two Mediterranean varietals Marselan and Tanat. Another interesting grape original to Israel is Argaman which shows as a well balanced red wine. It is produced by the Jezreel Valley Winery close to Hannton and Nazareth.
New to us was Psagot Winery which is located in the northern Jerusalem Mountain range. Founded in 2003 Psagot now is distributing its wines to twelve countries. It is currently expanding with a new winery and visitor center to be completed in 2020.
Wines from many countries were on display for tasting including Herzog Wine Cellars of Oxnard as well as Teal Lake wines from Australia, and a large selection of Chateau wines from France. Also wines from Spain and Italy.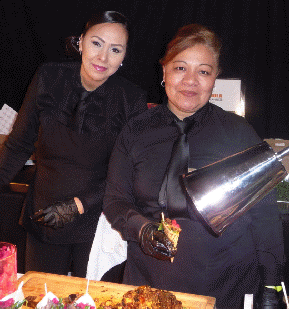 Some exciting foods were also offered providing tasty appetizers and specialties. Award winning Tierra Sur Restaurant, located at the Herzog Winery in Oxnard was present. Harissa Restaurant & Catering showed appetizers by Alain Cohen, chef-owner.. La Gondola Restaurant in Beverly Hills was kept busy with its show of tasties and appetizers. Also attracting a good deal of attention was Yooshi Catering of the San Fernando Valley with its elabrate offerings of Sushi.
For us besides the elegance of the Kosher event were memories of the Palladium going back to when it was hosting and broadcasting the big bands the likes of Harry James, Stan Kenton, Benny Goodman or Glenn Miller.
Back to Table of Contents

Last Update:2/14/19
&copy 2019 Joe Hilbers All Rights Reserved.
Graphic Design by Impact Graphics