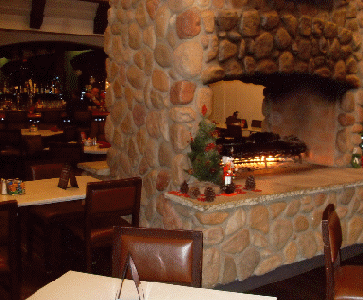 "Pasadena--Brookside Restaurant at the Rose Bowl shows new format with Happy Hour and new menu"
by Joe Hilbers
Where ever you go in Southern California these days you will note rapid changes. In downtown Los Angeles new construction is everywhere and in nearby cities as well. Glendale offers a completely new look on Central Avenue and in Pasadena even the world famous Rose Bowl is scheduled for some changes including its adjacent classic Brookside Restaurant which will now be offering much besides its traditional role as being a great place for breakfast and lunch.
We were at Brookside to take part in their new Monday through Friday Happy Hour which extends from 3 p.m. to 7 p.m. The cocktail menu includes special prices for wine, beer and well drinks as well as a very special Margarita and we certainly enjoyed the one we were served. Then the appetizers started to arrive.
On Monday, Wednesday and Friday they include loaded Tater Tots, Bacon, sour cream, chives, Cheddar cheese Bacon Blue Cheese Dip, Tortilla Chips and lime wedges. On Tuesday and Thursday it is Buffalo, Korean BBQ wings, a duo of wings with carrots & celery, and chips with salsa and Guacamole.
Our visit was on a Friday and while lounging in close proximity to the picturesque massive fireplace that dominates the dining room we enjoyed the live music of Northern Acoustics, a talented duo of guitar with Nathan Gignac and vocals by Jerin Forgic. This live entertainment is offered every Friday.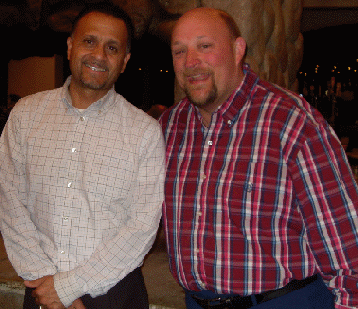 While at Brookside we had the opportunity to meet with Brandon O'Neill, who is now General Manager of Food & Beverage Operations. From him we learned that Levy Restaurants, a national firm based in Chicago, has taken over all catering operations for both the Rose Bowl and Brookside Restaurant.
Because of heavy traffic we were a bit late in arriving at Brookside and so had alerted the restaurant but standing in front waiting to greet us when we did arrive was Josh from the wait staff, a most gracious and courteous young man and typical of all that we met that evening. We also met and chatted with Eddie Arteago, who is assistant manager and with Brookside for five years. With the current expansion we suspect he will be scheduled for additional responsibilities.
For Brookside this means that while maintaining the classic decor and ambiance of the restaurant new menus and expanded dining options are in the future. This is good news to locals who have long enjoyed Brookside which besides a spacious bar and lounge and large dining room graced with the towering stone fireplace also offers four rooms for special events and private meetings. These are the Mediterranean, Arroyo, Rose and Madrid rooms with a total seating of some 300.
At present the regular menu shows an American menu of burgers, fresh fish, salads, sandwiches and appetizers and this will be expanded in the future.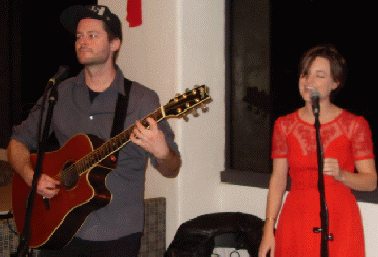 We also chatted with Jerin of the musical team and learned that they have been performing together for five years as Northern Acoustics. If interested in seeking live entertainment for a special event we suggest you contact them at NorthernAcousticsBookings@gmail.com.
Brookside Restaurant at the Rose Bowl is located at 1133 Rosemont Drive in Pasadena and open seven days a week. Telephone 626 585-3594, web www.brooksidegc.com. Ample free off street parking is available.
Back to Table of Contents..
Last Update:12/18/18
&copy 2018 Joe Hilbers All Rights Reserved.
Graphic Design by Impact Graphics