"Northridge--Black Angus still on a most successfu ride"
by The Editor
If you are compiling a list of successful chain restaurants Black Angus certainly must be close to the top listing. It is currently celebrating its 55th year as one of the West's premiere steakhouses. The decor and ambiance of the western cattle ranch has been coupled with an always contemporary menu that has stayed wth popular trends. An add on is superb marketing which has always been present.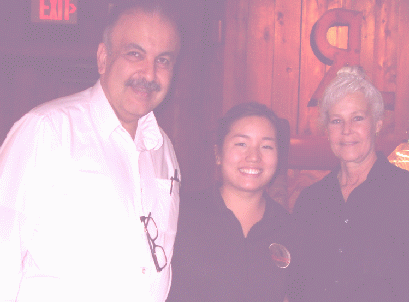 Our recent visit to Black Angus Steakhouse in the west San Fernando Valley showed clearly why it has enjoyed such a long reign of success. Meeting us at the entrance was John Akillian, general manager, and watching him that evening proved that once again success begins and is maintained by alert management. The Northridge Black Angus has been in place for forty years and John has spent half of his twelve years with Angus at this location.
We had been invited to experience some of the Angus new menu items and the addition of wines from highly rated Daou Vineyards of Paso Robles. This partnership with Daou Vineyards was announced by Chris Ames, CEO of Black Angus Steakhouse who explained that the policy has always been to keep a wine list of "an exclusive selection of popular, yet affordable wines that we know will enhance meal choices. Currently the featured Daou wine will be a 2017 Cabernet Sauvignon. New menu items at Angus paired with Daou wines include Beef Wellington and Crab Cakes.
Our glass of Daou Cabernet Sauvignon arrived with our appetizer. We thought it a superior vintage very true to the varietal. Delicate aroma leading to smooth flavors with the tannins present but tamed.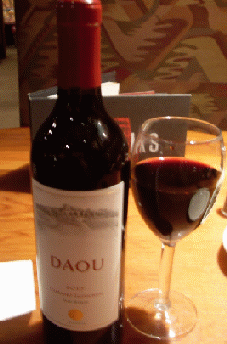 From a large selection we chose the Wagon Wheel Sampler Platter which offers several of the listed appetizers. It came with crispy zucchini, buffalo styled chicken tenders, shrimp cocktail and loaded potato skins. Another appetizer that caught our eye was the artichoke-spinach dip. Our entrees were both what the menu calls 'partner items' matching steak and seafood on one platter. My dining companion chose the prime rib and lobster while I tried one of the new menu additions, filet mignon with crab cake. Other partner selections included filets with either lobster or shrimp and several with other steaks.
The menu shows a large selection of sides, all priced most modestly. Our choices included green beans with bacon, the au gratin potatoes, a house specialty, onion rings and garlic mashed potatoes. Other sides included an acclaimed Caesar salad, french fries or steamed broccoli.
Our server was Diana who enjoys almost celebrity status at the Northridge restaurant with customers leaving comments like "enjoyed our evening but missed seeing Diana who was off that day". Certainly we were impressed with both her pleasant demeanor and efficiency. The night of our visit she had a trainee beside her and following her every move. This showed us that Black Angus takes the time to truly train their employees which is one more reason for the longevity enjoyed by its many restaurants.
John Akillian told us that two new Angus restaurants had opened in 2018 and that Black Angus Lakewood has just completed a remodeled floor plan and private dining room.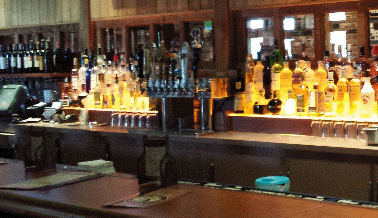 Black Angus was founded in Washington in 1964 and now has 44 locations spread across six states, Washington, California, Arizona, New Mexico, Alaska, and Hawaii. The restaurants continue their western cattle rancher theme with certified Angus Beef for Choice steaks and burgers. Always planned for entire families the menu includes seafood, salads, sides and desserts. The Bulls Eye Bar has been a leader in offering craft beers as well as selected wines and freshly designed cocktails.
The addition of Daou wines to the Angus menus is an excellent match. The Daou Winery offers predominantly Bordeaux varietals, like Cabernet Sauvignon and Chardonnay, wines perfect for hearty Steakhouse fare. The 120 acres of vineyards are located in the Adeaida range of mountains west of Paso Robles just 14 miles from the Pacific Ocean.
Black Angus Steakhouse in the San Fernando Valley is located at 9145 Corbin avenue, Northridge, Ca. 91324, Tele. 818 701-1600, web www.blackangus,.com. It is open seven days a week for lunch and dinner from 11 a.m. to 10 p.m. There is also a Happy Hour Monday thru Friday from 3 p.m. to 7 p.m. On Tuesday a Happy time from opening to closing at the Bulls Eye Bar.
Back to Table of Contents

Last Update:1/20/19
&copy 2019 Joe Hilbers All Rights Reserved.
Graphic Design by Impact Graphics