"San Pedro--This port city has diverse and exciting leisure with much to see and do"
by Joe Hilbers
For most people ships conjure images of adventures in faraway exotic places. Which at least partially explains the current popularity of cruises. These images of ships, whether real or fancied, carry over to their ports of call as well. Which also explains why San Pedro has always enjoyed a distinct, diverse and different personality from the rest of Los Angeles and environs.
With a tradition of commercial fishing, its headlands commanding wonderful views of the nearby ocean and the kind of people it has attracted all combine to make it a grand place to visit Certainly it has many attractions and, properly so, most have to do with the sea and the people who have made a living from it.
Our recent explorations of San Pedro included visits to the Los Angeles Maritime Museum, the restored S.S. Lane Victory, a cargo ship of World War ll vintage, the aquarium at Cabrillo Park and the military museum at Fort MacArthur.
The S.S. Lane Victory is the last operating Liberty Ship dating back to World War ll. It is open daily to visitors who may inspect the ship from stem to stern and from bridge to engine room. In 1988 the Ship was turned over to the U.S. Merchant Marine Veterans World War ll and in the next two years was restored after thousands of hours of work by a force of volunteers.
There are models of the various kinds of cargo ships built during the War. This Writer found a model of the C3 class cargo ship that returned him, and several hundred other G.I.'s, to the U.S. from Europe in 1945. At berth 94 in San Pedro the Ship is open most days 10 a.m. to 5 p.m. to visitors. Phone 310 519-9188 to check out events calendar. Fee at gangway is $7 for adults with an hour of free parking.
Well before you are inside you can hear the gleeful sounds of children at the Cabrillo Marine Aquarium. It is located adjacent to the ocean at Cabrillo Beach and has the largest collection in the world of Southern California Pacific sea life. Besides its exhibits the Aquarium offers tours, classes and programs on a regular basis so any any given day one can expect to see school busses in the parking lot.
For this Writer who has visited aquariums from Monaco to Maine to New Jersey to Corpus Christi, Texas, the Cabrillo Aquarium was a very pleasant surprise since it does not get the publicity and public notice it should. Admission is $5 for adults and $1 for childrenand seniors. Open Tuesday to Friday 12 to 5 p.m., Saturday and Sunday 10 a.m. to 5 p.m., closed Monday..
The Aquarium is open Saturday and Sunday from 10 a.m. to 5 p.m., Tuesday thru Friday from noon to 5 p.m., closed Mondays. Adjacent Cabrillo Beach is an added attraction offering swimming, water play and picnic sites. It has two beaches, one with the surf of the ocean, and the second within the harbor great for children. For more information on continuing special events check their website at www.cabrilloaq.org.
People, who are used to traveling long distances for almost everything in Southern California, receive a pleasant surprise on a visit to San Pedro. It is a compact community and everything from Ports O'Call Village, Fort MacArthur Military Museum, the Aquarium and Point Fermin Lighthouse and Park are only minutes apart in traveling time. The Point Fermin Lighthouse is open Tuesday through Sunday from 1 p.m. to 4 p.m. with donations appreciated.
The Fort MacArthur Military Museum offers views of defense of the harbor from the sea prior to World War l. One room displays the history of the Fort during two World Wars with photos and historical data. Museum hours are 12 p.m. to 5 p.. Tuesday, Thursday, Saturday and Sunday. Telephone 310 548-2631, free but donations appreciated.
Just a short walk from the Museum is the Marine Mammal Care Center. Here visitors can view rescued animals from the sea which are either sick or injured. We viewed both seals and sea lions in R & R and listened to 'complaints' from a few. The Care Center is open every day of the year from 8 a.m. to 4 p.m. No admission fee.
Still in walking distance is the pavilion that displays the six ton Korean Bell of Friendship. It is a gift from the people of South Korea to Los Angeles. The gift made in 1976 marked the bicentennial of U.S. Independence. This is also a wonderful place to view both the rugged ocean shoreline as well as the immense Los Angeles Harbor complex.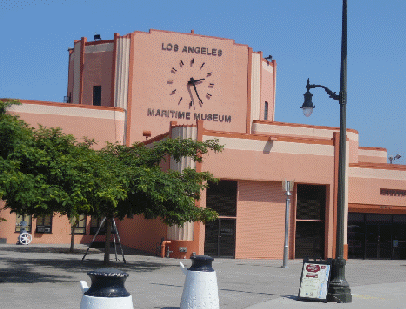 It would be difficult to find a museum location that is a better fit than that of the Los Angeles Maritime Museum. It is located in what originally was the Ferry Building that for 22 years moved people to Terminal Island from San Pedro. Then was replaced by the Vincent Thomas Bridge in 1963
Now it is home to a maritime museum which tells the story of how a harbor was created from mudflats to make San Pedro one of the largest and busiest shipping ports in the United States.
With its long naval tradition there is, naturally enough, one whole room devoted to carefully accurate models of the warships that once had their home berths in San Pedro. And a special exhibit of the USS Los Angeles, a World War ll heavy cruiser which was built in San Pedro. During our recent visit this room, devoted to the U.S. Navy, is currently being redesigned with added material. At one time San Pedro was home to the Pacific Fleet.
Movie buffs will enjoy a model of the S S Poseidon which was used in the making of the film "The Poseidon Adventure". The model is 22 feet long, battery powered, and cost $30,000 to build. After the movie was completed it was donated to the museum by 20th Century Fox. Now it is located adjacent to a special area for children to have fun and learn at the same time.
There are also photos and models from other famous Hollywood films that were filmed around San Pedro. Carefully crafted models of every kind of ancient and modern ship are on display throughout the museum.
San Pedro was once the center of a large fishing industry and canneries were there to process the catch of the fishermen. Now featured is an exhibit entitled Caught, Canned and Eaten. Large photographs show the men and women cannery workers of an earlier era. We studied these photos for some time thinking of how each person in them represented a unique story now lost forever.
Allow yourself plenty of time for your visit to the Los Angeles Maritime Museum. There is also a model of the HMS Bounty and still photos of the cast of characters including Charles Laughton and Clark Gable. The MGM movie was actually filmed off San Pedro and at Catalina Island. Also on view is a San Pan model used in the "The Sand Pebbles" which starred Steve McQueen. Or you can relive the voyage of Columbus with models of the Nina, Pinta and Santa Maria.
Clustered around the museum there is the American Merchant Marine Veterans Memorial honoring the deaths of over 6,000 seamen lost during World War 11, and the Memorial for the Fishermen who were lost at sea while plying their trade. Here too a 16 inch gun barrel from the USS New Jersey and mast, anchors and bow peak of the USS Los Angeles.
Towering in the distance there are cruise ships of the Princess and Norwegian lines located in their port of call.
The Los Angeles Maritime Museum is located at Berth 84 at the Foot of Sixth Street in San Pedro and open Tuesday through Sunday from 10 a.m. to 5 p.m. For more information check the web at www.lamaritimemuseum.org. Telephone 310 548-7618. There is free off street parking nearby at the Ports of Call area.
Hard to miss is the Battleship USS Iowa which first arrived in San Pedro in 2012. Soon a $19 million expansion is planned for the Battleship as well as a new location. This to the planned redeveloped San Pedro Public Market on the L.A. Waterfront. The new location will place the ship near shops and restaurants, a new veterans park and a large outdoor amphitheater. It will share dock space with the area;s commercial fishing fleet. Added to the USS Iowa will be a National Museum of the Surface Navy, a first of its kind. Here there will also be a theater, classrooms and lecture halls.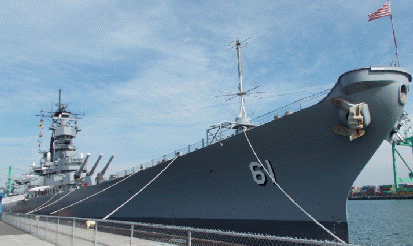 The Battleship Iowa was launched in 1942 and served in several conflicts, including World War ll. It is a top ten tourist destination in Los Angeles receiving 450,000 visitors each year. It will remain open during the renovations.
Back to Table of Contents..
Last Update:1/18/19
&copy 2019 Joe Hilbers All Rights Reserved.
Graphic Design by Impact Graphics