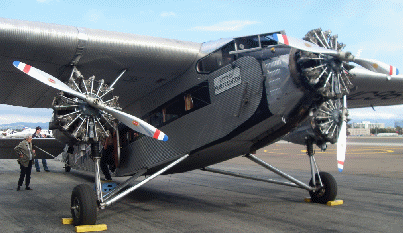 "Santa Ana--Our Tri-Motor Ford flight was to experience aviation of an earlier era"
by Joe Hilbers
History is exciting especially when you are actually living it. That was certainly true when we gathered on the apron of Lyon Air Museum at John Wayne Airport and boarded a classic 1928 Tri motor Ford.
For this airplane was the first to offer passenger service and launch what has become a key player in world transportation.

The tri-motor Ford holds twelve people, two pilots and ten passengers. As we boarded it meant a careful large step upward while keeping the head bent since headroom is marginal for anyone over about five and one half inches tall. There are individual seats, each with a window, an asset that regretfully was not continued on airplanes.
From my seat I could look directly at the starboard engine and below the fixed landing gear. Our takeoff was smooth and quick and there was much less vibration that I had anticipated. The noise level is high making much conversation difficult.
Our Ford named "City of Port Clinton" was at John Wayne airport for three days offering 20 to 30 minute flights. Once in the air we moved over Newport Beach and then followed the coast on to Huntington Beach and then a long circle route on returning to Wayne airport. Landing was very smooth, smoother than many jet flights I have been on.
Our flight on the "City of Port Clinton" was as media but other passengers were people interested in looking back and experiencing an earlier era in aviation. Our Ford had one pilot and quite interestingly also aboard were his aunt and nephew. who reside in Southern California.
Top speed for the Ford is about 125 miles an hour and the range of the aircraft about three hundred miles. First passenger service was offered by a company that later became Trans World Airlines. If crossing the country the service included flights during daylight hours and then transfer to a train for night travel, then back to an airplane the next day.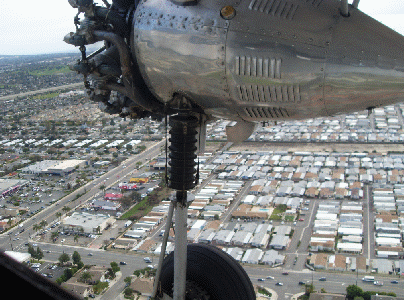 The Tri- Motor Ford was the first mass produced airliner and the one we flew on now calls the Liberty Aviation Museum in Port Clinton, Ohio home. From now until May it will be on tour in the west with stops at many cities. For the schedule of these visits and opportunities to fly on the plane check the web at www.flytheford.org.
The tour is under the direction of the Experimental Aircraft Association, EAA which is based in Oshkosh, Wisconsin. The EEA is celebrating its 50th year with Oshkosh as headquarters with events planned each year. The 2019 Fly-In will take place July 22-28, 2019.
This also proved to be our introduction to Lyon Air Museum. We marveled on how after spending so much time in Orange County for decades we did not know it existed. It was founded by Major General William Lyon with the mission of capturing the history of World War ll aviation. This proved of much interest to this Writer, a World War ll infantry veteran, since he was actually bombed by B 17s while a prisoner of war. One of these B 17s is at the museum as well as a B 25 bomber and also a C 47 transport plane used to carry supplies or airborne troops. We flew from Germany to France in a C 47 after our libration from a German POW camp.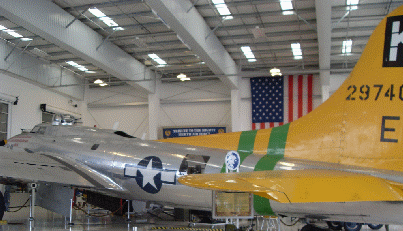 Lyon Air Museum is located at 19300 Ike Jones Road in Santa Ana, Ca. 92707. It is open daily from 10 a.m. to 4 p.m., but closed on some holidays and special events. For more information call 714 2`10-4585, on the web at www.lyonairmuseum.org.
Back to Table of Contents..
Last Update:2/3/19
&copy 2019 Joe Hilbers All Rights Reserved.
Graphic Design by Impact Graphics