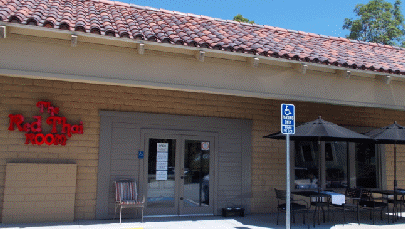 "Yorba Linda--Asian classics highlight menu at The Red Thai Room"
,P. We would never discovered The Red Thai Room except for a fellow member of the Academy of Culinary Professionals, Dr. John Spaeth who has his office in the same small business center. It is called the Yorba Ranch Village and the restaurant is the handiwork of Craig Anthony Gereau who in his career has more or less moved full circle. Born and raised in the Yorba Linda area he moved on to a five year business career in Thailand.
.While there he became most interested in Thai culture and cuisine, not only that of Bangkok but also of the highlands and border areas far from the Capitol. Upon his return to the States in 1995 he settled in Miami Beach and decided to open a Thai restaurant featuring the cuisines of both city and rural regions. Despite warnings of the hazards of the restaurant business his Thai venture was a complete success for ten years.
Then he decided to move again this time across the country to the Willamette Valley to open a Thai restaurant, this time in the heart of Oregon's wine country. This restaurant was also a success for five years with added acquired knowledge on the pairing of Thai food with wine.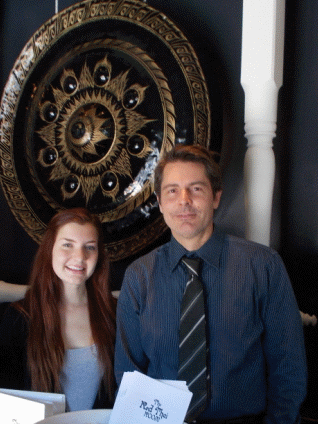 Then last year he returned to Southern California and in November 2012 The Red Thai Room was born.
This is a large restaurant with a contemporary ambiance with nuances of Thai influence in its decor. There are booths, tables for large groups, two patios and the Happy Buddha Bar for appetizers, cocktails, fine wines and micro craft beers.
We were a threesome and when about to be seated Hostess Heather Schaner sounded the Buddha Temple gong to announce our presence. Here the menu is large and diverse with Burmese Thai cooking, Japanese Sashimi Sushi and appetizers featured at the Happy Buddha Bar.
Jim Woodin, maestro of the Academy, and I opened with a bowl of the country won ton clear broth with shrimp, chicken dumplings, sliced pork and baby boy choy. It was wonderful with exquisite flavors in the broth. John Spaeth had one of his favorites, spicy cashew chestnut chicken with lightly breaded white meat plus onion, mushroom, bell pepper and scallion.
We then tried two entrees suggested by Craig; the first Indian yellow and sweet potato yams with red onion, crushed macadamia nut served with a southern Thai fried rice. Also tropical fried rice with raisin, pineapple, mango, corn and edamame. The menu shows a large selection of Asian stir frys, curries and chef specials like grilled Teriyaki or Tilapia filet.
There is a ten dollar lunch special with a soup of the day and many of the most popular dishes with smaller portions. Also a Happy Hour at the Happy Buddha Bar from 4 p.m. to 7 p.m. Tuesday thru Friday with five dollar appetizers and half price bar beverages. This restaurant features an excellent wine list with all listed by varietal and includes vintages, both domestic and imported.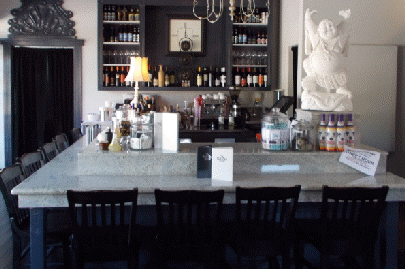 The dessert menu is large and we enjoyed the mango and sticky rice layered with coconut sport ice cream and mango sorbet. Other favorites include cocoa fudge bits cake or keylime pie.
The Red Thai Room is located at 4905 Yorba Ranch Road in the Village with ample off street free parking. It is open for lunch Tuesday Thru Friday 11 a.m. to 2 p.m. and dinner Tuesday thru Sunday from 5 p.m. to last serving at 9:30 p.m. Closed Mondays. Telephone 714 701-0107, web www.redthairoom.com.
Back to Table of Contents..
Last Update:9/15/13
&copy 2013 Joe Hilbers All Rights Reserved.
Graphic Design by Impact Graphics