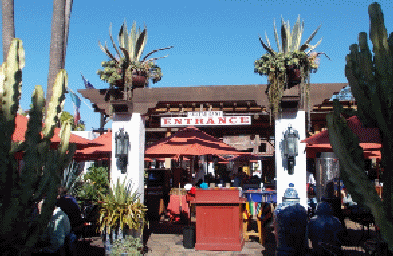 "SAn Diego--On this visit our choice of restaurants was Mexican and Chinese

by Joe Hilbers
During our visit to Old Town San Diego we had lunch at Fiesta de Reyes. This is located in a classic Latin plaza with several businesses including the Restaurant. It offers a Mexican Southern California fusion cuisine. It is all outdoor patio dining with a south of the border decor and ambiance. For us a leisurely luncheon is the best of good living. And on this day we had certainly found the right location.
Casa de Reyes offers a big menu in a festive atmosphere with musicians strolling from tables to table with classic Mexican and Latin melodies. We ordered the Fish tacos which came with grilled mahi mahi smothered in red and green cabbage slaw, spring cream, cheddar and avocado. Spanish rice and refried beans were added to ensure no one left hungry. Some other tempting items on the menu caught our eye as well. We love ceviche, this one was with shrimp. There was a nice selection of tamales and also Achiote-slow roasted pork.
There is a full service bar and we looked wistfully at a nearby table with a couple sipping most tempting margaritas. But we still had a lot of ground to cover this day. We admired the nicely attired wait staff with their colorful red sashes and was pleased with the attentive manner of our waitress. The restaurant has stage style entertainment on Friday and Saturday evenings.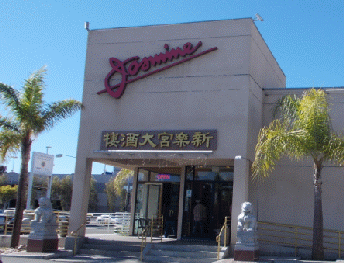 On this visit we also discovered another great Chinese restaurant featuring Dim Sum. It is the Jasmine located at 4609-A Convoy Street. It has also received good reviews from other writers for its seafoods. We stayed with Dim Sum on our visit with steamed Shrimp Har Gow, Pork Siu Mai,, Chui Chow Fun Gor and steamed BBQ Pork Bun. Jasmine is a spacious restaurant with an excellent attentive wait staff . On our next visit we will try their famed seafood menu which is large and enticing.
Jasmine offers off street free parking and is open for lunch and dinner. Call 858 268-0888, on the web at www.jasminerestaurants.com.
Back to Table of Contents..
Last Update:

&copy 2013 Joe Hilbers All Rights Reserved.
Graphic Design by Impact Graphics