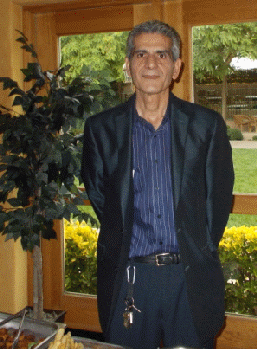 "Temecula--It was showtime for dining during Restaurant Month
.
By The Editor
Once again the event in Temecula that announces Restaurant Month was the opportunity to become acquainted with some of the region's most interesting and unique dining opportunities.
The event was held in the Barrel Room of the showplace South Coast Winery and Resort. This Resort in recent years captured the title of California Winery Resort of the Year. Restaurants taking part included the Vineyard Rose Restaurant at South Coast, Vail Ranch Steakhouse, Baily's in Old Town Temecula, Farm House Kitchen at the Temecula Creek Inn, La Bella Vita, Bulldog Brewing and Shamrock Irish Pub.
A glass of South Coast Sparkling Pinot Grigio served as a perfect aperitif as we readied our palates for this tasting event.
Our tasting opened with Chef Massimo Ghalami's classic Italian Salad as featured at La Bella Vita Restaurant located at 39738 Winchester Road.
Next we moved to the table set up by Vail Ranch Steakhouse. Here Executive Chef Aaron Knigge provided us with his hot and spicy shrimp with a Cajun Cream sauce as well as his South American styled steak and fried potatoes. Both this items will be featured on the menu during Restaurant Month.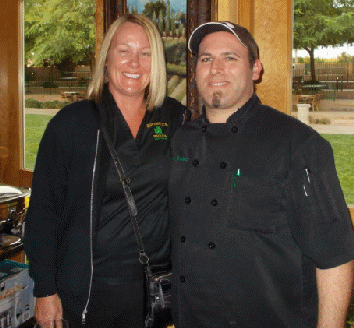 We were much taken with the Shepherd's Pie prepared by Executive Chef Anthony Bartolotta of the Shamrock Irish Pub and Eatery. Time was too short to ask Anthony how he became chef of an Irish restaurant but judging by the Shepherd's Pie we enjoyed so much he has learned his craft well.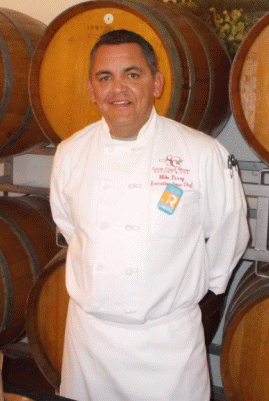 Mike Terry, Executive Sous Chef at the Vineyard Rose showed us hie Bistro steak Chirrsco which was tender and full of flavor. We had visited and wrote about the Bulldog Brewery on a previous visit to Temecula and Murrieta. At that time we liked the contemporary food items that so matched their Craft Brews.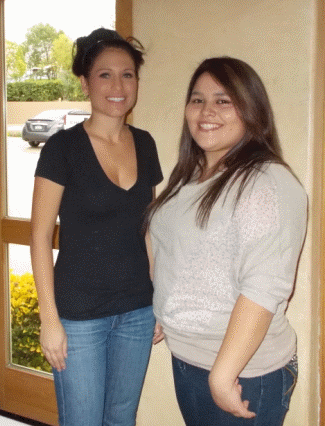 We met Manager Megan Pralle again and this time enjoyed their chicken, tomato slider.
Naturally enough several varietals of South Coast award winning wines were available to further tempt our taste buds.
There is much to like Chris and Kim's Baily's twin Bailey's Fine Dining and Front Street Bar and Grill. Here we met Chef Bracken Blucher and enjoyed his Lavender Bar featured as a dessert item.
Farm House Kitchen, located at the Temecula Creek Inn, has attracted much attention on the local culinary scene. We met with Chef Igor Krichmar while tasting his Buttermilk biscuit with house made strawberry, honey butter and raspberries.
Wine and food naturally go together so as Temecula Valley wine making fame has spread so has the opportunity for exciting dining places. The result is that Temecula, its Old Town, wineries and restaurants hosted two million visitors this year.
Back to Table of Contents..
Last Update:11/15/13
&copy 2013 Hilbers All Rights Reserved.
Graphic Design by Impact Graphics