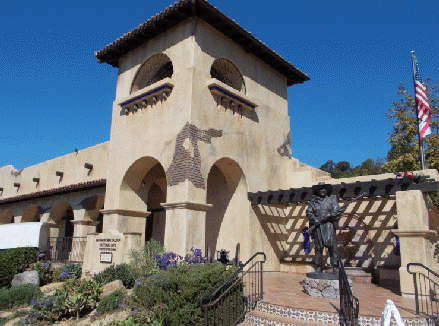 ---
"San Diego--"The Mormon Battalion Historic Site in Old Town offers a story worth telling" By Joe Hilbers
In a second trip to San Diego we spent one day at Old Town San Diego State Historic Park. This a popular destination for both locals and visitors and it is consistently the most visited state Park in California. It is the site of the first European settlement on the west coast dating to 1769. On the perfect autumn day of our visit there were hordes of school children on field trips.
A highlight of our visit was finding the Mormon Battalion Historic Site which is located adjacent to the Park. This interactive museum was completed three and one half years ago and has received rave reviews for its unique approach to a most interesting event of San Diego history.
It is the story of the Mormon Battalion that completed a 2000 mile march through Southwest wilderness, some uncharted, from Council Bluffs to San Diego in 1846-47. Among its many distinctions is the fact that it is the only religious military unit to ever be assembled in the U.S. Army. It still ranks as the Army's longest march.
At the museum small groups are formed by a docent, in our group Sister Ann Bement, who was graciously attired in a dress of that period. A film opens the scene describing how the need and opportunity to form such a volunteer group took place. Only the organizational skills of Joseph Smith, president of the Church of Jesus Christ of Latter-Day Saints, made the formation of 500 men into a military formation possible.
However the formation of the Battalion offered several opportunities for the oppressed church by proving its loyalty to the United States. Also it would provide both material and experience rewards for the Church's faithful planned migration westward to finally escape the persecution it was experiencing in Illinois.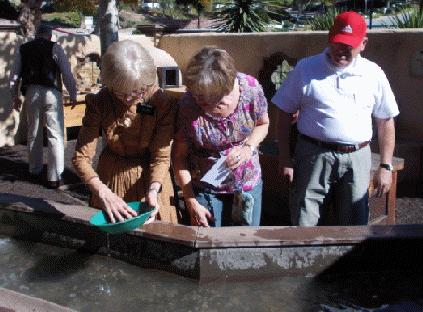 Our group then moved to a replica of a Fort Leavenworth supply story where the men were outfitted as soldiers and supplies for the journey gathered. Then our group gathered at a room outfitted like a camp site complete with camp fire and were told of the hardships experienced and how many had to be left in Santa Fe until their return. Then we moved outdoors to show what members of the Battalion did when they finally reached San Diego. This included a kiln oven for firing bricks and a trough filled with water to allow children to learn how panning for gold takes place. Lastly we were offered a personal photograph to mark the occasion.
Some famous historic names are connected with this one of a kind adventure. In the U.S. Army Colonel Stephen Kearny and Captain George Stoneman who later became Governor of California. A guide for the expedition was Jean Baptiste Charbonneau whose mother was Sacagaqea who accompanied the Lewis and Clark Expedition.
While the Battalion never saw actual combat it did provide many services after arrival in San Diego. A few of its members were at Sutters Mill when gold was discovered in 1849 which launched the gold rush that changed California forever.
Before leaving we met and visited with our guide, Ann Bement and her husband, Robert, who are part of the Site's public relations team. I explained that I would place my photo on Facebook, my Blog and write this story.
---

Back to Table of Contents..
Last Update:11/15/13
&copy 2013 Joe Hilbers All Rights Reserved.
Graphic Design by Impact Graphics