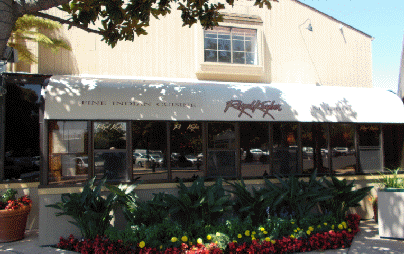 "Santa Ana--In its long reign Royal Khyber has remained true to a classic Indian cuisine"

by Joe Hilbers
In our rapidly changing world restaurants with decades of longevity are increasing rare. The few that do achieve this distinction do so by both a unique cuisine and extremely competent staff and management.
Such a restaurant is the Royal Khyber which has been presenting an exciting Indian cuisine at South Coast Plaza Village since 1998. In that time the restaurant has achieved many awards both for its owner and founder, Arun Puri, as well as staff members and the cuisine.
Actually the Royal Khyber has enjoyed an even longer period of success since its first location was in Newport Beach opening in 1980 and then making the move to the Plaza eighteen years later. With the move to the location on Sunflower Avenue Arun handed active management to his daughter, Shalini.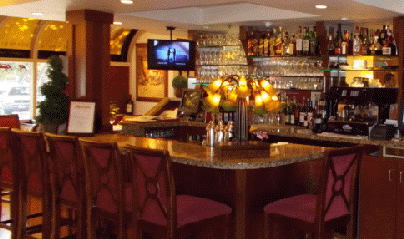 Shalini Puri did make changes to the menu following the national trend of using lighter ingredients while maintaining the flavors so identified with traditional Indian foods.
On our most recent visit to this restaurant we were greeted by Manager Ali Shahid who has been with Royal Khyber for thirty years. Once again we settled into these comfortable surroundings with its classic bar and lounge and then tables glistening with white table cloths, china and glasses. The Indian inspired artwork decorating the walls as familiar and enjoyable as ever.
Royal Khyber's menu has always enjoyed a mix of classic Indian dishes as well as innovative newcomers that retain the Indian flavors. This time we noted the Tandoori Salmon Fish Tacos wrapped in soft whole wheat roti. Also now on the menu Lobster Masala served in a makhani sauce.
My dining partner and I chose the Olive Naan which came with mango chutney dipping sauce as our opener. My entree was the Tandoori Grilled Fish marinated and slowly grilled in tandoor topped with a tamarind sauce. The fish could be either salmon or swordfish and I chose the latter. It came with Basmati rice and naan bread.
Spicy Tandoori Kebabs were my partner's choice, which were lamb kebabs and chicken tikka coated with house spicy sauce and accompanied with naan bread. I had to try the mango creme brulee for dessert.
The menu is large at this restaurant with appetizers like curried mussels, smoked lamb cakes, onion Bhnajia or warm eggplant salad. Entrees range from classic Tandoori dishes like rack of lamb to Methi chicken Punjabi with green chili or Kashmiri lamb rogan josh, lamb leg in Kashmiri sauce. There is a full list of curried dishes and vegetable dishes like Saag Dal, spinach and yellow lentils or Saag Paneer, spinach and cheese.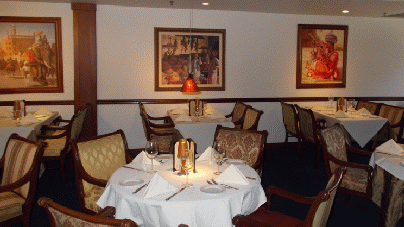 The menu always shows chef specials, three course dinners, a Moghlai gourmet dinner and a Sunday champagne brunch with fourteen entrees.
Royal Khyber is located in South Coast Plaza Village, 1621 W. Sunflower Avenue, Santa Ana with both valet and free off street parking. The restaurant is open for both lunch and dinner seven days a week. Lunch 11:30 a.m. to 2 p.m. Monday thru Friday; dinner 5:30 p.m. to 9:30 p.m; Friday and Saturday to 10:30 p.m. and Sunday Brunch 11:30 a.m. to 2:30 p.m. For reservations call 714 436-1010, on the web at www.royalkhyber.com.
Back to Table of Contents..
Last Update:9/15/13
&copy 2013 Joe Hilbers All Rights Reserved.
Graphic Design by Impact Graphics