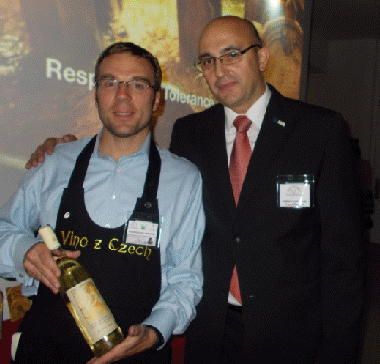 "Los Angeles--The 'Taste of Czech Culinary Road Show' had a good story to tell
By The Editor
A traditional cuisine and home produced beverages all play a large role in the attractions offered by the Czech Republic for both locals and visitors. We learned much about this when we recently attended the 'Taste of Czech Culinary Road show' held in West Los Angeles as part of a nation wide tour promoting Czech Republic tourism.
There we met Vojtech Kacerovsky, director of Czech Tourism in Los Angeles, as well as Chefs Jakub Cerny and Antonin Rys and Sommelieru Radim Petratur who introduced us to some Czech wines.
Following a theater showing of scenic tourists attractions we had the opportunity to taste some classic Czech entrees. Small plates of tongue with lentils were followed by sliced duck breast with a dumpling. Dumplings in many forms are traditional in Czech cuisine. Our dessert was a sweet dumpling with a whole strawberry inside smoothed in sweet berry sauce.
Our wines included Vino Z Czech 2011 Rivaner and a 2011 Zweigeltrebe. The Republic has two major wine growing regions producing white and red varietals. Mikulovska is historic for growing vineyards that are said to have been first planted by Romans. Mikulovska is a region that has achieved fame with its Ryzlink Viassky, a riesling styled white wine. Muller Thurgau and Chardonnay also do well in this region.
Another wine growing region, Velkopavlovicka, was recorded as growing grapes and making wine in 1252. It is hilly country and also has the warmest climate in the Republic.
Western most wine region is Znojemska and its elegant white wines were always popular with the Viennese Emperor's Court.
Dumplings have been a part of the region's foods for so long that the origin is lost in history but they were mentioned as early as the 14th century. The Republic is also been called a nation of mushroom pickers. It appears to be a passion with much of the population seen moving into the forest on weekends with basket for gathering.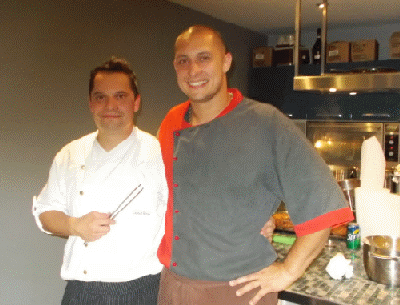 Mainstay of any Czech meal is soup. No one mentions its cuisine without starting with a potato soup. Also popular is Tripe soup and of course mushroom soup called Kulajda. For entrees think roast pork, dumplings with sauerkraut. Fish courses like Pikeperch flavored with caraway seeds or Trout fried in butter. Sauces are big in Czech food with mushroom with or without cream, horseradish, or a unique combination of plum jam and a dry red wine. Beef sirloin in cream sauce is a household favorite.
For more information check out www.czechtourism.com.
Back to Table of Contents..
Last Update:11/19/13
&copy 2013 Joe Hilbers All Rights Reserved.
Graphic Design by Impact Graphics