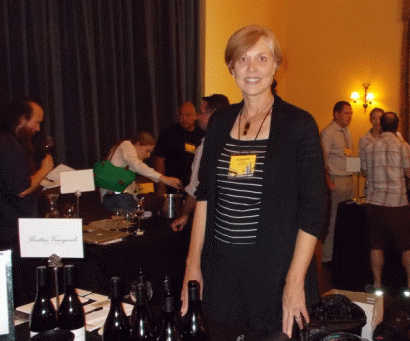 "Los Angeles--'Pinot in the City', staged by Willamette Vintners, was a winner'" By Joe Hilbers
.
In Oregon's Willamette Valley Pinot Noir is king and it only started forty eight years ago. Thanks to the recent Los Angeles event entitled "Pinot in the City" where sixty six Willamette wineries exhibited their wines we learned a good deal about the region and the wines.
The Valley is large, one hundred miles long and sixty miles wide, and its terroir and climate varies enough that it has been divided into seven separate appellations. Since the first plantings of grapes and winery in 1965 expansion has been swift and expansive both in vineyards and wineries.
Thanks to its proximity to Portland, just one or two hours drive away, the Valley has also expanded with hotels, resorts, restaurants and other facilities for visitors. While the emphasis is on Pinot Noir other varietals also do well in the region including chardonnay, pinot gris, reisling, pinot blanc and Viognier. The Visitor has the choice of five different wine tasting road trips. A large number of towns also dot the Valley including Dundee and McMinnville.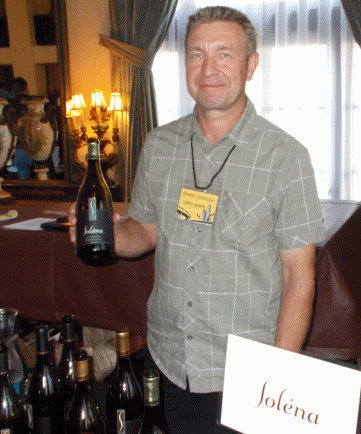 The first appellation, Willamette Valley, was established in 1983. The other six are Chehalem Mountains, Dundee Hills, Edla-Amie Hills, McMinnvlle, Ribbon Ridge and Yamhill-Carlton.
We talked with Ellen Brittan of Brittan Vineyards located in McMinnville and tasted their 2010 Basalt Block Pinot Noir. Her husband, Robert Britton was a winemaker in the Napa Valley for a couple of decades before they moved to Willamette Valley and now have 128 acres of vineyards planted in Pinot Noir and Syrah.
We also chatted with David Moore, winegrower for Omero Cellars located at Newberg. David is a trained chef who decided to join his parents after a stint in the kitchens of Las Vegas. Here we tasted the 2011 Ribbon Ridge Pinot Noir. Ribbon Ridge is the smallest of the Willamette AVA's. This tasting held at The Ebell in Los Angeles was revealing on how this varietal can have such different characteristics even though coming from the same region. Which of course accounts for there being seven different appellations.
Solena Winery Estate is located at Yamhill and we discussed both their Pinot Gris and Pinot Noir with Bruno Corneaux, associate winemaker and vineyard manager. We tasted an outstanding 2010 Domaine Danielle Laurent Pinot Noir.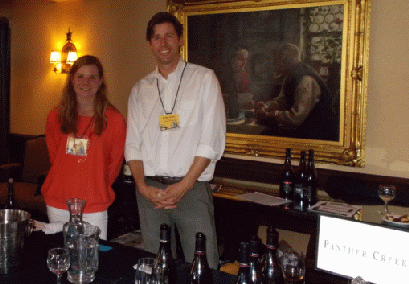 With sixty six wineries present at this tasting obvious limits on our part were necessary. However we did meet Daniella Ball, director of sales for Patton Valley Vineyard in Gastin and Anthony Van Nice, president of Panther Creek, which is located in McMinnville. We tasted the 2012 Panther Pinot Gris and thought it a wonderful food wine.
In all the Valley has 316 wineries, 610 vineyards and 15,180 acres planted with grapes. Of the vineyards eleven thousand are planted in pinot noir and pinot gris second with two thousand acres.
Back to Table of Contents..
Last Update:9/20/13
&copy 2013 Joe Hilbers All Rights Reserved.
Graphic Design by Impact Graphics