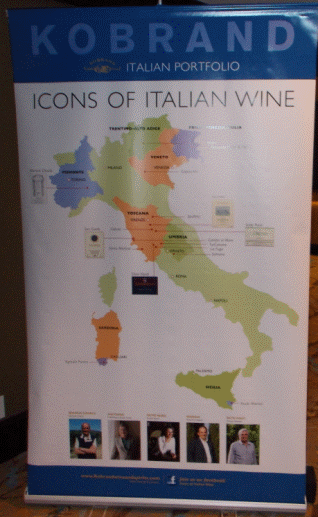 "Beverly Hills--Kobrand seminar offered exciting Italian vintages"
by Joe Hilbers
The Kobrand Tour d' Italia 2013, conducted at the Sofitel Beverly Hills recently, proved that Italy indeed produces extraordinary wines. On hand at the seminar we attended were seven Italian vintners to personally showcase their wines. There was Piero Rocchetta who described how Tenuta San Guido produced the first Super Tuscan in 1968, so successfully that in 1994 it was granted is own appellation. The wine we tasted, Sassicala 2010, was 85 per cent Cabernet Sauvignon and 15 per cent Cabernet Franc.
We have always used California Davis's 20 point rating system for judging wines and this wine we gave 19 points. In fact every one of the seven wines we tasted that day rated at least 18 points.
Only one white wine was served, Pighin 2012 DOC Pinto Grigio. On hand to tell us about the winery and the vintage served was Roberto Pighin.
Serving as moderator for the seminar was Jennifer Simonetti-Bryhan, who is an author, speaker and consultant with her own firm..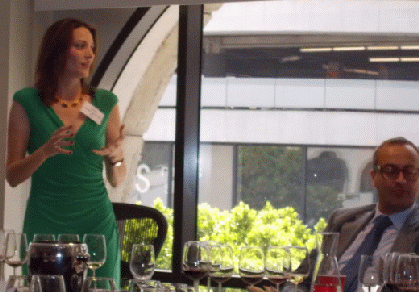 We love Nebbiolo and had to give 20 points to Michele Chiarlo's 2009 100 per cent Nebbiolo. Alberto Chiarlo told us both the history of the winery and the vintage being served. This Barolo from Piedmont was wonderful.
Two women vintners were present at this event. Giovanna Moretti told us about the winery, Tenuta Sette Ponti, in Tuscany. The wine we tasted was Oreno 2011, a Tuscan Bordeaux styled blend of Merlot, Cabernet Sauvignon and Petit Verdot. The wine enjoyed 18 months in new French oak and then one year in the bottle.
Emilia Nardi was present to tell us about her, Tenute Silvio Nardi Winery located in Tuscany-Montalcino region. We thought the wine served, 2006 Manachiara, one hundred per cent Sangiovese Grosso, truly outstanding. This wine was made from vines over 45 years old.
To tell us about the Tenuta di Nozzole Winery located in Chianti was Giovanni Folonari. The wine featured was a 100 per cent Cabernet Sauvignon, 2010 IL Pareto. We found the wine lusty in both aroma and flavor but with mellow tannins.

The last wine served was completely new to this Writer. Raffaele Bolscaini was there to tell us about Masi Agricola Winery which produces this wine with great longevity. The name of the wine is Mazzanol and the region Veneto. The 2001 Mazzano served is a blend of 75 peer cent Corvina, 20 per cent Rondinella and five per cent Molinara. It is an Amarone which is made by the drying of the grapes, a process called 'appassimento'. By the time of pressing the grapes weigh less than half of normal and show slight botrytis.
Raffaele told us this vintage was aged three years in oak and then a long rest in the bottle. The wine can continue to mature for a couple of generations. The wine we tasted was 16 per cent alcohol and bold both in aroma and on the palate. We expected it to be sweet but it was not and still serves as a dinner wine.
All of the wines featured at this Beverly Hills event by Kobrand Wine & Spirits were high end both in quality and price. For those fortunate enough to attend this seminar a buffet featuring cold Italian specialties followed and then a walk around tasting with many, many Italian wines.
Back to Table of Contents..
Last Update:9/23/13\
&copy 2013 Joe Hilbers All Rights Reserved.
Graphic Design by Impact Graphics