Sake, like so much of Japanese culture, is unique. It is not a wine, a beer or a spirit. It has played a major role in Japanese life-style for 2,000 years. All of this and much more we learned in attending the 'Discover Sake" seminar and tasting at the Olympic Collection in Los Angeles.
Conducting the seminar was Tim Sullivan , a New Yorker who became interested in Sake a decade ago, and has a popular Blog entitled 'urbansake.com". Sake is made from a unique rice which has larger grains that eontain more starch. It is brewed with a yeast called Rice Koji which converts the starch in the rice to sugar. The result is a beverage that averages between 13 and 15 per cent alcohol.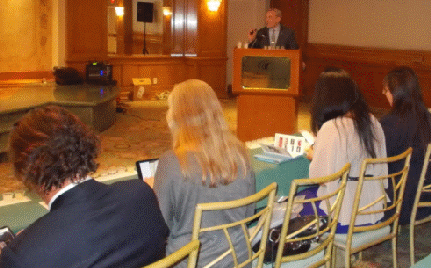 In Japan producers are called Sake Breweries and they are located throughout the country with over 2,000 brewers. The Sake is made by several different brewing methods and is sometimes aged in casks and also can be carbonated for a taste similar to champagne. The special denominations of Sake, Ginjoshu, Junmaishu and Honjozoshu. are specified by the Japanese government.
We tasted five styles of Sake and were amazed in how different each tasted. The first, Hideyoshi Honjozo, was at 15.3 per cent alcohol and offered brisk flavors. The second, Mizunoshirabe Ginjo, was smoother on the palate with milder flavors and 14.5 per cent alcohol. The third, Kirinzan Junmal Daiginjo, enjoyed distinct flavors that separated it from all the others we tasted and was at 15.5 per cent alcohol. Dassai Sparkling Nigori was cloudy and the sparkling brought out the flavors remarkably well. Of the five we tasted this was our favorite. Alcohol was 15.5 per cent. Much milder was the fifth Sake we tasted, Yuzu Omoi, with very evident fruity flavors some with a citrus influence. This was at seven per cent alcohol.
Greeting us as we arrived was lovely Kali Chung. Later we chatted with Yumi Ohiha and Annie Lu at their Asahi Shuzo booth. Food pairings at the tasting included interesting appetizers that went well with the various styles of Sake. Both the seminar and tasting was superbly organized. In all some 24 Sake Breweries were represented at the tasting which was well attended.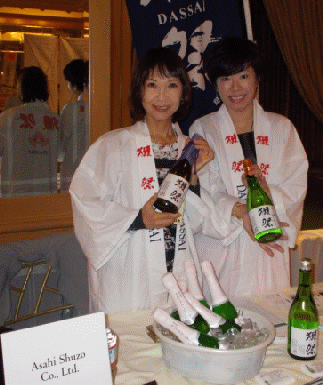 Sake is food friendly and makes for interesting interaction with Japanese cuisine. Unlike wine Sake is low in acidity and its several types offer countless opportunities for trying new styles and brands. Certainly Sake offers types and flavors that move it far past just being drunk with Sushi.
We thought that to learn and explore the many types and brands of Sake would take just as much effort and time as one needs to learn about wines.
As we moved through the tasting that followed the seminar we were dazzled with the many brands and reading the labels is challenging although some of the back labels are now in English for the American market
Back to Table of Contents..
Last Update:9/25/13
&copy 2013 Joe Hilbers All Rights Reserved.
Graphic Design by Impact Graphics