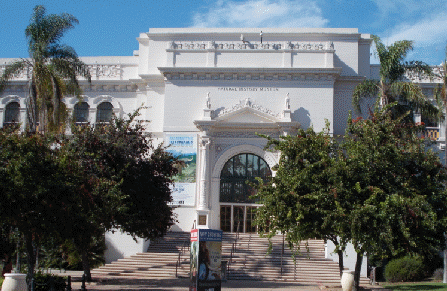 San Diego--"The Natural History Museum visit made for a fascinating day"
.. By Joe Hilbers
As a general rule one does not use the word exciting in describing a visit to a museum but that is the only word that fits our day at San Diego's Natural History Museum. We were in Balboa Park when it opened a 10 a.m. and how quickly the hours passed as we studied Dinosaurs in fossil form, entire skeletons and others as they appeared on an earlier planet Earth.
The "What's for Dinner" Exhibition displayed the necks and heads of a series of Dinosaurs, some plant eaters and then a dentist's view of the mouth of Tyrannosaurus with its six inch scimitar shaped teeth. In the Hall of Paleontology we were able to view Iguanodon, Ouiraptor and Bargonzx in their native habitat.
Another exhibit was entitled "Titans of the Ice Age" including a full sized ice age bear that makes a grizzly bear look small, also a scimitar tooth cat much larger than today's lion. Startling was the fact that these animals were around till 12,000 years ago.
On the lower level of the museum is the mammoth exhibit entitled "Trunks and Tusks". Here an amazing collection of mammoth tusks as well as a full sized mammoth and modern day elephant. Here too the video story of Lyuba, the body of a female baby mammoth that was discovered in Siberia intact, perfectly preserved in the perma frost for centuries.
We also enjoyed two films in the Kaplan Theater, one of them in 3D. It was entitled "Dinosaurs Alive" and told the story of how the discovery of Dinosaurs fossils take place and where they are found. Also actual recreation of dinosaurs in their environment of three hundred million years ago. A second film captured the sea life found in Baja California and was entitled "Ocean Oasis". Under water scenes of countless varieties of fish as well as stark views of Baja's shoreline were fascinating. Also currently shown at the Kaplan Theater is "Titans of the Ice Age", also in 3D. Unfortunately we missed seeing this but will do so on another visit.
More than a single visit is required to even begin a study of some exhibits. There is a fine exhibit explaining how the American Plate and Pacific Plate interact and meet under California. Rocks on display show evidence of the immense forces at work.
The Museum has four floors and we visited all of them. Currently on the fourth floor an exhibit "Marine Life Images by Raul Gonzalez from the Sea of Cortez.
The San Diego National History Museum is located in Balboa Park with ample free parking and is open daily from 10 a.m. to 5 p.m., on the web at www.sdnhm.org.
Back to Table of Contents..

Last Update:10/29/13
&copy 2013 Joe Hilbers All Rights Reserved.
Graphic Design by Impact Graphics